I received this book for free (hey, thanks!) in exchange for an honest review. I promise that this does NOT affect my opinion of the book or the content of my review. For real.
Truthwitch
by
Susan Dennard
Series:
The Witchlands #1
on January 5th 2016
(416 pages) •
Goodreads
•
Amazon
•
Barnes & Noble

On a continent ruled by three empires, some are born with a "witchery", a magical skill that sets them apart from others.

In the Witchlands, there are almost as many types of magic as there are ways to get in trouble—as two desperate young women know all too well.

Safiya is a Truthwitch, able to discern truth from lie. It's a powerful magic that many would kill to have on their side, especially amongst the nobility to which Safi was born. So Safi must keep her gift hidden, lest she be used as a pawn in the struggle between empires.

Iseult, a Threadwitch, can see the invisible ties that bind and entangle the lives around her—but she cannot see the bonds that touch her own heart. Her unlikely friendship with Safi has taken her from life as an outcast into one of reckless adventure, where she is a cool, wary balance to Safi's hotheaded impulsiveness.

Safi and Iseult just want to be free to live their own lives, but war is coming to the Witchlands. With the help of the cunning Prince Merik (a Windwitch and ship's captain) and the hindrance of a Bloodwitch bent on revenge, the friends must fight emperors, princes, and mercenaries alike, who will stop at nothing to get their hands on a Truthwitch.

PHEW. That was quite a read. I honestly had no idea what to expect with this one, but whatever my expectations were – they were definitely exceeded. I should definitely preface this review with: I don't read high fantasy. Like, ever. I've come to realize that I tell people I like fantasy, but have really read a small amount of the genre. I prefer lighter fantasy or paranormal reads. This book, which is definitely a high fantasy, was kind of a stretch for my brain.
The world-building was very complicated. I was confused at the beginning, but some things started to click into place within the first 70-100 pages. I think that hardcore fantasy readers won't have a problem with this. I liked being thrown into the action though; it was interesting to see the two girls kicking ass but wondering why they were on the run.
The whole premise of the book was just too cool. Essentially, there are people in their world who have powers and people who don't. Some powers are more valuable than others, so Safi, the Truthwitch, is hiding hers. There are so many twists involving people wanting her, chasing her, or trying to kidnap her. She's best friends with Iseult, a Threadwitch (meaning she can see the threads that tie people together or make up their feelings). Again, it took me a while to figure out what certain powers were and how everyone came together. I don't think I could even describe anything else about this book without confusing myself more.
I absolutely loved the friendship feels in this! Some people have threads that connect them with stronger bonds, as if they're blood sisters/brothers. Iseult and Safi were Threadsisters and totally #friendshipgoals. They were fierce, badass, and complemented each other perfectly. There's a bit of romance too, but it was certainly more in the background.
The book was essentially a journey or adventure story, but I won't give anything else away. Overall, I really wish that I was a more hardcore fantasy reader so I could have understood more of this book. I would totally reread (maybe via audio?) this before going to the second one. There was a BIT of a cliffhanger… but not so bad that I'm literally dying for the next book. I'm super interested to see what happens though! I sincerely recommend this to all readers, but I think people who love high fantasy will gobble this story up.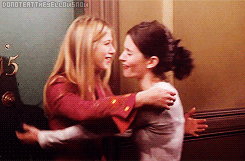 | | |
| --- | --- |
| Plot & Premise | |
| Characters | |
| Writing Style | |
| Pacing & Flow | |
| Feels or Swoons | |
| Addiction Level | |
| Overall: | 4.5 |
Related Posts