I received this book for free (hey, thanks!) in exchange for an honest review. I promise that this does NOT affect my opinion of the book or the content of my review. For real.
The Long Game
by
Jennifer Lynn Barnes
Series:
The Fixer #2
Genres:
Young Adult
,
Mystery/Thriller
Published by
Bloomsbury
on June 7th 2016
Also by this author:
The Fixer
,
Little White Lies
,
The Lovely and the Lost
,
Deadly Little Scandals
,
The Inheritance Games
,
The Hawthorne Legacy
,
The Final Gambit
Format:
ARC
(368 pages) •
Source:
Publisher (ALA Midwinter)
Goodreads
•
Amazon
•
Barnes & Noble

Tess Kendrick, teen fixer extraordinaire, returns in a pulse-pounding thriller about a deadly conspiracy at the heart of Washington.

For Tess Kendrick, a junior at the elite Hardwicke School in Washington D.C., fixing runs in the family. But Tess has another legacy, too, one that involves power and the making of political dynasties. When Tess is asked to run a classmate's campaign for student council, she agrees. But when the candidates are children of politicians, even a high school election can involve life-shattering secrets.

Meanwhile, Tess's guardian has also taken on an impossible case, as a terrorist attack calls into doubt who can--and cannot--be trusted on Capitol Hill. Tess knows better than most that power is currency in D.C., but she's about to discover first-hand that power always comes with a price.

Perfect for fans of Harlan Coben and Ally Carter, the second book in this thrilling series will leave readers breathless.

You guys. I just can't with this book. I was completely smitten with the first one and was SO EAGER to get my hands on the next. I was counting my lucky stars when I ended up with a copy from ALA Midwinter because I planned to read it ASAP after finishing the first one. However, in typical Lauren fashion, I ended up waiting until a few days before its release. I totally shouldn't have waited because some of the previous book's plot was a bit muddy in my head. Either way, it didn't take long for me to settle back into this world.
I absolutely loved Tess in this book. I didn't think it would be possible, but the stakes were even higher. The twists were even twistier. The characters were even asdfghjkl-ier. Sorry, no words there. Just feels. So fucking many feelings about everyone and everything. In the first book, there was literally zero romance. The author hinted at two romantic prospects in general but there really wasn't even any tension to suggest that necessarily. I won't spoil anything for this one. Just keep in mind what I said.
I love books where you think everything has settled after the main climax, and then the author manages to toss in a few more curveballs. Totally happened here. I read very few mystery/thrillers because not many work for me. Add in politics and I'm even less sure I'll like it. This duo seriously has me adding political dramas to my Netflix queue. I think this is a genre I could get on board with. If you like Ally Carter books and haven't read these, you're missing out for sure.
Here's a glimpse at my roller coaster ride:
I don't want to spoil anything so I'll keep my review somewhat brief. My feels were broken, pieced together, broken again, and are now hanging in the balance. From what I understand, this has only been sold to the publisher as a duo right now. Also from what I've heard, the author may be interested in expanding it into a larger series. SO GET BUYING! Let's get MOAR BOOKS.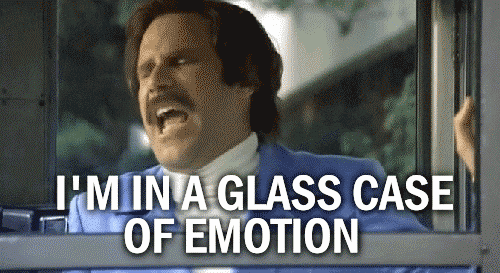 Related Posts