In an effort to cut down on posts and burnout, my Review Roundups will feature 2-4 books I've read or listened to recently. Sometimes they're newer releases and sometimes they're all backlist titles. My ARC reviews usually get the solo treatment. Enjoy the mini reviews!
---
Archenemies
by
Marissa Meyer
Series:
Renegades #2
Genres:
Young Adult
,
Fantasy
,
Sci-Fi
Published by
Macmillan
on November 6, 2018
Also by this author:
Cinder
,
Scarlet
,
Cress
,
Winter
,
Fairest
,
Stars Above
,
Heartless
,
Wires and Nerve
,
Gone Rogue
,
Renegades
,
Supernova
Format:
Hardcover
(471 pages) •
Source:
Purchased
Goodreads
•
Amazon
•
Barnes & Noble
The Renegades Trilogy continues, in this fiercely awaited second installment after the New York Times-bestselling Renegades by Marissa Meyer, author of the Lunar Chronicles.

Time is running out.Together, they can save the world.But they each other's worst nightmare.

In Renegades, Nova and Adrian (aka Insomnia and Sketch) fought the battle of their lives against the Anarchist known as the Detonator. It was a short-lived victory.

The Anarchists still have a secret weapon, one that Nova believes will protect her. The Renegades also have a strategy for overpowering the Anarchists, but both Nova and Adrian understand that it could mean the end of Gatlon City - and the world - as they know it.
As usual, it took me a long time to read this one. The combo of me reading less physical copies AND the fact that this book was a million pages? Yeah, I spread this shit out. Luckily my book club was on the same page as me! We decided to read half of the book for our January meeting and finish the other half to chat about in February, just because we knew we'd struggle to finish. We procrastinate… it is what it is! After the first meeting on the 22nd, I kind of spread the rest of the book throughout the final 9-ish days of the month, reading a set number of pages per day. Interesting developments started happening near the halfway point too, which made me eager to read it… finally. (I got caught up a little bit trying to prepare for KING OF SCARS by reading CROOKED KINGDOM but I still managed to get this one done for the end of the month.)
While it IS a long book, the story is super easy to read. I think this primarily speaks to the writing style of Marissa Meyer. Even though I enjoy her writing a lot, this book could have used a lot of editing IMO. There were a lot of repetitive thoughts, words ("snarl" for one, ugh), and scenes. Nothing much happened in the first 100-200 pages, which makes me feel like this book should really be like 300 pages long instead. Another quick thing to mention is that some parts of this story were WAY too convenient and easy. There was a specific item found in the storage area/archives that perfectly made a lot of things better. Like, really? THAT simple with no build-up?
I'm not traditionally someone who loves books about villains, especially where you kind of root for them in one way or another, so it's odd that I enjoy this series as much as I do. You can definitely feel the turmoil in the main characters (mostly Nova but sometimes Adrian!) as they wrestle with their duties and the darker side. There were a lot of parts that frustrated me – just be a good guy already!!! – but I think the payoff will be worth it. The ending got really intriguing as you try to figure out where everyone will go from here… such a complicated web!

I received this book for free (hey, thanks!) in exchange for an honest review. I promise that this does NOT affect my opinion of the book or the content of my review. For real.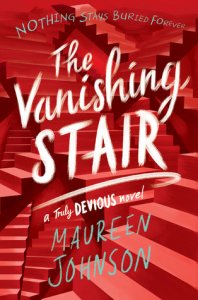 The Vanishing Stair
by
Maureen Johnson
Series:
Truly Devious #2
Genres:
Young Adult
,
Mystery/Thriller
Published by
Harper Collins
on January 22, 2019
Also by this author:
Let It Snow
,
Truly Devious
,
The Hand on the Wall
,
The Box in the Woods
,
Nine Liars
Format:
Hardcover
(384 pages) •
Source:
Publisher
Goodreads
•
Amazon
•
Barnes & Noble

All Stevie Bell wanted was to find the key to the Ellingham mystery, but instead she found her classmate dead. And while she solved that murder, the crimes of the past are still waiting in the dark. Just as Stevie feels she's on the cusp of putting it together, her parents pull her out of Ellingham academy.

For her own safety they say. She must move past this obsession with crime. Now that Stevie's away from the school of topiaries and secret tunnels, and her strange and endearing friends, she begins to feel disconnected from the rest of the world. At least she won't have to see David anymore. David, who she kissed. David, who lied to her about his identity—son of despised politician Edward King. Then King himself arrives at her house to offer a deal: He will bring Stevie back to Ellingham immediately. In return, she must play nice with David. King is in the midst of a campaign and can't afford his son stirring up trouble. If Stevie's at school, David will stay put.

The tantalizing riddles behind the Ellingham murders are still waiting to be unraveled, and Stevie knows she's so close. But the path to the truth has more twists and turns than she can imagine—and moving forward involves hurting someone she cares for. In New York Times bestselling author Maureen Johnson's second novel of the Truly Devious series, nothing is free, and someone will pay for the truth with their life.
I adored TRULY DEVIOUS and was so so eager to read the next installment immediately. I'm a fan of dual timeline books, or stories that alternate between contemporary and historical fiction. It's even cooler when there's a mystery across time that is being solved.
Many bloggers and friends didn't love the first book, which I can understand. I recall saying that I somehow didn't think the cliffhanger was *that* bad. Most other people who have read the book definitely disagreed with that sentiment! I was fully prepared for another wild cliffhanger for this one and thought maybe it'd be worse than the first one. It definitely was, for me at least! View Spoiler »You find out, from Ellingham's chapter(s), who the kidnapper was and the majority of the plot. Stevie simultaneously is saying *she* has figured it out but you don't know exactly what she's figured out or if it's true. The book ends with a fire at her professor's house and everyone seeming to come to the realization that Alice may be alive. « Hide Spoiler
Backing up a little bit, this was just as quiet as the first one, with not TOO much plot (despite the two timelines and many characters). I don't think the pacing was that bad but I was less addicted than I was to the first book. I couldn't put that one down even though the story was slow; I was eager to finish.
Stevie is still a super interesting character and I love her friends more with each page. I wish they were a bigger part of this book (I feel like they were more ~around~ during the first). The characters are great, the mystery is complex, and the endings are BRUTAL. As you can tell, overall, I feel like my review and general feelings about this book, compared to the first one, are largely the same. I can't wait to see how it all wraps up in the next book. I like that there were some answers for the reader, maybe not all of them for Stevie? GIVE ME BOOK THREE.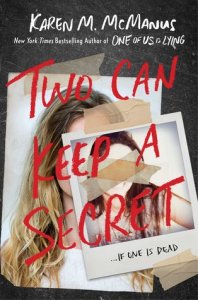 Two Can Keep a Secret
by
Karen M. McManus
Genres:
Young Adult
,
Mystery/Thriller
Published by
Penguin Random House
on January 8, 2019
Also by this author:
One of Us is Lying
,
One of Us Is Next
,
The Cousins
,
You'll Be the Death of Me
,
Nothing More to Tell
,
One of Us Is Back
Format:
Audio/Physical
(336 pages) •
Source:
Scribd
,
Library
Goodreads
•
Amazon
•
Barnes & Noble
Echo Ridge is small-town America. Ellery's never been there, but she's heard all about it. Her aunt went missing there at age seventeen. And only five years ago, a homecoming queen put the town on the map when she was killed. Now Ellery has to move there to live with a grandmother she barely knows.

The town is picture-perfect, but it's hiding secrets. And before school even begins for Ellery, someone's declared open season on homecoming, promising to make it as dangerous as it was five years ago. Then, almost as if to prove it, another girl goes missing.

Ellery knows all about secrets. Her mother has them; her grandmother does too. And the longer she's in Echo Ridge, the clearer it becomes that everyone there is hiding something. The thing is, secrets are dangerous--and most people aren't good at keeping them. Which is why in Echo Ridge, it's safest to keep your secrets to yourself.
I did a good job of mixing in the mysteries / non-contemporaries this month – finally! I started the audiobook when I was in between some podcasts and was able to read the physical copy a bit before it was due back in the library.
Like McManus's debut, I found myself constantly guessing what was happening and who the culprit was. I think both stories introduced a number of characters so the reader could get confused about whodunnit. I was second guessing everything and suspecting everyone as a result. This is a good method, but it was hard to keep some people straight at the beginning of the story. There were a lot of characters who worked across a few different timelines and were potentially involved in multiple murders and/or disappearances. I AM bummed though that even with all the characters, my main suspect from the VERY beginning was the person who ended up being the right guess. I also predicted another side-plot that was supposed to be some kind of surprise too.
There WERE some good twists and red herrings that made me question myself and most of the characters, but I don't know – I managed to isolate one person and kind of stick with it the whole time. I'm usually SO bad at this that it sucks hard whenever I DO guess correctly.
On the plus side: I enjoyed the main characters (especially Ellery with her true crime obsession). It was a somewhat simple story, which I kind of appreciated given that the number of characters complicated things enough. I loved the Vermont setting because it's a familiar area for me… any book in small town New England is going to be right up my alley. Overall, I'm still excited to read more of her work as they come out!
Related Posts