In an effort to cut down on posts and burnout, my Review Roundups will feature 2-4 books I've read or listened to recently. Sometimes they're newer releases and sometimes they're all backlist titles. My ARC reviews usually get the solo treatment. Enjoy the mini reviews!
---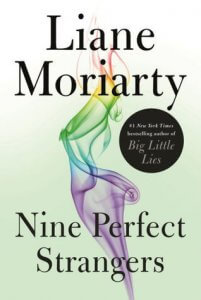 Nine Perfect Strangers
by
Liane Moriarty
Genres:
Adult
,
Contemporary
Published by
Macmillan
on November 6, 2018
Also by this author:
The Husband's Secret
,
Big Little Lies
,
What Alice Forgot
,
Truly Madly Guilty
Format:
Hardcover
(453 pages) •
Source:
Library
Goodreads
•
Amazon
•
Barnes & Noble

Could ten days at a health resort really change you forever? In Liane Moriarty's latest page-turner, nine perfect strangers are about to find out...

Nine people gather at a remote health resort. Some are here to lose weight, some are here to get a reboot on life, some are here for reasons they can't even admit to themselves. Amidst all of the luxury and pampering, the mindfulness and meditation, they know these ten days might involve some real work. But none of them could imagine just how challenging the next ten days are going to be.

Frances Welty, the formerly best-selling romantic novelist, arrives at Tranquillum House nursing a bad back, a broken heart, and an exquisitely painful paper cut. She's immediately intrigued by her fellow guests. Most of them don't look to be in need of a health resort at all. But the person that intrigues her most is the strange and charismatic owner/director of Tranquillum House. Could this person really have the answers Frances didn't even know she was seeking? Should Frances put aside her doubts and immerse herself in everything Tranquillum House has to offer – or should she run while she still can?

It's not long before every guest at Tranquillum House is asking exactly the same question.

Combining all of the hallmarks that have made her writing a go-to for anyone looking for wickedly smart, page-turning fiction that will make you laugh and gasp, Liane Moriarty's Nine Perfect Strangers once again shows why she is a master of her craft.
I was trying to explain Liane Moriarty's books to my boyfriend as I was racing through the pages of this one. I love that her stories are contemporary fiction at the heart, but always have some kind of suspenseful, mysterious, or thriller-y aspect to them. They always keep me reading and guessing as I go. This latest was no exception!
However… it was definitely not what I expected; it got weirder and weirder as it went on, but I ended up liking it quite a bit. It's reminiscent of her other works, but quite different at the same time. Getting to know the "nine strangers" was a lot of fun and I liked the multiple POVs throughout the story. Frances was the "main character" if I had to pick; she was mostly hilarious. I liked reading everyone's unique circumstances for why they ended up there and what their goals/lives were. The second half of the book was unexpected but kind of fascinating, once I got over the initial shock of it haha. I enjoyed the ending of the story so much! This is one of the more interesting stories by Moriarty lately, as many of the other recent works have been somewhat predictable and disappointing by the end.
"I don't get the obsession with strangers, her first husband, Sol, once said to her, and Frances had struggled to explain that strangers were by definition interesting. It was their strangeness. The not-knowing. Once you knew everything there was to know about someone, you were generally ready to divorce them."
I'm not entirely sure what else to say about this one, mostly because I don't want to spoil anything and you should go in blind. I'm not 100% sure I'd recommend it to ALL people who like her books? But if you like her books and are curious about this one, give it a shot. I'm a sucker for resort/retreat settings in books these days so I knew this would be a good option for me.

The Last Best Story
by
Maggie Lehrman
Genres:
Young Adult
,
Contemporary
Published by
Harper Collins
on August 7, 2018
Format:
Audiobook
(340 pages) •
Source:
Scribd
Goodreads
•
Amazon
•
Barnes & Noble

Rose Regnero was a star reporter for her high school paper, destined for a career in journalism, when she abruptly quit two months ago, leaving behind her very-nearly-sort-of-boyfriend and editor-in-chief, Grant. Now she is trying to be normal at her senior prom, with a new boy and new interests, and isn't looking back.

Grant was totally blindsided when Rose walked away from the Gazette. After all, they'd dedicated their lives to it for the past four years, had even planned on majoring in journalism together at Northwestern—which is why Grant is determined to entice Rose back. But whether it's really to the paper or to him he's not entirely sure.

When an alarm is set off at prom and the school goes on lockdown, Grant discovers that someone is loose in the building with a gun. But Rose, caught outside of the gym, knows differently. Will her instincts for a good story win out against her resolve to leave Grant and the paper behind?
I don't know how or why I always deviate from my Bout of Books TBR so much, but I can absolutely never pick some books and just stick with them. I was browsing for an audiobook and came across THE LAST BEST STORY, which is a book that initially grabbed me for multiple reasons: the cute cover, the slightly serious subject matter that seemed to be mostly light, and the promise of an ex-best-friends-now-hate-to-love kind of romance. I started the audiobook without being sure how it'd go; most of my friends hadn't read this one.
Despite the light and cartoony cover, this book had some more serious elements. You can tell from the summary that a school shooter-related issue comes up during the prom. I don't want to spoil anything, but there's definitely more to that story than meets the eye. The book also goes back and forth over time to explain the friendship (and eventual "breakup") of Grant and Rosie. It was a little hard to keep up with the transitions but there were some markers so you could.
I didn't like Grant or Rosie, really, and I definitely did not ship them? He was a bit controlling and frustrating, while she was similarly irritating. Rose spent the entire book outlining the reasons she thought Grant was an idiot, while Grant spent the entire book acting like an idiot. So why would I want them to be together? It sucks because this kind of trope is usually RIGHT up my alley. Grant also did something kind of terrible during the story that he never actually answered for, as far as I recall.
I liked the realness of certain aspects (high school life) but the rest was definitely an interesting, unlikely situation. I'm not sure what to say; this definitely disappointed me.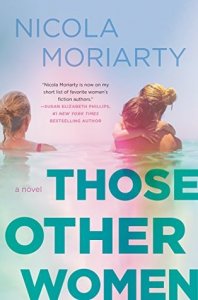 Those Other Women
by
Nicola Moriarty
Genres:
Adult
,
Contemporary
Published by
Harper Collins
on June 26th 2018
Also by this author:
The Fifth Letter
Format:
Audiobook
(400 pages) •
Source:
Scribd
Goodreads
•
Amazon
•
Barnes & Noble

The author of The Fifth Letter takes a laser look at the uneasy relationships between women and the real-world ramifications of online conflicts and social media hostilities in this stunning domestic drama. A story of privilege, unspoken rivalries, and small acts of vengeance with huge repercussions sure to please fans of Sarah Jio and Ruth Ware.

Overwhelmed at the office and reeling from betrayals involving the people she loves, Poppy feels as if her world has tipped sideways. Maybe her colleague, Annalise, is right—Poppy needs to let loose and blow off some steam. What better way to vent than social media?

With Annalise, she creates an invitation-only Facebook group that quickly takes off. Suddenly, Poppy feels like she's back in control—until someone begins leaking the group's private posts and stirring up a nasty backlash, shattering her confidence.

Feeling judged by disapproving female colleagues and her own disappointed children, Frankie, too, is careening towards the breaking point. She also knows something shocking about her boss—sensitive knowledge that is tearing her apart.

As things begin to slide disastrously, dangerously out of control, carefully concealed secrets and lies are exposed with devastating consequences—forcing these women to face painful truths about their lives and the things they do to survive.
If you like Liane Moriarty and you haven't read her sister's work yet, you're missing out. I've found both books by her incredibly compelling and reminiscent of Liane's (but still definitely different!). Anyways, I was excited to start this one when I saw it on Scribd.
I think most women, in one way or another, will be able to relate to this book a LOT. The title is so interesting and definitely captures the book – "those other women" – how women can look at one another and think someone else has it so easy. Poppy and her friends start a "non-mom" group on Facebook somewhat in response to the mom group that is gaining momentum in the area. There were SO many frustrating conversations and characters in this story that you just wanted to punch, but that made it all the more realistic. People's attitudes toward parents or women who don't want to be parents… everything in that spectrum is explored. I don't think I want to have kids in general, which put me on one side of the ~divide~ in this particular story, but it was fascinating to hear the other perspectives too.
I guess one thing to mention is that this book is super white? I want to sit here and say it has a lot of great feminist points (which it does) but it's highly focused on white feminism. It deals MOSTLY with women and children – moms vs. non-moms, stay at home moms vs. working moms…. It explores those dynamics primarily but again, it doesn't reach intersectional territory at all.
The ending fell a littttle flat for me but I wasn't sure how it would all end; her other book was a twisty almost-thriller/mystery book so I think I expected something similar (totally my fault).
Related Posts