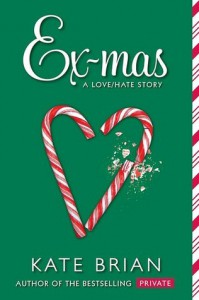 Ex-Mas
by
Kate Brian
Genres:
Contemporary
,
Holiday
,
Young Adult
Published by
Simon and Schuster
on October 6th 2009
Also by this author:
Shadowlands
,
Hereafter
,
Endless
,
Private
Format:
Paperback
(224 pages) •
Source:
Purchased
Goodreads
•
Amazon
•
Barnes & Noble

Two Exes. One holiday adventure. Merry Ex-Mas?

Seventeen-year-old Lila Beckwith's parents just left for vacation, and Lila's all set to throw the holiday party of the season. But when her Christmas-obsessed little brother, Cooper, discovers that global warming is melting the North Pole, he and his best friend, Tyler, take off on a runaway mission to save Santa. Lila has to get Cooper safely home before her parents get back on Christmas Eve. But the only person who can help her is Tyler's older brother, Beau -- a.k.a. Lila's musician, anti-everything ex-boyfriend. It'll take more than a Christmas miracle for Lila and Beau to overcome their differences and find their fugitive brothers. But could a journey destined for disaster help these polar opposites fall in love...all over again?
I've had my eye on this book for a long time, considering how much I love Kate Brian. Up until this year, I never really considered reading holiday-themed books and just never picked this one up from the store. I'm glad I finally did! I sat down the day after Thanksgiving and read it in under two hours.
Lila is a popular girl, dating her best friend's older brother, and about to throw the party of the year while her parents are out of town. Her brother and his best friend decide that they need to venture to the North Pole to save Santa in light of global warming, and Lila is forced to travel with her ex-boyfriend (Beau,  her brother's friend's brother) to get the boys back before her parents come home.
I absolutely loved the road trip that they took. It was fun reading about their mini-adventures and mishaps along the way. The book was predictable, but still had some cute, unique parts. Kate Brian is one of my favorite authors, so I wasn't surprised that she crafted a well-written holiday tale. There is somewhat of a love triangle, but it was well-done in the sense that you know who she's going to end up with View Spoiler »because her current boyfriend, Erik, is a huge dickhead. When she catches him cheating (which I totally saw coming), you can pretty much confirm your suspicions that their love story isn't as perfect as she thinks. « Hide Spoiler It was a great story of second chances, both romantically and family-wise. Lila was kind of annoying at first because you can tell that she really had to prove herself and change herself to become popular. I didn't like that about her but knew by the end of the book it would be one of those "mean girl becomes nice again" stories. Lots of people get caught up in popularity, but it's always hard for me to relate to because my high school really wasn't like that. Regardless, it was nice to see her turn back into her real self as she spent more time with Beau.
I liked the ending. I thought Lila had everything figured out, but of course some wrench had to be thrown into her happiness. It always makes me mad when those typical YA arguments/issues come up. I know that there has to be some climax of the story where something bad happens that changes the book, but ugh! I just wanted to skip that with this story. Once everyone got through that, it definitely ended in a way that made me happy. I could see myself reading this more than once, just because of how quick and cute it is.
Overall, this is a very short and sweet holiday book that I'd recommend to anyone who likes:
Second chances at love
Family relationships
Christmas!
Road trips
Hot musicians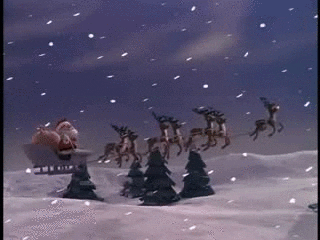 CHRISTMAS ROAD TRIP!!
Related Posts