I received this book for free (hey, thanks!) in exchange for an honest review. I promise that this does NOT affect my opinion of the book or the content of my review. For real.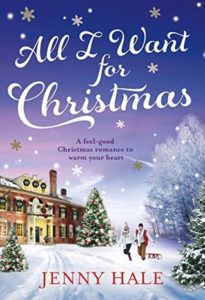 All I Want for Christmas
by
Jenny Hale
Published by
Bookouture
on October 6th 2016
Also by this author:
A Christmas to Remember
,
Coming Home for Christmas
,
Christmas Wishes and Mistletoe Kisses
,
We'll Always Have Christmas
,
It Started With Christmas
,
The Summer House
,
Christmas at Silver Falls
,
Christmas at Fireside Cabins
,
The Christmas Letters
Goodreads
•
Amazon
•
Barnes & Noble

All I Want for Christmas is a big, cozy Christmas story about the importance of family, the strength of childhood friendships, and learning to trust your heart.

Fans of Carole Matthews, Susan Wiggs and Susan Mallery - and anyone who likes the glow of Christmas lights and the rustle of wrapping paper - will fall in love with this feel-good Christmas treat.

Christmas comes once a year . . . But true love comes once in a lifetime.

Snowflakes are falling, there's carol singing on every corner, and Leah Evans is preparing for a family Christmas at her grandmother's majestic plantation house in Virginia. It won't be the same now that her beloved Nan is gone, but when Leah discovers she has inherited the mansion, she knows she can give her daughter Sadie the childhood of her dreams.

But there's a catch. Leah must split the house with a man called David Forester. Leah hasn't heard that name in a long time. Not since they were kids, when Davey was always there to catch her.
Now David is all grown up. He's gorgeous, successful, and certain of one thing: Leah should sell him her half of the house.

They can't agree, but as they share memories over wine by the log fire, Leah notices a fluttering in her stomach. And by the look in his eyes, he's starting to feel it too.

Will it be Leah or David who must give up their dreams? Or, with a little bit of Christmas magic, will they finally understand Nan's advice to them both about living life without regrets ... and take a chance on true love?
Basics and Initial Excitement
Every year I've come to look forward to Jenny Hale's newest Christmas story. I'll be the first to tell you that they're formulaic (especially when you've read all of her Christmas stories), often predictable, and cheesy in some parts. But honestly, what good Hallmark or Lifetime Christmas movie isn't all of those things?! These books put me in the Christmas mood like no others and I am so happy to read them each year. I read this one in two settings within the course of 12 hours and I have no regrets.
Characters and Story
The setup for this one is somewhat similar to her others, but had some welcome twists to the norm. Leah and her daughter Sadie grew up with and loved Leah's Nan. She owned a huge plantation where she would host events and the girls would spend time together. When Nan dies unexpectedly, Leah is not surprised to see that she was willed the plantation. However, she IS surprised to see a twist – a man from her childhood, David, is living there and was ALSO willed the mansion. When Leah, Sadie, and Leah's family and friends trickle in for one last Christmas, sparks fly and the two have to figure out how to move forward with the mansion.
I really loved getting to know Leah, Sadie, David, and Leah's friends (Roz and Louise). They had great bonds with each other. David was incredibly kind and at times, a little too perfect. I pretty much gobbled this story up and loved reading about everyone. Some major family and friend feels from this one!
If I have any complaints, it's about the telling instead of showing toward the firsts half. The two characters know each other from childhood and there's a lot of reminiscing to be done – about her Nan, random people they see in town, each other, etc. They look back to their childhood a lot, which creates a nice bond, but gets a little boring for the reader sometimes. "Remember when this person did this?" happens quite a bit and gets somewhat tiring. Luckily those moments basically stopped after the first half of the story and the setup.
Wintery Setting and Holiday Feels
As usual, Hale's Christmas stories are the most Christmassy of all the ones I read. The stories usually begin a week or two before Christmas and culminate right around that day. I love reading about her decorations, picking out a tree, and participating in other holiday activities. Even though I'm not a huge fan of reading adult fiction with kids involved, Hale always writes the sweetest kids who make the Christmas stuff even better.
Overall
If you find yourself reaching for the cheesy Christmas movies on Hallmark or Lifetime, I seriously recommend you try some of her books out. I can't say you should read all of them because the premises end up being fairly similar, but I would highly recommend reading one each year like I do. I save the "best for last" by reading these as close to Christmas as possible.
---


---

Related Posts