Christmas at Holiday House by RaeAnne Thayne
Genres: Adult, Contemporary, Holiday
Published by Harlequin on October 13, 2020
Also by this author: Snow Angel Cove, The Cottages on Silver Beach, Season of Wonder, Coming Home for Christmas, The Sea Glass Cottage, Summer at Lake Haven , Sleigh Bells Ring
Format: Audio/eBook (384 pages) • Source: Owned, Hoopla
Goodreads • Amazon • Barnes & Noble


Treat yourself this Christmas by staying in with this holiday read!

In the town of Silver Bells, there's always a feeling of Christmas in the air… Let love—and RaeAnne Thayne—melt your heart this holiday season!

This New Year will bring widowed nurse Abigail Powell a fresh start in a different city. Excited about the chance to create an unforgettable Christmas for her young son in picturesque Silver Bells, Colorado, Abby has been hired to take care of her dear friend's recuperating grandmother. But sprightly senior Winnie insists she doesn't need looking after. What she does need is help decorating her historic mansion, Holiday House, for a seasonal town fundraiser. Abby warms to the festive task, but she'll have to contend with her own personal Grinch: Winnie's prickly grandson, Ethan Lancaster.

Ethan Lancaster is good at a lot of things. Relationships surely aren't one of them. His ex-fiancée convinced Ethan he was incapable of love, and he believes her…up until the moment he impulsively kisses Abby. What is it about this vibrant woman and her sweet son that knocks his world off-kilter? He knows they're leaving town after Christmas. He just didn't expect they'd be taking a little of his heart with them. But as he and Abby work together on the magical Holiday House through the record cold weather, visions of a different future dance in his head…one filled with warmth, love and a new beginning for them both.
Story
I've enjoyed RaeAnne Thayne's novels over the past few years. She tends to write great small town romances that verge on too cheesy and wholesome. Well, this one definitely got further into that territory and I was a little put off by it. There were a lot of repetitive thoughts or conversations that made me roll my eyes.
Backing up a bit, this one centers around Abigail and her son Christopher. They move to Silver Bells for a few weeks to help out her friend's grandma before they plan to move from Arizona to Texas for a fresh start. She's hoping to move on from her husband's tragic death with a new city and life for her son. While in Silver Bells, she finds a growing attraction to her friend Lucy's brother, Ethan, who manages the family's fancy hotel chain.
The story also kind of weirdly and randomly has Lucy's point of view a few times where she wrestles with her feelings for her brother's best friend. While I appreciated their story, it was kind of weird because the book had three points of view that weren't split evenly. It was very much Abigail's story with some pops of Ethan and even less pops of Lucy. It didn't make a ton of sense to me.
Wintery Setting & Holiday Feels
Silver Bells was a super cute town and the Holiday House setting was even better. She ends up helping to decorate the mansion with a dozen Christmas trees and other holiday items, so it was nice to read how festive it looked there. They opened the house for tours after Thanksgiving but it wasn't as fleshed out as I hoped – I think part of it was the early December timeframe instead of taking place super close to Christmas. The book did end right on Christmas, so that's nice, but still. I would love for this to kick off a series that explores this cute town even more.
Overall
This wasn't my favorite by Thayne but I will continue to read her books. They're very sweet and wholesome, which can get repetitive and boring for me. My holiday books are definitely allowed to read like a Hallmark movie but sometimes I get tired of reading the same internal thoughts/concerns or conversations over and over again between the characters.


---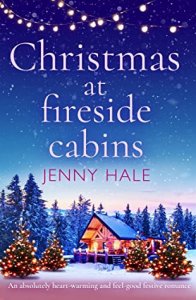 Christmas at Fireside Cabins
by
Jenny Hale
Genres:
Adult
,
Holiday
,
Contemporary
Published by
Bookouture
on October 14th 2020
Also by this author:
A Christmas to Remember
,
Coming Home for Christmas
,
Christmas Wishes and Mistletoe Kisses
,
All I Want for Christmas
,
We'll Always Have Christmas
,
It Started With Christmas
,
The Summer House
,
Christmas at Silver Falls
,
The Christmas Letters
Format:
eBook
(298 pages) •
Source:
Purchased
Goodreads
•
Amazon
•
Barnes & Noble
Escape to the idyllic small town of Pinewood Hills in this enchanting romance, about falling in love under the mistletoe with a sprinkle of Christmas magic…

For Lila Evans, Christmas is the toughest time of year––a heartbreaking reminder of losing her father, and just how lonely she is… This year, she's organized a blissful getaway with her closest friends: just the remedy for the December blues.

The countryside resort of Fireside Cabins, tucked away in the snowy Tennessee hills, seems like this year's perfect setting to get into the festive spirit. But it's far from a winter wonderland––the crumbling cottage is falling apart, and the owner, a widow named Eleanor Finely, confesses that the cabins are on the brink of closure. Lila and her friends should pack their bags right there and then, but Lila can't bear to leave the tearful elderly woman. She clearly has no one, and Lila, more than anyone, knows how that feels.

In search of holiday cheer, the women find a local coffee shop. But the rugged, surly owner Theo Perry has an apparent aversion to Christmas, seeming downright angry when Lila asks for a peppermint latte. No one in the area knows who he is––but it's clear he's running from something.

Yet there's more to this small town than Theo's frosty reception. As much as his coldness infuriates her, Lila can't deny that on the rare occasions when he does smile, it feels like coming home. Plus, the cabins are just calling for some festive sparkle.

And, unexpectedly, Pinewood Hills could hold a new beginning for Lila… But can she save Fireside Cabins in time for Christmas? With a dusting of festive magic, spiced apple cider and sugarplum pie, could this be the first holiday she doesn't spend alone?
Story
This was… up and down for me. I can usually count on Jenny Hale to be my final holiday book of the season because her books are the most festive of all Christmas authors. I was really put off by the first chapter or two – the main character was annoying and there were a lot of people to keep track of. I quickly got into it though. Lila and her three best friends are taking their annual holiday trip to Pinewood Hills, a small town a few hours outside of Nashville. She encounters a very rude barista and owner of the coffee shop and feels compelled to annoy him until he's nice to her.
I can't get into the details of why this book annoyed me (the story itself) because it's spoilers for the ~mystery man~ and his backstory. But they were ABSURD. I don't understand how this was the plot of a Christmas book?? A ton of drama and wild backstories that could be fun and interesting if this were a different type of romance book. More on that in the next section.
I did enjoy Pinewood Hills and could totally imagine living in a cute small town like that. It was explored quite a bit in the beginning of the book at least.
Wintery Setting & Holiday Feels
The main storyline and drama behind Theo completely derailed the holiday feels. The first quarter of the book was incredibly festive and made me excited to keep reading. There were touring holiday-themed parks, seeing lights, drinking Christmassy beverages, and decorating their little cabin. The whole middle section through the final 10% was focused on a bunch of nonsense and then there was kind of some holiday feels again at the end. Christmas just didn't feel like the main part of the book like I wanted. It was SO CLOSE to getting there.
Overall
I'm sad about this one. The beginning had the makings of a wonderful holiday book, with ton of festive activities, decor, a cute small town, etc. All of the good stuff I want. Then, a completely random and wild plot point derailed the entire book to the point where I didn't even remember it was Christmastime.


---

Related Posts