I received this book for free (hey, thanks!) in exchange for an honest review. I promise that this does NOT affect my opinion of the book or the content of my review. For real.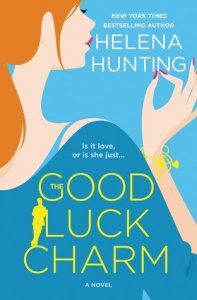 The Good Luck Charm
by
Helena Hunting
Genres:
Adult
,
Contemporary
Published by
Hachette
on August 7th 2018
Also by this author:
Meet Cute
Format:
eARC
(384 pages) •
Source:
Publisher
Goodreads
•
Amazon
•
Barnes & Noble
Is it love, or is she just his good luck charm? New York Times and USA Today bestselling author Helena Hunting absolutely delights with this witty and fun standalone contemporary romance.

Lilah isn't sure what hurt worse: the day Ethan left her to focus on his hockey career, or the day he came back eight years later. He might think they can pick up just where they left off, but she's no longer that same girl and never wants to be again.

Ethan Kane wants his glory days back. And that includes having Lilah by his side. With her, he was magic. They were magic. All he has to do is make her see that.

Just when Lilah might finally be ready to let him in, though, she finds out their reunion has nothing to do with her and everything to do with his game. But Ethan's already lost her once, and even if it costs him his career, he'll do anything to keep from losing her again.
I've been burnt out on YA contemporary for a while now; all of my reads this year have kind of suffered as a result. However, when most of my TBR falls in that category, I end up continuing to read them. Every once in a while I try to mix in an adult or new adult title to keep things interesting. THE GOOD LUCK CHARM did the trick for me!
The story follows Lilah and Ethan, who were once best friends turned high school sweethearts. When he went off to college and was inevitably going to be drafted to the NHL, he ended the relationship with Lilah (we learn why during the story). She had since gotten married and divorced, never really giving her heart away. He never bothered with serious relationships when moving to new cities. Ethan returns home to Minnesota because he was traded to their local NHL team, and immediately discovers his father suffering from a stroke. Lilah, a nurse at the hospital and still close family friend to Ethan's parents, is there to help. They are immediately pulled together again.
One of my biggest pet peeves in romance novels is when the main issue is a result of miscommunication or general lack of communication. If the climax or driving issue in the book could be fixed with one conversation, the whole book suffers. I like the "inevitable breakup" part of the story to have higher stakes. However, that doesn't mean I love a lot of drama and angst in my reads! I definitely don't. I avoid many new adult stories because there's always more of those two things and I hate them. This book was easily the lowest drama story I've read. The couple had great communication skills and chemistry; their issues were a bit larger I guess? Even then, they didn't have too much to work through. I don't want to say the story was bland, because there were a lot of steamy scenes mixed in with emotional reconnecting that I enjoyed, but if you need a lot of angst – skip this one. There was almost zero.
Another random issue with this one, for me, is that the whole "good luck charm" thing didn't really come up until the last 1/4 of the book. I wouldn't say that the title and synopsis are spoilery, because it's not a big deal really, but it was kind of odd. The drama in the last part of the book was sort of related to it, but not really? I liked seeing Lilah stand up for herself and recognize that Ethan was using her a crutch (and sort of good luck charm).
I really enjoyed this story overall and the lack of angst definitely appealed to me, but there was SOME tension missing as a result. I wish there was a little more to it in that way. I loved the family dynamics and the second chance romance trope. I'd recommend this one if you want something low-key.
Related Posts