I received this book for free (hey, thanks!) in exchange for an honest review. I promise that this does NOT affect my opinion of the book or the content of my review. For real.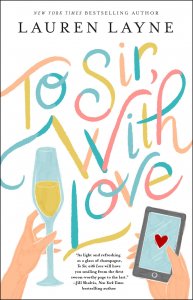 To Sir, with Love
by
Lauren Layne
Genres:
Adult
,
Contemporary
Published by
Simon and Schuster
on June 29, 2021
Also by this author:
Passion on Park Avenue
,
Love on Lexington Avenue
,
Marriage on Madison Avenue
,
Made in Manhattan
Format:
eARC
(288 pages) •
Source:
Publisher
Goodreads
•
Amazon
•
Barnes & Noble

Love Is Blind meets You've Got Mail in this laugh-out-loud romantic comedy following two thirty-somethings who meet on a blind dating app—only to realize that their online chemistry is nothing compared to their offline rivalry.

Perpetually cheerful and eager to please, Gracie Cooper strives to make the best out of every situation. So when her father dies just months after a lung cancer diagnosis, she sets aside her dreams of pursuing her passion for art to take over his Midtown Manhattan champagne shop. She soon finds out that the store's profit margins are being squeezed perilously tight, and complicating matters further, a giant corporation headed by the impossibly handsome, but irritatingly arrogant Sebastian Andrews is proposing a buyout. But Gracie can't bear the thought of throwing away her father's dream like she did her own.

Overwhelmed and not wanting to admit to her friends or family that she's having second thoughts about the shop, Gracie seeks advice and solace from someone she's never met—the faceless "Sir", with whom she connected on a blind dating app where matches get to know each other through messages and common interests before exchanging real names or photos.

But although Gracie finds herself slowly falling for Sir online, she has no idea she's already met him in real life…and they can't stand each other.
I shouldn't say things like "this was a pleasant surprise!" when I read a Lauren Layne book at this point, but that was my immediate reaction. I adored the Central Park Pact series and have a feeling I'll go on to enjoy many of her other romances. I don't think I was expecting to love this one quite as much as I did though. The premise is essentially You've Got Mail, so you can't go wrong!
Gracie is a romantic, obsessed with fairy tales and finding her soulmate. She's got a pen pal she's falling for on a dating app who she's never met, but she can tell they're perfect for each other. She took over the family business, a sparkling wine store in NYC, after her father passed away. Her siblings bowed out a long time ago and she never wanted to disappoint her father, even after his death. Her brother moved to New Hampshire and her sister still lives in NYC with her high school sweetheart husband; they're not as close as they used to be.
Enter: Sebastian. His company owns the shop Gracie leases and they want to buy her out of their lease. As you can imagine, Gracie does NOT want to give up the family business and the two fight constantly whenever they see each other. Enemies-to-lovers, baby.
It's very obvious to the reader who Sir (the pen pal) is – she already knows him IRL. It was wild to watch them fall in love in person and through an app. She was constantly torn up about falling for both of them without realizing they were one in the same.
The thing I love about Layne's romances is that you think – from the summary or book cover or wherever else you get your first impression – that they'll be very romance-heavy without much else developed. However, all of her books usually have strong friendship elements in addition to the romance. In this case, there were some amazing family feels (especially the three siblings reconnecting in a natural way) in addition to fun friendships. These books always make me think I should like NYC more than I do 😉 I loved reading about Gracie's art and how she was trying to find her way, now that she started to second-guess her future.
All in all, such a well-rounded and enjoyable story! Sometimes I wanted to bang some characters' heads together to get them to see what was right in front of them, but I loved reading this book.
---
I received this book for free (hey, thanks!) in exchange for an honest review. I promise that this does NOT affect my opinion of the book or the content of my review. For real.
Rosaline Palmer Takes the Cake
by
Alexis Hall
Series:
Winner Bakes All #1
Genres:
Adult
,
Contemporary
Published by
Hachette
on May 18, 2021
Format:
eARC
(448 pages) •
Source:
Publisher
Goodreads
•
Amazon
•
Barnes & Noble

Following the recipe is the key to a successful bake. Rosaline Palmer has always lived by those rules—well, except for when she dropped out of college to raise her daughter, Amelie. Now, with a paycheck as useful as greaseproof paper and a house crumbling faster than biscuits in tea, she's teetering on the edge of financial disaster. But where there's a whisk there's a way . . . and Rosaline has just landed a spot on the nation's most beloved baking show.

Winning the prize money would give her daughter the life she deserves—and Rosaline is determined to stick to the instructions. However, more than collapsing trifles stand between Rosaline and sweet, sweet victory. Suave, well-educated, and parent-approved Alain Pope knows all the right moves to sweep her off her feet, but it's shy electrician Harry Dobson who makes Rosaline question her long-held beliefs—about herself, her family, and her desires.

Rosaline fears falling for Harry is a guaranteed recipe for disaster. Yet as the competition—and the ovens—heat up, Rosaline starts to realize the most delicious bakes come from the heart.
I have been killin it with the cute romance books lately. It seems like it's all I'm reading AND all of them have been major hits for me. ROSALINE PALMER was no exception. Generally speaking, I can count on Forever Romance to deliver some winners to me when I need them. I was putting off reading this one for some unknown reason (I mean, look at that cover AND the whole plot of the novel!) and finally decided to pick it up. I ended up reading more than half of it in one sitting, staying up past 1am.
The setup is that single mom Rosaline heads off to a GBBO-style baking competition and quickly finds herself involved with Alain. This isn't a spoiler, since it's right there in the synopsis, but Alain ends up being not the right fit for her. Harry, the charming, awkward, and nervous electrician makes her smile and seems to genuinely care about her. It was so refreshing to read their relationship. I'm not a love triangle hater really and I could generally see why she had some interest in Alain. He wasn't overtly terrible all the time. BUT, the winner for me the whole time was Harry. I didn't remember reading about him in the synopsis and was thinking "am I shipping her with someone completely random?" way back from their first interaction.
There were some minor things that I can't really put my finger on that bugged me during my reading. The writing style was pretty enjoyable for the most part. (I tend to love British books like this!) I think the romance with Alain went on a big longer than I was hoping for. Based on the book summary, you can tell that it probably won't work out and Harry will win in the end; it almost feels like a spoiler to even mention him because the romance with Alain went on until the very late chapters in the book.
Most of the book was really refreshing and honest. The characters felt real and had a lot of interesting motivations for their behavior. I could basically put myself in anyone's shoes and understand where they were coming from. (This is less true of Rosaline's garbage parents but even then I can kind of understand why they thought they were being good, helpful parents…)
The final chapters of this were wonderful and again, very honest. I'm thrilled that this will be a companion series because I definitely want to read more romances set in the Bake Expectations universe/show.
Related Posts