I received this book for free (hey, thanks!) in exchange for an honest review. I promise that this does NOT affect my opinion of the book or the content of my review. For real.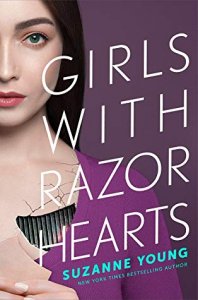 Girls with Razor Hearts
by
Suzanne Young
Series:
Girls with Sharp Sticks #2
Genres:
Young Adult
,
Sci-Fi
Published by
Simon and Schuster
on March 17, 2020
Also by this author:
Just Like Fate
,
The Program
,
The Treatment
,
The Remedy
,
Hotel Ruby
,
The Epidemic
,
The Adjustment
,
The Complication
,
Girls with Sharp Sticks
,
Girls with Rebel Souls
Format:
ARC
(400 pages) •
Source:
Publisher
Goodreads
•
Amazon
•
Barnes & Noble

It's time to fight back in this second novel in a thrilling, subversive near future series from New York Times bestselling author Suzanne Young about a girls-only private high school that is far more than it appears to be.
Make me a girl with a razor heart…
It's been weeks since Mena and the other girls of Innovations Academy escaped their elite boarding school. Although traumatized by the violence and experimentations that occurred there, Mena quickly discovers that the outside world can be just as unwelcoming and cruel. With no one else to turn to, the girls only have each other—and the revenge-fueled desire to shut down the corporation that imprisoned them.
The girls enroll in Stoneridge Prep, a private school with suspect connections to Innovations, to identify the son of an investor and take down the corporation from the inside. But with pressure from Leandra, who revealed herself to be a double-agent, and Winston Weeks, an academy investor gone rogue, Mena wonders if she and her friends are simply trading one form of control for another. Not to mention the woman who is quite literally invading Mena's thoughts—a woman with extreme ideas that both frighten and intrigue Mena.
And as the girls fight for freedom from their past—and freedom for the girls still at Innovations—they must also face new questions about their existence…and what it means to be girls with razor hearts.
Yup, this was just about as wild and powerful as expected, and the perfect way to kickoff my reading year. I chose it as my first book of 2020 because I love starting things off on a perfect note, or at least with a book I can safely assume will be in the 4.5-5 star range!
Mena and the other girls have escaped Innovations, on the road to enacting their revenge against the evil corporation and academy that trained them to be obedient little girls like society wants. This is an incredibly feminist story, obviously, and offers dystopian-like connections to our own world. Young is masterful with this – she makes you realize immediately where she's drawing inspiration from our world, but manages to make this near-future feel like a possibility.
I think there are some elements of this that are possibly a little too on the nose and preachy but it really makes sense coming from Mena's point of view (somewhat spoilery reasons if you haven't read the first book – but I will say it's primarily because Mena and the other girls haven't been outside in the real world to know what it's like. You're seeing it through their inexperienced eyes.). I loved (and obviously hated because this book is not necessarily a walk in the park) the moments where they would think they could trust someone or think that a man would be helpful and then realize he may be almost as bad as the rest of them, but showing the various levels of how garbage men can be. Most are complicit in some way in allowing society to be the way that it is, so Young fully explores how that looks.
If you're in the mood to read a book to make you hate men (I say half-jokingly), put these on your radar. Suzanne Young is easily one of my favorite authors and she's just further cementing herself with every single novel she writes. Just unbelievable. So powerful and frustrating and empowering.
---
I received this book for free (hey, thanks!) in exchange for an honest review. I promise that this does NOT affect my opinion of the book or the content of my review. For real.
In Five Years
by
Rebecca Serle
Genres:
Adult
,
Contemporary
Published by
Simon and Schuster
on March 10, 2020
Also by this author:
Famous in Love
,
The Dinner List
,
One Italian Summer
Format:
eARC
(272 pages) •
Source:
Publisher
Goodreads
•
Amazon
•
Barnes & Noble

Perfect for fans of Me Before You and One Day—a striking, powerful, and moving love story following an ambitious lawyer who experiences an astonishing vision that could change her life forever.
Where do you see yourself in five years?
When Type-A Manhattan lawyer Dannie Cohan is asked this question at the most important interview of her career, she has a meticulously crafted answer at the ready. Later, after nailing her interview and accepting her boyfriend's marriage proposal, Dannie goes to sleep knowing she is right on track to achieve her five-year plan.
But when she wakes up, she's suddenly in a different apartment, with a different ring on her finger, and beside a very different man. The television news is on in the background, and she can just make out the scrolling date. It's the same night—December 15—but 2025, five years in the future.
After a very intense, shocking hour, Dannie wakes again, at the brink of midnight, back in 2020. She can't shake what has happened. It certainly felt much more than merely a dream, but she isn't the kind of person who believes in visions. That nonsense is only charming coming from free-spirited types, like her lifelong best friend, Bella. Determined to ignore the odd experience, she files it away in the back of her mind.
That is, until four-and-a-half years later, when by chance Dannie meets the very same man from her long-ago vision.
Brimming with joy and heartbreak, In Five Years is an unforgettable love story that reminds us of the power of loyalty, friendship, and the unpredictable nature of destiny.
Man, this book really got me. I didn't love Serle's YA book(s) but seriously enjoyed THE DINNER LIST. This book, her next foray into adult contemporary fiction, was another hit for me. I was expecting this to be a little like YOU WERE THERE TOO – a book where the MC has dreams about a man (while married) and then meets him in real life. Similar premise here – the MC, Dannie, wakes up for an hour one morning five years later and there's an engagement ring on her finger and a strange man (not her fiance) in an apartment. She inevitably meets this man and her life speeds by, nearing closer to the day she woke up living. Both books ended up surprising me and keeping me on my toes. You think you know exactly how things will end, but the author is more clever than that!
I loved that Dannie unapologetically loved her work as a lawyer, even when the days and weeks were incredibly challenging and long. She made it a priority in her life no matter what. We also meet her fiance David and best friend Bella, who immediately starts going through a very tough time. I'm trying to not spoil the book because the synopsis very vague. I think it works much better not really knowing what goes on.
This book seriously surprised me and I'll tell you it leans a lot more heavily on the friendship themes than romance. I wouldn't consider it a romance at all, really. I loved getting to know Dannie despite my initial first impression that she was a bit bland (very numbers-focused and no personality off the bat). She grew on me and I loved her protectiveness over Bella.
It was genuinely exactly what I needed at the time; there's something to be said for reading based on your mood instead of living and dying by the TBR. I was struggling in February to read all the things I needed to read, so when I finally took a moment to read something I WANTED to read, I blazed through this in basically two sittings. It was refreshing, surprising, and wonderful. I can't wait to continue to read books by Rebecca Serle.
Related Posts