I received this book for free (hey, thanks!) in exchange for an honest review. I promise that this does NOT affect my opinion of the book or the content of my review. For real.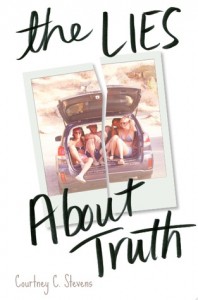 The Lies About Truth
by
Courtney C. Stevens
Genres:
Young Adult
,
Contemporary
Published by
Harper Collins
on November 3rd 2015
Also by this author:
The June Boys
Format:
ARC
(336 pages) •
Source:
Around the World ARC Tours
Goodreads
•
Amazon
•
Barnes & Noble

Sadie Kingston, is a girl living in the aftermath. A year after surviving a car accident that killed her friend Trent and left her body and face scarred, she can't move forward. The only person who seems to understand her is Trent's brother, Max.

As Sadie begins to fall for Max, she's unsure if she is truly healed enough to be with him — even if Max is able to look at her scars and not shy away. But when the truth about the accident and subsequent events comes to light, Sadie has to decide if she can embrace the future or if she'll always be trapped in the past.

This book started off kind of weird for me. I had a feeling I wasn't going to like it for some reason, but I'm SO glad that changed pretty quickly! The book slowly gave some details away about what happened and who the characters were.
I finished this book a few days ago (at the time of writing this) and to be honest, I don't remember much about Sadie – the main character. Nothing really stuck out about her and I think that's because the book is so focused on the accident and how she copes with it. It's something that seems to consume the most space in her brain, so there wasn't really room for her to feel like herself.
I loved how complex the relationships were between all of the characters. Sadie's family was in a sort of group with a few other families; they'd go on vacation and spend a lot of their time together. It was five kids – Sadie, her then-boyfriend Gray, her best friend Gina, Gina's boyfriend Trent, and Trent's brother Max. (Phew.) I won't get too much into why their relationships with each other were complicated, but just know that they definitely were. They all had some healing to go through when they were involved in an accident that killed Trent. There were lies and secrets between ALL of them.
The focal point of the story is that Trent's family moved to El Salvador for a year and is coming back to town. In the meantime, Max (his brother) and Sadie start emailing. Their relationship seems to start to heal both of them and they end up falling for each other. When he comes home, the friend group tries to get repaired and move on. Sadie and Max were pretty cute together but I wasn't totally sold on him for some reason. This book won't make it onto my "ship so hard" shelf on Goodreads, but I liked their relationship.
The ending definitely made me tear up. I'm so glad it ended that way and really brought some things full circle. Being able to come together after tragedy, even when you blame other people for what happened, is really important. You can see some hope start to grow within each of them.
The only thing I didn't like THAT much was the fact that the book only showed Sadie's emails to Max, but never his responses. It's just a nitpicky thing that could have been changed, in my opinion. For some reason this book doesn't resonate as a full-blown favorite, even though there wasn't much wrong with it! I thought the story was really interesting and loved the character growth, relationship repairs, and "moving on."

I received this book for free (hey, thanks!) in exchange for an honest review. I promise that this does NOT affect my opinion of the book or the content of my review. For real.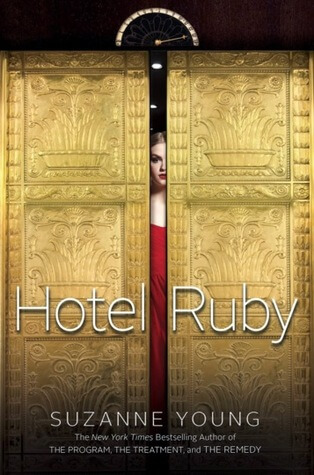 Hotel Ruby
by
Suzanne Young
Genres:
Young Adult
,
Mystery/Thriller
Published by
Simon and Schuster
on November 3rd 2015
Also by this author:
Just Like Fate
,
The Program
,
The Treatment
,
The Remedy
,
The Epidemic
,
The Adjustment
,
The Complication
,
Girls with Sharp Sticks
,
Girls with Razor Hearts
,
Girls with Rebel Souls
Format:
ARC
(288 pages) •
Source:
Around the World ARC Tours
Goodreads
•
Amazon
•
Barnes & Noble
Stay Tonight. Stay Forever.

When Audrey Casella arrives for an unplanned stay at the grand Hotel Ruby, she's grateful for the detour. Just months after their mother's death, Audrey and her brother, Daniel, are on their way to live with their grandmother, dumped on the doorstep of a DNA-matched stranger because their father is drowning in his grief.

Audrey and her family only plan to stay the night, but life in the Ruby can be intoxicating, extending their stay as it provides endless distractions—including handsome guest Elias Lange, who sends Audrey's pulse racing. However, the hotel proves to be as strange as it is beautiful. Nightly fancy affairs in the ballroom are invitation only, and Audrey seems to be the one guest who doesn't have an invite. Instead, she joins the hotel staff on the rooftop, catching whispers about the hotel's dark past.

The more Audrey learns about the new people she's met, the more her curiosity grows. She's torn in different directions—the pull of her past with its overwhelming loss, the promise of a future that holds little joy, and an in-between life in a place that is so much more than it seems…
Welcome to the Ruby.

I'm terrible at figuring out the mystery in these kinds of books. I make a lot of terrible guesses and none of them end up correct. For me, a mystery wasn't that great if I am able to figure it out. Unfortunately, I figured this one out VERY quickly. There was one specific twist that I predicted right away, and another that came to me later on. So, a bit of a facepalm there, but otherwise… this was kind of a great, addicting read!
I don't want to spoil anything by referencing other books and movies that I've read/seen, in case you've read/seen them too… but I know that if I hadn't read/seen those THINGS, I would have never predicted anything in this book. View Spoiler »So, one: this book reminded me of Tower of Terror, the wonderful Disney movie I watch every Halloween. A LOT of the plot is similar, oddly enough, so I really saw too many things coming. Aaaand two: Shadowlands by Kate Brian. The ending of the first book is the same as the major plot twist at the end of this one. « Hide Spoiler Sooo yeah, I was able to predict everything 🙁
Aside from that, I enjoyed this one! The book was addicting and quick. I really couldn't put it down and read it in a few sittings. It was super atmospheric; the setting of the hotel was literally like another character. I'm not big on creepy or scary books, but this one did a great job of being JUST enough creepy for someone like me.
I love Suzanne Young's writing style. I know that she's an author I will read and appreciate for just about ever. I know that her stories will be fast, addicting, entertaining, and (generally) unique.
Related Posts