Like I did last week, I'm rounding up three ARC reviews for today! Sooo many March and April titles to catch up on… good lord! There's a bit of a mixed bag, enjoyment-wise. Some of them were really great while others were… not so great. I hope you enjoy these slightly smaller reviews 😉
S H O R T  &  S W E E T   A R C   R E V I E W S
I received this book for free (hey, thanks!) in exchange for an honest review. I promise that this does NOT affect my opinion of the book or the content of my review. For real.
The Adjustment
by
Suzanne Young
Series:
The Program #3
Genres:
Young Adult
,
Dystopia
,
Sci-Fi
Published by
Simon and Schuster
on April 18th 2017
Also by this author:
Just Like Fate
,
The Program
,
The Treatment
,
The Remedy
,
Hotel Ruby
,
The Epidemic
,
The Complication
,
Girls with Sharp Sticks
,
Girls with Razor Hearts
,
Girls with Rebel Souls
Format:
ARC
(416 pages) •
Source:
Borrowed
Goodreads
•
Amazon
•
Barnes & Noble

Tatum Masterson never went through The Program. She never had her memory stripped, never had to fight to remain herself. But when Weston, her longtime boyfriend and love of her life, was taken by handlers, she hoped he'd remember her somehow—that their love would be strong enough.

It wasn't.

Like all returners, Weston came back a blank canvas. The years he and Tatum spent together were forgotten, as well as the week when he mysteriously disappeared before The Program came for him.

Regardless of his memory loss, Tatum fights to get Weston to remember her. And just as they start to build a new love, they hear about the Adjustment—a new therapy that implants memories from a donor. Despite the risks, Tatum and Weston agree to go through the process. Tatum donates her memories from their time together.

But the problem with memories is that they are all a matter of perspective. So although Weston can now remember dating Tatum, his emotions don't match the experiences. And this discrepancy is slowly starting to unravel him, worse than anything The Program could have done.

And as the truth of their life together becomes clear, Tatum will have to decide if she loves Weston enough to let him go, or to continue to live the lie they'd build together.

Prepare for your Adjustment.
Honestly guys, I have no idea how Suzanne Young does it. She is totally the master for crafting an incredibly interesting series, where each book is just as good (sometimes better) than the last. I really can't fathom it. I'm not ready to leave the world of THE PROGRAM yet and thank god there's one more book!
This story happens after the Program has come and "gone" from the world. (I recommend reading these in published order instead of chronological order because it keeps the suspense going!) There's a new thing called the Adjustment, which allows for someone's memories to be essentially implanted in another person. Tatum and her boyfriend Wes end up giving it a try. He comes back from the Program and doesn't remember how much they loved each other before, so they start working with the Adjustment because he starts to get feelings for her again. Of course, there are plenty of problems and mysteries to work through.
These books are a wild ride. I have to say that I did predict quite a few plot points that were coming and some of the foreshadowing was heavy-handed. However! This absolutely did nothing to ruin the book for me, because of course there were plenty more surprises coming up related to those things I predicted.
Even though it was over 400 pages, I flew through it in a few sittings. There's such a huge sense of urgency when reading, like you know the next big reveal is coming if you read just one more chapter. (I said this to Chris so many times while reading!) Overall, if you haven't read these yet, seriously what are you waiting for?
---
I received this book for free (hey, thanks!) in exchange for an honest review. I promise that this does NOT affect my opinion of the book or the content of my review. For real.
Secrets of a Reluctant Princess
by
Casey Griffin
Genres:
Young Adult
,
Contemporary
Published by
Macmillan
on March 7th 2017
Format:
eARC
(320 pages) •
Source:
Publisher
Goodreads
•
Amazon
•
Barnes & Noble
At Beverly Hills High, you have to be ruthless to survive…

Adrianna Bottom always wanted to be liked. But this wasn't exactly what she had in mind. Now, she's in the spotlight…and out of her geeky comfort zone. She'll do whatever it takes to turn the rumor mill in her favor—even if it means keeping secrets. So far, it's working.

Wear the right clothes. Say the right things. Be seen with the right people.

Kevin, the adorable sketch artist who shares her love of all things nerd, isn't exactly the right people. But that doesn't stop Adrianna from crushing on him. The only way she can spend time with him is in disguise, as Princess Andy, the masked girl he's been LARPing with. If he found out who she really was, though, he'd hate her.

The rules have been set. The teams have their players. Game on.
Adrianna's move to Beverly Hills and her family's newfound money definitely created some conflict, considering her true self is very nerdy and NOT the kind of person who'd be on a reality show. She did her best to survive at Beverly Hills High, but of course sacrificed herself to get there.
This book was mostly ridiculous. I think it gave in to a lot of the tropes I was hoping it would avoid, so that was really disappointing. This read like a really bad teen movie where every absurd thing that could happen DID happen. I was constantly on edge because there was so much shit that could hit the fan in any given moment. There were too many events and secrets that happened that made me roll my eyes so far back into my head. A lot of predictability, where you know all the terrible things will happen at once. There was an ABSURD amount of lying, hiding, miscommunication, lack of communication, jumping to conclusions…
I know that I've been out of high school for so many years now, but from what I remember? This representation was pretty cliche and straight out of the early 2000s cheesy movie, like I mentioned. I know that obviously (unfortunately) kids are still bullied and teased for being nerds or having certain interests, but it all felt very forced to me.
I liked the LARPing. The romance was decent at times. The friendship was pretty good, once things were sorted out. I just genuinely didn't enjoy reading this one. I was cringing 90% of the time.
---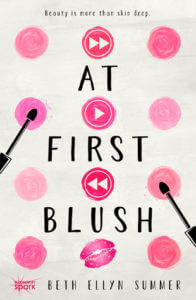 At First Blush
by
Beth Ellyn Summer
Genres:
Young Adult
,
Contemporary
Published by
Bloomsbury
on April 4th 2017
Format:
eARC
(340 pages) •
Source:
Publisher
Goodreads
•
Amazon
•
Barnes & Noble
Who would have thought that a teenager could have a successful career creating makeup tutorial videos on YouTube? For Lacey Robbins, this dream has been her reality. An up-and-coming YouTuber, she has thousands of fans and can't wait for the day when her subscriber count reaches the one million mark. And when she is offered a high school internship at On Trend Magazine, she figures that this could be the make it or break it moment.

But sometimes your dream job isn't all that it seems. Her editor is only interested in promoting junk products, and her boss in the Hair and Makeup department introduces her to the larger world of makeup artistry, making her wonder if making tutorials online is all she is meant to do. To top it all off, when the magazine's feature subject , musician Tyler Lance, turns his broodingly handsome smile her way, falling for him could mean losing her fans, forcing her to make a decision: her YouTube life or her real life?

Fans of Zoella's GIRL ONLINE will fall right into the world of this YA DEVIL WEARS PRADA and stay hooked from the first blush to the last glossy kiss.
I was obsessed with the cover of this one immediately (give me all the pink). The cover definitely matched how ~cute~ the book was too! I like celebrity/regular person romances sometimes, but tend to be picky about them. The YouTube, makeup, and internship elements were really fun aspects too. This added more dimension because Lacey wasn't really a "regular person" and had some element of celebrity as well. The NYC setting (including a magazine office and late night sketch/talk show) reminded me of Little Black Dresses, Little White Lies!
There were a lot of frustratingly dramatic elements though: classic miscommunication or lack of communication, the main character thinking she knew what was best for everyone even though she clearly didn't, and her being incredibly naive about people who had very obvious ulterior motives. I definitely wanted to shake some sense into her because it was obvious where her story was going to go… of course, to everyone except her!
The ship was strong, but the lack of communication throughout the second half did grate on my nerves. Lacey's friendships and career opportunities flourished as the summer went on, while she found out who she really was. I wasn't a huge fan of her parents but I think they meant well (compared to other YA parents at least!).
Overall, I'd recommend this one to people who don't mind the very trope-y and predictable fluffy YA! I'd especially highlight the makeup, beauty, magazine, NYC, and YouTube parts to those fans, because those elements were strong. I know my sister would probably love this book because she is obsessed with both YouTube-related and celebrity/regular girl romance books.
Related Posts