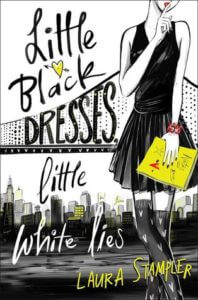 Little Black Dresses, Little White Lies
by
Laura Stampler
on July 19th 2016
(320 pages) •
Goodreads
•
Amazon
•
Barnes & Noble

Harper Anderson always believed she belonged somewhere more glamorous than her sleepy Northern California suburb. After all, how many water polo matches and lame parties in Bobby McKittrick's backyard can one girl take? That's why Harper is beyond ecstatic when she lands her dream internship as a dating blogger at the elite teen magazine Shift. Getting to spend the summer in New York City to live her dream of becoming a writer? Harper's totally in.

There's just one teeny, tiny, infinitesimal problem: apart from some dance floor make-outs, Harper doesn't have a lot of—or, really, any—dating expertise. In fact, she might have sort of stolen her best friend's experiences as her own on her Shift application. But she can learn on the job…right?

From awkward run-ins with the cute neighborhood dog walker to terrifying encounters with her crazed editor, from Brooklyn gallery openings to weekends in the Hamptons, Harper finds out what it takes to make it in the Big City—and as the writer of her own destiny.
Initial Excitement
Do you ever NEED a book so much, you just can't believe how perfectly it fits in to your mood? I have been in such a weird reading mood/slump for the past month and a half, for essentially the first time since I started blogging. I was intrigued by this book from the moment I saw it because it sounds exactly like a rom-com I'd love. However, when I sat down to pick up this book for the first time, I just knew it would break my slump and make my reading heart happy again. I was right, thank god.
Quick Summary
Harper finds out that her summer is going to be better than expected. She ends up getting an internship with Shift magazine (kind of like a Seventeen) in New York City as a dating blogger. She didn't apply for that internship and has essentially zero dating experience, but she goes for it anyways. She lives with her awesome aunt in a gorgeous, huge apartment, makes new friends at the office, and deals with the "little white lies" she has to tell about her dating history.
Storytelling, Setting, and Feels
Harper was definitely the classic "clumsy and often clueless" main character that can be really irritating for me to read about. I have to say, the author pulled this character off better than I expected. I hardly ever found myself annoyed with Harper – with a few exceptions of course – and that made for some fun, light reading. I could totally see this as a romantic comedy movie. PLEASE DO IT. Again, this may have been a situation of the right book for the right time. I could be generous here with my rating just because it was exactly what I needed. I don't care! Fluff is needed sometimes and I'm happy to indulge.
The writing was pretty good! I think some parts felt a little too much like an adult pretending to be a teenager, but there were even more places where the dialogue and interactions were spot-on. (I have to say "carpe that freaking diem" has always been the most annoying phrase to me, so that didn't help when each of her blog posts ended with it. Maybe I'm old and cranky though.)
I love New York City – mostly in theory because every time I go, I get overwhelmed – so that setting was fun. Seeing her explore the city with fresh eyes was also pretty great! I didn't have a heck of a lot of ~feels~ during this book because some of the romantic storylines didn't mesh so well with me (more later).
Characters
Harper was definitely the kind of character that would have annoyed me in other circumstances, I think. She made a lot of rash decisions and lied about her life to get shit done at work. I enjoyed getting to know her while reading but she hasn't made a lasting impression on me? There wasn't much in the way of personality.
Other interns and boys? I think a lot of the side characters were swept over pretty broadly. There were some basics about each person and I liked watching friendships develop, but nothing memorable.
Negative Stuff
Because Harper was learning about dating on the fly (and then trying to blog about it as if she were an expert), there were plenty of mishaps. A lot of them were cute, endearing, and funny. There were some majorly clueless moments as she was dealing with her crush(es) and I wanted to yell who the endgame was, because clearly she couldn't tell. Dogwalker Ben was a quick friend to her and she liked him until realizing he had a girlfriend. The second guy, Carter, was a rich and pretentious guy that she set her sights on immediately. I didn't like some of the romance aspects and the ending felt rushed (more on that in a second!)
While the story itself was pretty predictable – the romance, the potential drama/issues, etc. –  I didn't predict the final climax and problems that came up somehow. I was happy to be a little surprised.
Ending Feels
The climax and drama of the story happened essentially within the last 20 pages. I read 95% of the book and then finished during my lunch break, and all of the conflict happened during that final 5% pretty much. She had a few small fights in between everything but the end ~blow up~ was incredibly quick. I was actually glad about this (even though by most standards "rushed" would be a good word to describe it) because I wasn't in the mood for the drama. The author handled it in a very reasonable way too. The very end of the book was great!
TL;DR?
If you're looking for a YA rom-com set in NYC with a fun magazine setting, a la The Hills or how you'd imagine the office of Teen Vogue might be, look no further. This book was fluffy, easy, and incredibly quick to read. It broke me out of my month-long reading slump and for that I'll be forever grateful. The characters didn't leave a lasting impression on me but I can honestly say I would reread this one someday!
Thoughts in a Gif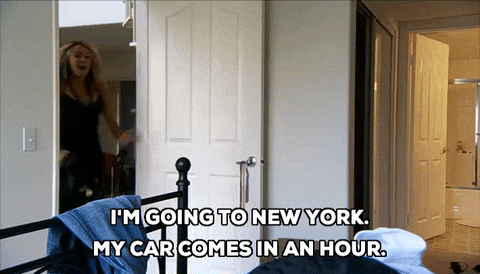 Rating Breakdown
| | |
| --- | --- |
| Plot & Premise | |
| Characters | |
| Writing Style | |
| Pacing & Flow | |
| Feels or Swoons | |
| Addiction Level | |
| Overall: | 4.1 |
Related Posts