In an effort to cut down on posts and burnout, my Review Roundups will feature 2-4 books I've read or listened to recently. Sometimes they're newer releases and sometimes they're all backlist titles. My ARC reviews usually get the solo treatment. Enjoy the mini reviews!
---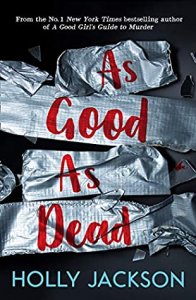 As Good As Dead
by
Holly Jackson
Series:
A Good Girl's Guide to Murder #3
Genres:
Young Adult
,
Mystery/Thriller
Published by
Penguin Random House
on August 5, 2021
Also by this author:
A Good Girl's Guide to Murder
,
Good Girl, Bad Blood
,
Kill Joy
Format:
Paperback
(565 pages) •
Source:
Purchased
Goodreads
•
Amazon
•
Barnes & Noble

Pip Fitz-Amobi is haunted by the way her last investigation ended. Soon she'll be leaving for Cambridge University but then another case finds her . . . and this time it's all about Pip.

Pip is used to online death threats, but there's one that catches her eye, someone who keeps asking: who will look for you when you're the one who disappears? And it's not just online. Pip has a stalker who knows where she lives. The police refuse to act and then Pip finds connections between her stalker and a local serial killer. The killer has been in prison for six years, but Pip suspects that the wrong man is behind bars. As the deadly game plays out, Pip realises that everything in Little Kilton is finally coming full circle. If Pip doesn't find the answers, this time she will be the one who disappears . . .
If I could leave this review as a link to THIS review, I would haha. Basically she said she hated the book from 45% on, but understood the choices that were made, and still rated it around 3 stars. I mean… same.
This series has been by go-to during the pandemic. When I'm desperate to kick my reading into gear again, one of these books has helped me do that. I loved the first book so much and didn't want to wait for the second, so I ordered it (and the third) from Book Depository as the UK versions instead of US. I was eager to read this ASAP when it came in (around a month before the US book publishes) and was somewhat addicted like the other two, but I genuinely had to put it aside for a few days because of the turn the book took in the middle.
I had figured out a THING and then it took a major turn and then, as you can see, I took a couple of days off or could only read a little at a time.
It's really hard to review this without completely giving everything away, even if you've read the first two books in the series already. I think the best way to describe it is that the book is very dark. It's interesting how what you learn in this book ties into the first one, unexpectedly –  I liked that element. I wonder if the author had intended to do that or if she made this plotline up afterwards.
In any case, it was nice to see this series end? I guess? I would be interested in reading more, in theory, but I don't think it would be super pleasant to do. I don't think it's really possible for things to continue as they had in the past books. All in all, super grateful for this series – I will continue to ask for more books like this with badass gals and their true crime podcasts!

I received this book for free (hey, thanks!) in exchange for an honest review. I promise that this does NOT affect my opinion of the book or the content of my review. For real.
We Can't Keep Meeting Like This
by
Rachel Lynn Solomon
Genres:
Young Adult
,
Contemporary
Published by
Simon and Schuster
on June 8, 2021
Also by this author:
Today Tonight Tomorrow
,
The Ex Talk
,
Weather Girl
,
See You Yesterday
,
Business or Pleasure
Format:
eARC
(336 pages) •
Source:
Publisher
Goodreads
•
Amazon
•
Barnes & Noble
A wedding harpist disillusioned with love and a hopeless romantic cater-waiter flirt and fight their way through a summer of weddings in this effervescent romantic comedy from the acclaimed author of Today Tonight Tomorrow.

Quinn Berkowitz and Tarek Mansour's families have been in business together for years: Quinn's parents are wedding planners, and Tarek's own a catering company. At the end of last summer, Quinn confessed her crush on him in the form of a rambling email—and then he left for college without a response.

Quinn has been dreading seeing him again almost as much as she dreads another summer playing the harp for her parents' weddings. When he shows up at the first wedding of the summer, looking cuter than ever after a year apart, they clash immediately. Tarek's always loved the grand gestures in weddings—the flashier, the better—while Quinn can't see them as anything but fake. Even as they can't seem to have one civil conversation, Quinn's thrown together with Tarek wedding after wedding, from performing a daring cake rescue to filling in for a missing bridesmaid and groomsman.

Quinn can't deny her feelings for him are still there, especially after she learns the truth about his silence, opens up about her own fears, and begins learning the art of harp-making from an enigmatic teacher.

Maybe love isn't the enemy after all—and maybe allowing herself to fall is the most honest thing Quinn's ever done.
Rachel Lynn Solomon became an auto-request author whenever a new book of hers popped up on Netgalley. I loved TODAY TONIGHT TOMORROW and was eager to read her adult book THE EX TALK as well. Both were superb. This book was quite good and swoony, but the miscommunication and drama in it kind of got to me.
I loved how real the characters felt. They discussed some heavy topics and mental health issues they both dealt with. Quinn and Tarek had undeniable chemistry and a good crush history to follow up on when he was home for the summer after his first year at college. She's a little bitter because he never replied to her declaration-of-a-crush email she sent before he left and tries to avoid him. It's a challenge because their parents often work together – Quinn's own a wedding planning business and Tarek's own a catering company, and both kids work for their parents at various weddings.
As someone in the middle of planning a wedding, this book was not as fun to read. I've been avoiding books about wedding planning because I don't care to think about it any more than I have to. That aside though, I usually enjoy books with this theme! It was fun to read all the details and learn the family dynamics. Quinn does not love the wedding planning industry and doesn't want to follow in her parents' footsteps like her sister has, but has yet to vocalize this to them. Quinn isn't sure what she wants to do with her life but she know it's not that – it was nice to read about someone heading off to college without her own plan, trying to figure out her path. I think more people should be open to taking classes and seeing where things go if they are able to, instead of deciding their future immediately.
Quinn's lack of interest in love and marriage coupled with Tarek's affinity for grand gestures definitely caused some conflict throughout the book, and ended up leading to the black moment. Overall I'm happy with the way the romance went and appreciated their somewhat candidness about where they were at, but Quinn spent a lot of time denying herself what she wanted. It was occasionally frustrating to read but the book was otherwise a breeze, like Solomon's other books. Can't wait to read more from her as always!
Related Posts