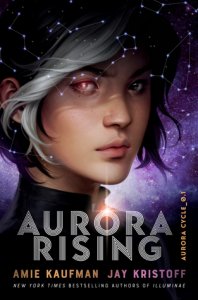 Aurora Rising
by
Amie Kaufman
,
Jay Kristoff
Series:
The Aurora Cycle #1
Genres:
Young Adult
,
Sci-Fi
Published by
Penguin Random House
on May 7, 2019
Also by this author:
These Broken Stars
,
Illuminae
,
Gemina
,
Obsidio
,
Aurora Burning
Format:
Audio/Physical
(470 pages) •
Source:
Library
,
Scribd
Goodreads
•
Amazon
•
Barnes & Noble
From the internationally bestselling authors of THE ILLUMINAE FILES comes an epic new science fiction adventure.

The year is 2380, and the graduating cadets of Aurora Academy are being assigned their first missions. Star pupil Tyler Jones is ready to recruit the squad of his dreams, but his own boneheaded heroism sees him stuck with the dregs nobody else in the Academy would touch…

A cocky diplomat with a black belt in sarcasmA sociopath scientist with a fondness for shooting her bunkmatesA smart-ass techwiz with the galaxy's biggest chip on his shoulderAn alien warrior with anger management issuesA tomboy pilot who's totally not into him, in case you were wondering

And Ty's squad isn't even his biggest problem—that'd be Aurora Jie-Lin O'Malley, the girl he's just rescued from interdimensional space. Trapped in cryo-sleep for two centuries, Auri is a girl out of time and out of her depth. But she could be the catalyst that starts a war millions of years in the making, and Tyler's squad of losers, discipline-cases and misfits might just be the last hope for the entire galaxy.


They're not the heroes we deserve. They're just the ones we could find. Nobody panic.

When this was added on Scribd, I knew I needed to listen to the audio and read this one way earlier than I thought I actually would. I loved the Illuminae books but for some reason I wasn't in the mood for this right away. I think I felt like it'd end up being too similar somehow? Not exactly the case as I got reading because OBVIOUSLY LAUREN not all science fiction/space-oriented books are the same. Anyways, I also got the physical copy from the library because I knew I wanted to blaze through it a little faster. LOL at that – I took over a month to read this because other ~required reading~ things popped up and delayed things. It's a bigger book too, of course, but still. I finally made it!
There were a lot of characters but I do think they were fleshed out well enough to differentiate between them. Tyler is kind of the lead character because he's the leader of their squad. On draft day, he was busy saving Aurora and being the goldenboy they all claim he is, which meant he got the leftovers to add to his squad instead of the top people he could have drafted. Scarlett, Tyler's twin sister, is the best and so cute and flirty and fun. Kal is the kind of alien person? Something bad happened between his people and everyone else's, so they don't super trust him sometimes. Cat is in love with Tyler, Finian is in love with everyone, and Zila is in love with no one (she barely talks?). And finally, the aforementioned Aurora: she's the wildcard who has been asleep for 200+ years that they're all trying to figure out. She may or may not have special powers and they don't know how or why she exists.
Because of the stop-start nature of me reading and listening to this one, there were some times where I straight-up forgot what had recently been happening. That's mostly my fault, but it didn't help that I was rarely in the mood to read this one. I kept with the book because of how much I enjoyed Illuminae, but this wasn't quite as good.
Around the 75% mark (yes, seriously, that far into the book), I started to get into it a little bit more. Things started happening and being revealed. I'll keep it spoiler-free, but I'll just say that these things and general turn of events made me more intrigued in the book to want to finish it off faster. Overall, curious to see where it goes, but not quite as good as their previous series.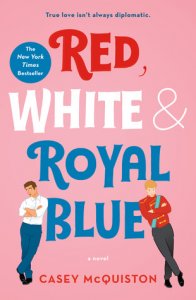 Red, White & Royal Blue
by
Casey McQuiston
Genres:
New Adult
Published by
Macmillan
on May 14, 2019
Format:
Audio/Physical
(423 pages) •
Source:
Library
,
Scribd
Goodreads
•
Amazon
•
Barnes & Noble

A big-hearted romantic comedy in which First Son Alex falls in love with Prince Henry of Wales after an incident of international proportions forces them to pretend to be best friends...

First Son Alex Claremont-Diaz is the closest thing to a prince this side of the Atlantic. With his intrepid sister and the Veep's genius granddaughter, they're the White House Trio, a beautiful millennial marketing strategy for his mother, President Ellen Claremont. International socialite duties do have downsides—namely, when photos of a confrontation with his longtime nemesis Prince Henry at a royal wedding leak to the tabloids and threaten American/British relations.

The plan for damage control: staging a fake friendship between the First Son and the Prince. Alex is busy enough handling his mother's bloodthirsty opponents and his own political ambitions without an uptight royal slowing him down. But beneath Henry's Prince Charming veneer, there's a soft-hearted eccentric with a dry sense of humor and more than one ghost haunting him.

As President Claremont kicks off her reelection bid, Alex finds himself hurtling into a secret relationship with Henry that could derail the campaign and upend two nations. And Henry throws everything into question for Alex, an impulsive, charming guy who thought he knew everything: What is worth the sacrifice? How do you do all the good you can do? And, most importantly, how will history remember you?
This book had the reverse situation but similar – I got the library book out ASAP when the book was released because the hype was killing me. It ended up being due much sooner than I could actually get to it, of course, so I started reading the physical copy first. It was later added to Scribd, so I moved over to the audiobook afterwards.
It didn't take me long to get sucked into this one. The hype was REALLY REAL so I was genuinely nervous that people built this up for me too much. I was wrong because this was very clearly perfection. I discussed my royal-related change of heart recently and this book was the first I've read since that realization.
I loved Alex and Henry SO MUCH and how naturally they seemed to fit together, despite their circumstances. As a Prince of England, Henry was basically closeted forever. Alex soon realizes that he's bisexual. The two form this hate-to-love romance (there is not much time spent with the "hate" part but it's still amazing) and try to figure out how they'll ever make their relationship work. One of my favorite things in romance lately is that authors haven't been relying on the "miscommunication leads to the black moment" trope anymore. Couples in books have become increasingly honest with each other and the reasons for breaking up or taking breaks at the climax of the book are more serious – genuine hurdles to overcome instead of something simple that could have been resolved if the two people just TALKED to each other.
This book is the alternate history we all would have much preferred from 2016 – 2020. I teared up numerous times, laughed out loud constantly, and loved every second of this book. Every single one. So much banter and love and friendship and PERFECTION. Please help transport me into THIS world instead of our current presidential hellscape.
Related Posts