In an effort to cut down on posts and burnout, my Review Roundups will feature 2-4 books I've read or listened to recently. Sometimes they're newer releases and sometimes they're all backlist titles. My ARC reviews usually get the solo treatment. Enjoy the mini reviews!
---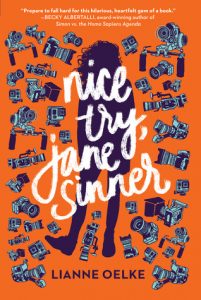 Nice Try, Jane Sinner
by
Lianne Oelke
Genres:
Young Adult
,
Contemporary
Published by
Hachette
on January 9th 2018
Format:
Hardcover
(420 pages) •
Source:
Library
Goodreads
•
Amazon
•
Barnes & Noble

The only thing 17-year-old Jane Sinner hates more than failure is pity. After a personal crisis and her subsequent expulsion from high school, she's going nowhere fast. Jane's well-meaning parents push her to attend a high school completion program at the nearby Elbow River Community College, and she agrees, on one condition: she gets to move out.

Jane tackles her housing problem by signing up for House of Orange, a student-run reality show that is basically Big Brother, but for Elbow River Students. Living away from home, the chance to win a car (used, but whatever), and a campus full of people who don't know what she did in high school… what more could she want? Okay, maybe a family that understands why she'd rather turn to Freud than Jesus to make sense of her life, but she'll settle for fifteen minutes in the proverbial spotlight.

As House of Orange grows from a low-budget web series to a local TV show with fans and shoddy T-shirts, Jane finally has the chance to let her cynical, competitive nature thrive. She'll use her growing fan base, and whatever Intro to Psychology can teach her, to prove to the world—or at least viewers of substandard TV—that she has what it takes to win.
I had been looking forward to NICE TRY, JANE SINNER, despite never watching Big Brother (or most reality shows, really). The concept of that style of housing situation for college students definitely appealed to me though. It sounded like Jane would be an interesting main character to read about and I was eager to read this one for sure. I didn't realize it was set in Canada, which was interesting! I honestly don't know if I've read a book set there before… I was wondering why the place names didn't sound familiar and some of the high school things were a bit different.
As I suspected, Jane was definitely an interesting main character. She had a lot of things going on in her life and in her past (it took a long time to learn what the "event" was that kept being referenced). I didn't really feel super connected to her, which is unfortunate when a book is written in the form of journal entries. Usually that style makes me feel close to the character, like I'm REALLY inside their head. I think it's just that Jane was kind of hard to pin down; she would be funny and sarcastic sometimes but it was hard to figure out what she actually took seriously, if anything. Her ruminations on religion/God were very interesting, and this is coming from an atheist that has never really questioned that.
I loved trying to figure out what was going to happen as the story was going on. I was less than halfway through the book and a handful of people had already been voted out of the house. What was going to happen in the second half of the story? I really loved the different turns that it took though. I wasn't sold on the ship (for good reason at the time) and was convinced that the ending was going to piss me off. It was all actually a pleasant surprise. View Spoiler »Robbie screwed her over by voting her out of the house, so I was pissed at him for most of the book (right along with Jane). Thinking about it later made me realize that she was treating him like shit a lot of the time too. The ending made me happy because they were both calculated competitors that could actually work together as a couple, probably. « Hide Spoiler Overall, this book was just as good – if not even better – than what I hoped it would be.

Obsidio
by
Amie Kaufman
,
Jay Kristoff
Series:
The Illuminae Files #3
Genres:
Young Adult
,
Sci-Fi
Published by
Penguin Random House
on March 13th 2018
Also by this author:
These Broken Stars
,
Illuminae
,
Gemina
,
Aurora Rising
,
Aurora Burning
Format:
Hardcover
(615 pages) •
Source:
Library
Goodreads
•
Amazon
•
Barnes & Noble

Kady, Ezra, Hanna, and Nik narrowly escaped with their lives from the attacks on Heimdall station and now find themselves crammed with 2,000 refugees on the container ship, Mao. With the jump station destroyed and their resources scarce, the only option is to return to Kerenza—but who knows what they'll find seven months after the invasion?

Meanwhile, Kady's cousin, Asha, survived the initial BeiTech assault and has joined Kerenza's ragtag underground resistance. When Rhys—an old flame from Asha's past—reappears on Kerenza, the two find themselves on opposite sides of the conflict.

With time running out, a final battle will be waged on land and in space, heroes will fall, and hearts will be broken.
WHAT A RIDE, AS USUAL. I should never doubt these two like I did. The first half of the book honestly wasn't pulling me in and I was nervous about how long it would take me to finish. By the time I got to the middle section, I found myself unable to put it down. A book in this kind of format is always going to be an easy-to-read pageturner, even when it's over 600 pages.
I loved seeing all of the characters work together throughout this one, as well as getting some new focus on Asha (Kady's cousin) and Rhys. I was on the edge of my seat and spent an hour getting wrinkly in the bathtub because I couldn't stop reading. I don't want to share too many actual reactions or feelings because I feel like it'll give away how the book ends? You go into this story expecting a lot of heartbreak, probably deaths of your favorites, and more heartbreak. I have to say that I totally cried, laughed, smiled, grimaced… alllll of the feels. View Spoiler »When everything happened with Nik and Ezra, I started crying so hard… until I remembered the parachute! I'm so happy all of the favorites survived this story. « Hide Spoiler
If I have one complaint about this series, it's about how confused I would sometimes get. Don't get me wrong: I genuinely love the format with IMs, emails, video transcripts, AIDAN, diagrams, radio transmissions, etc. etc. and couldn't imagine reading these books in any other way. It truly adds to the story and the intrigue. However, there are times that I wish things were a bit more explained; there are some things that just go in one… eye..? and out the other… (you get what I mean). I sometimes can't fully grasp what happened. There were a few moments in this book where that happened.
The ending was my favorite. I don't want to say more. I think this book is my favorite of the three because I was just genuinely so impressed with the ability of Kristoff/Kaufman to keep me wondering what was going to happen next. It's hard to imagine no more books in this universe; I'd definitely read more!
Related Posts