In an effort to cut down on posts and burnout, my Review Roundups will feature 2-4 books I've read or listened to recently. Sometimes they're newer releases and sometimes they're all backlist titles. My ARC reviews usually get the solo treatment. Enjoy the mini reviews!
---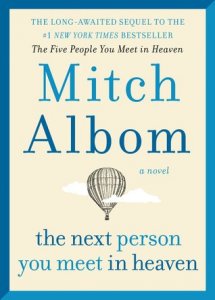 The Next Person You Meet in Heaven
by
Mitch Albom
Series:
The Five People You Meet in Heaven #2
Genres:
Adult
,
Literary Fiction
Published by
Harper Collins
on October 16, 2018
Format:
Audiobook
(224 pages) •
Source:
Scribd
Goodreads
•
Amazon
•
Barnes & Noble
In this enchanting sequel to the number one bestseller The Five People You Meet in Heaven, Mitch Albom tells the story of Eddie's heavenly reunion with Annie—the little girl he saved on earth—in an unforgettable novel of how our lives and losses intersect.

Fifteen years ago, in Mitch Albom's beloved novel, The Five People You Meet in Heaven, the world fell in love with Eddie, a grizzled war veteran- turned-amusement park mechanic who died saving the life of a young girl named Annie. Eddie's journey to heaven taught him that every life matters. Now, in this magical sequel, Mitch Albom reveals Annie's story.

The accident that killed Eddie left an indelible mark on Annie. It took her left hand, which needed to be surgically reattached. Injured, scarred, and unable to remember why, Annie's life is forever changed by a guilt-ravaged mother who whisks her away from the world she knew. Bullied by her peers and haunted by something she cannot recall, Annie struggles to find acceptance as she grows. When, as a young woman, she reconnects with Paulo, her childhood love, she believes she has finally found happiness.

As the novel opens, Annie is marrying Paulo. But when her wedding night day ends in an unimaginable accident, Annie finds herself on her own heavenly journey—and an inevitable reunion with Eddie, one of the five people who will show her how her life mattered in ways she could not have fathomed.

Poignant and beautiful, filled with unexpected twists, The Next Person You Meet in Heaven reminds us that not only does every life matter, but that every ending is also a beginning—we only need to open our eyes to see it.
I first read THE FIVE PEOPLE YOU MEET IN HEAVEN when everyone else did and it took the country by storm. I liked the made-for-TV movie version too. My parents even read the book and they don't read books like this ever (lol). I was pretty excited to see a sequel 15 years later because it's been a long time since I've read any Mitch Albom book, and he is definitely an author I wasn't sure would "hold up" for me now that my tastes have grown and changed over the years. This book was the best way to check him out again since it would feature some familiar faces AND involve my favorite concept to read about – how everyone is interconnected and one small decision could change everything, and impact everyone.
This story is about Annie, the little girl that Eddie saved before dying in the first book. It takes you through her life, leading up to the wedding day that leads to her trip to heaven. She had a difficult life after the accident at the amusement park and finds herself making a lot of mistakes (in her mind at least). It was pretty interesting to follow along and learn about her, but I don't think there was enough focus on the actual people she met in heaven? I remember finding that the most interesting part of the first book and wanting more of it in the second.
The ending was not surprising, but I'm mixed on it. I definitely predicted what ended up happening, but there were some good twists otherwise throughout the book. I like how people become connected and affect each other (which is the point of these books) but again I think those elements were understated. I feel like I liked the "literary fiction" vibe of his back in the day, but now it feels like trying too hard. Overall, a worthy and interesting sequel if you enjoyed the first book… but read it a long time ago. The story arcs are too similar to read them back-to-back like you might normally do in this situation.

The Towering Sky
by
Katharine McGee
Series:
The Thousandth Floor #3
Genres:
Young Adult
,
Sci-Fi
Published by
Harper Collins
on August 28, 2018
Also by this author:
The Thousandth Floor
,
The Dazzling Heights
,
Meet Cute: Some People Are Destined to Meet
,
American Royals
Format:
Audiobook
(464 pages) •
Source:
Scribd
Goodreads
•
Amazon
•
Barnes & Noble

Welcome back to New York, 2119. A skyscraper city, fueled by impossible dreams, where the lives of five teenagers have become intertwined in ways that no one could have imagined.

Leda just wants to move on from what happened in Dubai. Until a new investigation forces her to seek help—from the person she's spent all year trying to forget.

Rylin is back in her old life, reunited with an old flame. But when she starts seeing Cord again, she finds herself torn: between two worlds, and two very different boys.

Calliope feels trapped, playing a long con that costs more than she bargained for. What happens when all her lies catch up with her?

Watt is still desperately in love with Leda. He'll do anything to win her back—even dig up secrets that are better left buried.

And now that Avery is home from England—with a new boyfriend, Max—her life seems more picture-perfect than ever. So why does she feel like she would rather be anything but perfect?

In this breathtaking finale to The Thousandth Floor trilogy, Katharine McGee returns to her vision of 22nd-century New York: a world of startling glamour, dazzling technology, and unthinkable secrets. After all, when you have everything… you have everything to lose.
This has been one of my favorite trilogies in recent memory, just because of how much I've enjoyed every dramatic plot twist. It is literally Gossip Girl in a distant sci-fi future. These books are chock-full of death, drama, and romance. I was dying to know how the series would end and was eager to hop in once it was released. I ended up waiting forever for a library hold so I just started the audiobook on Scribd instead, working my way through slowly. I read a good spoilery review before starting, which helped, but there was some good recap otherwise.
I have to say, this one was not my favorite. I knew exactly how the book was going to go and whose secrets would end up being revealed. The others were addicting in a car crash kind of way, always wondering who would die or reveal themselves as a bad person. This one just… chugged along… with a lot of the same, repetitive drama as the other books. Couples broke up, got back together, broke up, got together with someone else, got back together… and this is true of MOST couples/people in the book.
There were too many POVs too. I would just start getting into someone's story and it would switch to someone else. There was a lot going on in general, which is interesting, but people's stories didn't intersect enough? At the same time, because the audiobook was about 14 hours long, it felt like it dragged on and was repetitive. If I had the copy in front of me to read, I would have been able to blaze through it and probably be as addicted as I was with the other two.
The ending definitely had some twists and surprises – one I saw coming, others I didn't. I didn't leave the series loving any of the characters or caring about them, but the sci-fi tower-filled future was fascinating enough to keep reading. I think it ended in a good spot otherwise.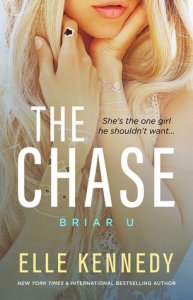 The Chase
by
Elle Kennedy
Series:
Briar U #1
Genres:
New Adult
Published by
CreateSpace
on August 6, 2018
Also by this author:
The Deal
,
The Mistake
,
The Score
,
The Goal
,
The Risk
Format:
eBook
(377 pages) •
Source:
Purchased
Goodreads
•
Amazon
•
Barnes & Noble

Everyone says opposites attract. And they must be right, because there's no logical reason why I'm so drawn to Colin Fitzgerald. I don't usually go for tattoo-covered, video-gaming, hockey-playing nerd-jocks who think I'm flighty and superficial. His narrow view of me is the first strike against him. It doesn't help that he's buddy-buddy with my brother.

And that his best friend has a crush on me.

And that I just moved in with them.

Oh, did I not mention we're roommates?

I suppose it doesn't matter. Fitzy has made it clear he's not interested in me, even though the sparks between us are liable to burn our house down. I'm not the kind of girl who chases after a man, though, and I'm not about to start. I've got my hands full dealing with a new school, a sleazy professor, and an uncertain future. So if my sexy brooding roomie wises up and realizes what he's missing?

He knows where to find me.
I adored Kennedy's Off-Campus series, for the most part, and was pretty desperate to read more books set at Briar University. I don't like hockey much but man… this books makes you interested! I was not planning on reading this book at this point in the year and saw some positive but somewhat mixed reviews from close friends who love the series. They all weren't expecting *this* to be Fitzy's story, but ended up loving Summer and enjoying the book as a whole. The good thing for me? I remember virtually zero about Fitzy from the other series, so I didn't have any expectations about what his POV would look like. Can't lose, then!
Summer, Dean's sister, was an awesome character. I loved her badass feminist opinions and quick friendship with Brenna. (Like everyone else has said, the next book NEEDS to be Brenna and Jake!!!) My refresher on Fitzy was great too – a super smart video game nerd/designer who also happens to be awesome at hockey. The book is appropriately named because it really involved the two of them kind of chasing each other without realizing and/or accepting it for most of the story. There were plenty of times I wanted to yell at them to get it together, but I knew it would be worth it in the end. They had so much chemistry.
I think there were a LOT of things going on in this book, which was a little bit overwhelming at times – new characters, side plots with creepy professors, parental issues, post-grad plans… All of it was REALISTIC because that's what college students can go through! It was just a lot of set-up for future books too, with the Harvard boys being introduced (and the football team guys maybe?) while also including cameo appearances from the previous series. I already determined, like the Brenna/Jake book I need, there also needs to be a Ben/some cute hockey boy book later in the series…
Overall, it was SO GOOD to dive back into the world of Briar U with this spin-off series. I'm so excited to see where they go next and the other couples coming up!
Related Posts