Rebound
by
Noelle August
Series:
Boomerang #2
Genres:
New Adult
on February 10th 2015
Also by this author:
Boomerang
,
Bounce
Format:
eBook
(288 pages) •
Source:
Owned
Goodreads
•
Amazon
•
Barnes & Noble

Content warning: because of its genre and/or because it has older characters than you normally see on my blog, it may contain sex, drinking/drugs, and/or violence.
Hooking up is only the beginning of the fun in this sexy and irresistible second installment of the thrilling New Adult series, Boomerang.

Adam Blackwood has it all. At twenty-two, he's fabulously wealthy, Ryan Gosling-hot and at the top of the heap in the business world. His life is perfect, until a scandal from his past resurfaces and knocks the tech wunderkind down, throwing his company, Boomerang, a hook-up site for millennials, into chaos.

Three years ago, Adam married his high school love—and then lost her in a tragic accident. Now, the heartbreak and guilt he's tried to bury with work and women begins to take over his life.

Alison Quick, the twenty-one-year-old daughter of a business tycoon—and the very ex-girlfriend of Boomerang's former intern, Ethan—has a problem of her own. She's got one chance to prove to her father that she deserves a place in his empire by grabbing control of Boomerang and taking Adam down.

But as Alison moves in on him, armed with a cadre of lawyers and accountants, she discovers there's much more to Adam and Boomerang than meets the eye. Will earning her father's approval come at the price of losing her first real love? It appears so, unless Adam can forgive her for wrecking his life and trying to steal his livelihood. But Alison hopes that old adage is right. Maybe love can conquer all.

My thoughts on this book compared to
Boomerang
 could not be more different. I loved the banter of the first book and literally laughed out loud on multiple occasions. I couldn't put it down and read the book in one day. Unfortunately,
Rebound
had a lot to live up to. I'm not sure if my expectations were too high or if too much time passed between me reading the books, but it just didn't have the same witty magic by any means.
Adam and Allison were good characters and I sort of felt their spark, but so much of the chemistry was telling instead of showing. I believed it, but only because the two of them kept repeating how attracted to each other they were. I wanted to feel the chemistry through their conversations but it just didn't happen that much.
Much of the plot and conflict was incredibly predictable. I know this happens in a lot of YA or NA books (especially because I've read so many of them), but sometimes it frustrates me more than others. The setup of the story is that Allison's father is looking to invest in Adam's company, Boomerang, so he sends her out to get some information on him. Meanwhile, Adam is covering up some secret from his past. You can probably see where I'm headed here but I won't give blatant spoilers. Just too predictable (and too angsty at times) for me.
This is really a low three star book for me. There wasn't anything wrong with it per se, but it just had so much to live up to. If it were a standalone NA without the companion-related expectations, maybe my rating would be higher.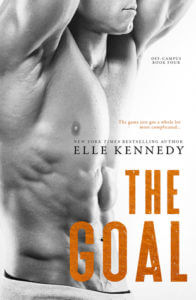 The Goal
by
Elle Kennedy
Series:
Off-Campus #4
Genres:
New Adult
Published by
CreateSpace
on September 26th 2016
Also by this author:
The Deal
,
The Mistake
,
The Score
,
The Chase
Format:
eBook
(350 pages) •
Source:
Purchased
Goodreads
•
Amazon
•
Barnes & Noble
Content warning: because of its genre and/or because it has older characters than you normally see on my blog, it may contain sex, drinking/drugs, and/or violence.
She's good at achieving her goals…

College senior Sabrina James has her whole future planned out: graduate from college, kick butt in law school, and land a high-paying job at a cutthroat firm. Her path to escaping her shameful past certainly doesn't include a gorgeous hockey player who believes in love at first sight. One night of sizzling heat and surprising tenderness is all she's willing to give John Tucker, but sometimes, one night is all it takes for your entire life to change.

But the game just got a whole lot more complicated

Tucker believes being a team player is as important as being the star. On the ice, he's fine staying out of the spotlight, but when it comes to becoming a daddy at the age of twenty-two, he refuses to be a bench warmer. It doesn't hurt that the soon-to-be mother of his child is beautiful, whip-smart, and keeps him on his toes. The problem is, Sabrina's heart is locked up tight, and the fiery brunette is too stubborn to accept his help. If he wants a life with the woman of his dreams, he'll have to convince her that some goals can only be made with an assist.

I seriously can't believe this book is finally here! I'm always anticipating the next installment in the Off-Campus series and I haven't really been disappointed before. I was definitely nervous when I saw that pregnancy was the major plot point of this book because I don't read a lot of those and would really rather not. I never liked Sabrina and didn't want this to be Tuck's storyline, so you could say this book had a LOT of obstacles to overcome for me to fall in love like I have in the past.
So, it didn't exactly wow me like I was hoping. I DID enjoy it! Quite a bit actually. I knew it was going to be hard to overcome the pregnancy plotline and honestly some of it was better than expected. I just know that no matter what – especially in a New Adult book where I'm looking for the ~sexy times~ instead of angst usually – a pregnancy is not going to appeal to me.
I loved Tuck and the relationship with his mother… at first. That changed quite a bit by the end. Sabrina was okay for me. I didn't like her in previous books but she definitely grew on me! I was annoyed by her refusal to admit her feelings for Tucker. There was a lot of slow burn in SOME aspects of the romance but not others. I'm not going to spoil anything but I just think, towards the end, certain things happened way later than they should have.
Overall, it kind of stinks I'm not left with a super happy and perfect book for the final Off-Campus series, but I think quite a few of the rest of them make up for it. I would highly recommend this series. AND, BONUS! Elle Kennedy said there's a spin-off in the works! EEEEK.
Related Posts