Five on Friday displays the the top five things that have been on my mind this week! It could be book-related, but it may be music, movies, TV, personal life, food, etc. Previous posts can be found here!
Like everyone, I was obsessed with Serial recently and wish more than anything that Sarah Koenig could narrate everything with the Serial theme song in the background. Obsessed. Since then, I took a break from podcats (except for the occasional How Did This Get Made? or What Say You?). I started to get burned out of audiobooks so I began Criminal, which basically explores EVERY aspect of criminal behavior, trials, and unsolved or unresolved mysteries. Some episodes are fascinating and it offers a lot of diverse topics! I tend to like the legitimate criminal ones best, but some of the others are interesting too. I hope to also start Accused, which is about an unsolved murder like Serial was. We'll see! Don't worry, I have some non-murder/criminal-related ones coming up on the docket but I don't want to get your hopes up without trying them first.
---
I've been wanting to listen to more music since my audiobook burnout as well. When my friend visited last weekend, we listened to a throwback rap/hip-hop playlist I created based on music we loved in middle/high school and college. It was such a fun blast from the past! I had recently purchased Apple Music because I wanted to test out the new Frank Ocean CD and I've been enjoying it ever since. We'll see how long my music kick lasts because I tend to just listen to the same things over and over again: 90s/early 00s pop and rap, plus lots of classic rock.
---
Yes I've been doing great at trying and keeping up with new fall shows! I'm addicted to a handful of them so far and anxiously await them each week. Seriously it's a bad habit. I do plan on starting a few more but I honestly think I'll wait to see which of them make it past the first handful of episodes. I don't want to get excited then disappointed when it's cancelled after a few episodes! I'm loving these…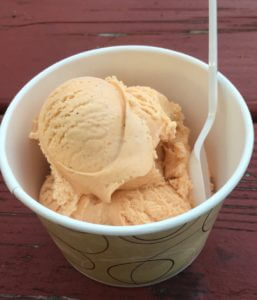 Chris and I need to get going on our fall activities too. Our favorite farm / ice cream stand does a hayride to pumpkin pick on the weekends. We've been looking forward to trying a new place since my childhood pumpkin place has gotten worse (you have to pay to enter certain things, like the patch itself!). So yeah, I think we'll try the place closer to home that we already enjoy going to. AND they had pumpkin ice cream that was delicious. We went
the other day because it was 70 degrees and we wanted ice cream. No excuses or reasons needed 😉
I have been getting better about purchasing more pumpkin things (yes, PSLs always, plus pumpkin spice coffee creamer in my office fridge!). I usually try not to spend money on coffee when I can save money by having it at home, but there are definitely some pumpkin-related exceptions to make once it hits September and October. I stopped at DQ and had a pumpkin pie Blizzard that was seriously AMAZING the other day as well. I need to stop by Trader Joe's soon and get their pumpkin cereal before it's too late. What other pumpkin things am I missing out on this year? Help me out!
---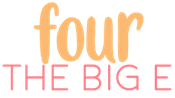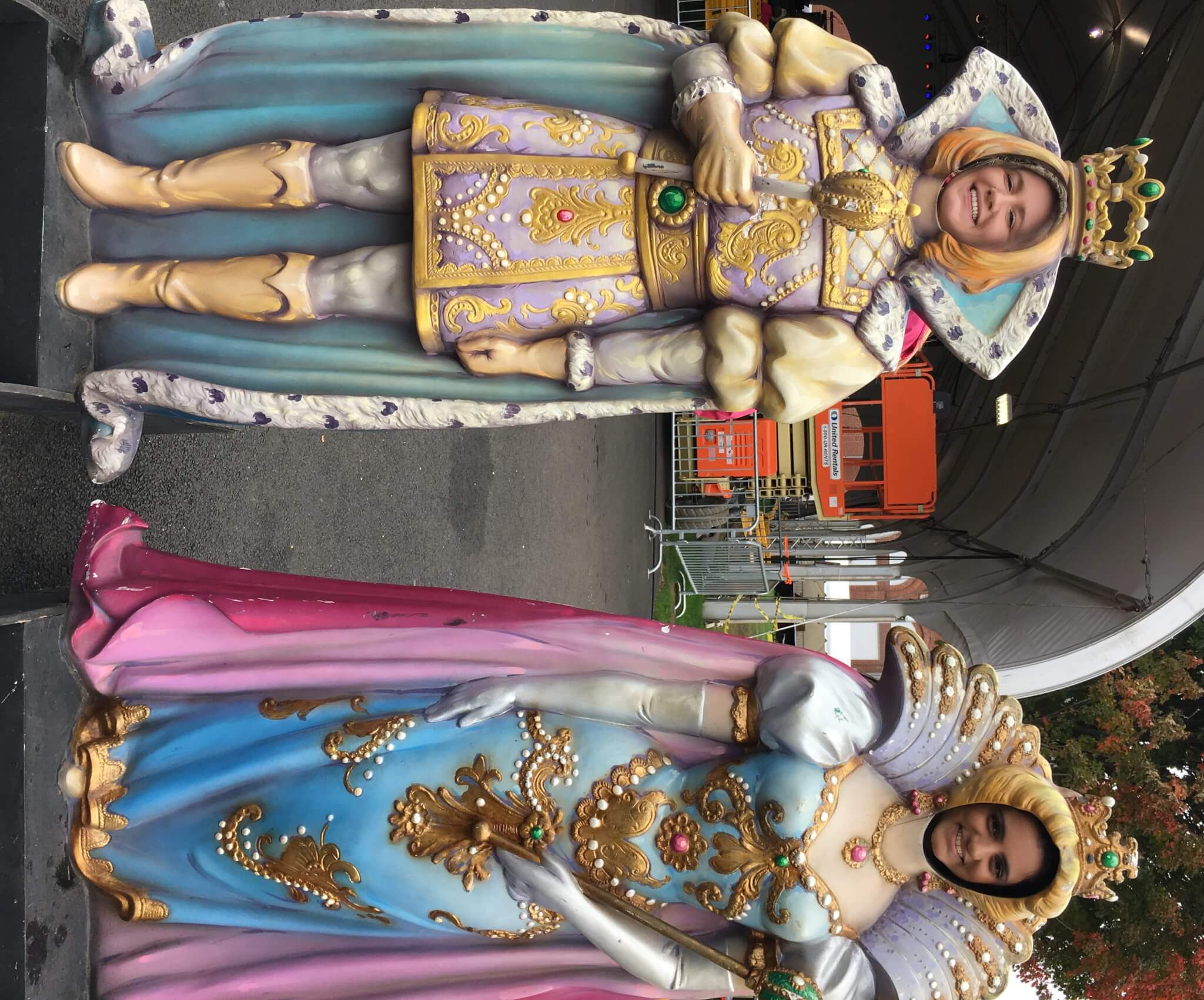 My friend Natasha LOVES fairs way too much, so the Big E was a no-brainer for her to attend with me this year. It's the biggest fair in New England that comes for three weeks during September into the very beginning of October. We took the day off from work with my mom and headed there for the day. She definitely enjoyed it! The weather was overcast and drizzled when we left, so the crowds were luckily scarce. We ate the usual food like corn dogs, steak sandwiches, chocolate covered bacon (lol), barbecue sundaes (my favorite – different layers of pulled pork, mashed potatoes, coleslaw, etc.). The Big E has buildings for each New England state with some of the foods and items from vendors in each state. I love the Connecticut building because it has Lego in the middle, since a big corporate office is in the town next door to me. The Vermont building is also amazing because it has Cabot cheese, flannels, and maple things. Then, we spent the rest of the weekend watching Luke Cage on Netflix and eating more terrible food (aka Taco Bell twice and going out to brunch and getting lots of vanilla soft serve).
---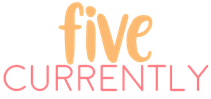 Lots of lifestyle bloggers share posts about things they're currently up to: things they're feeling, stuff they're working on, and even what music they're listening to at the moment. (I also love the "what I'm doing now" tag on Instagram!) I'm taking a cue from them and giving you a slice of my life with various prompts below.
Adding to my list of podcasts. I've seriously added so many that I plan on trying but I have no idea when I'll get around to them. I have a tendency of going in order from oldest to newest, but not straying until I finish the whole thing. I just want to catch up and then continue!
Anticipating pumpkin picking and hopefully apple picking within the next week or so. PLEASE.
Avoiding Twitter. I'm sick of it honestly. I know there are important conversations on there but it can just be a really negative place, and that's not what I'm here for anymore. I check a group message or two and maybe scroll through my feed, but more things bother me than they used to.
Buying nothing! I'm doing a good job of saving money lately, thank god / finally.
Drinking too much coffee. I always have one in the morning (sometimes at home or sometimes at work depending on when I wake up!) and then another in the afternoon. I find that I don't care about the caffeine in the afternoon – just the flavor of coffee with my pumpkin spice cream – so I've been doing something I NEVER thought I would do… drink decaf. It's actually kind of nice…
Eating lots of salad. We've been really into it lately for some reason. Chris always had this thought that salad never filled him up, but that's changed since he realized that he could eat more and add meat/toppings. I love a good buffalo chicken salad and Chris goes for caesar usually.
Listening to podcasts and music, which was the point of this entire post. So! That's it.
Looking for a birthday gift for Chris. His birthday is on the 19th so I have SOME time, but it's getting down to the wire. I know I could go for a Lego set but I haven't decided which one. I also know he wants a specific backpack that is a little pricy but could be good. We'll see…
Planning a trip for Chris's birthday too! We're probably going to spend the day near Berkshire East to ride their mountain coaster, but we don't know what else we want to do there. There's not much in that area but I'm sure we'll come up with some way to spend the day.
Reading not nearly as much as usual. I have to get back on it. Again, the TV shows and podcasts and music has been distracting me lately. I've honestly just been too lazy to read and I really WANT to read. Sometimes.
Trying to get back into the gym grind. We were doing okay for a while but just lack the motivation a lot of the time. I need to work my way up to going a few times a week.
Watching fall TV and Friends. My goal is to quit Friends for a little while so I can finish off my lingering shows. I'm nearing the middle/end of season nine so I don't have much more to go. I can't keep watching it and avoiding everything else for the rest of time!!
Wearing my cold-weather clothes FINALLY! It's gotten down toward 60/70 lately so I've been trying to mix in sweaters with cropped pants while I still can. It's been really nice temperature-wise and I can't wait to bust out the legit sweaters and long pants and scarves soon.
Related Posts