Five on Friday displays the the top five things that have been on my mind this week! It could be book-related, but it may be music, movies, TV, personal life, food, etc. Previous posts can be found here!
So I drafted up one of these back in April and highlighted some of the makeup I was using. Of the million things I was going to show off, I currently only use THREE of the same makeup items. Holy shit, my makeup life has changed. I've been generally interested in watching more makeup videos (mostly reviews) because I'm sick of my skin getting oily partway through the day. I finally found a mix of skincare and makeup that really works for me. If you have oily skin, I'd recommend checking some of these things out. Let me know if you have questions!! I'm listing them below in the order in which I apply them!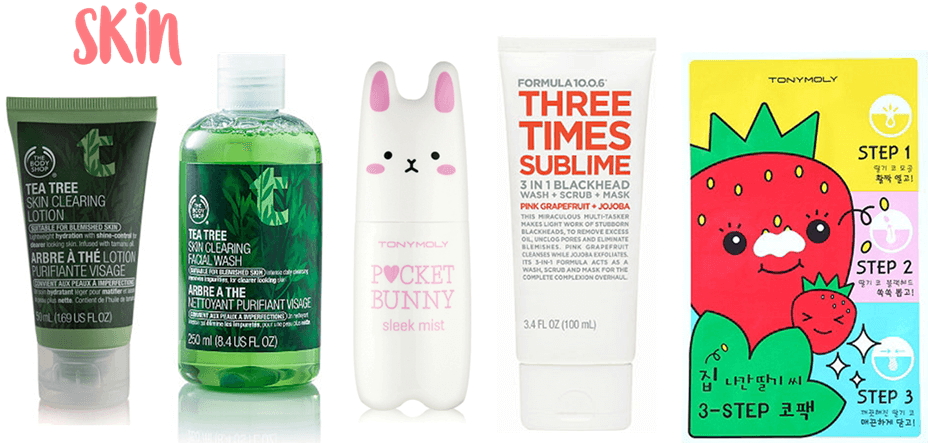 The Body Shop Tea Tree Skin Clearing Facial Wash • This makes my skin feel suuuuper clean. The tea tree oil has a bit of a stronger smell at first but it definitely fades a little bit. I use it in the shower.
Tea Tree Skin Clearing Lotion • I use this right when I get out of the shower to give it time to soak into my skin before I put the rest of my makeup/skin stuff on. It's really important!! I know that no one has a lot of time in the morning, but I usually put this on then leave it while I brush my teeth and hair.
Tonymoly Pocket Bunny Sleek Mist • Korean skincare is my favorite lately. This mist smells like baby powder! I use it once in the middle of the day when I blot my face because it completely refreshes my skin. I just feel like my skin is super clean once again and I love it.
Formula 10.0.6 Three Times Sublime Wash/Scrub/Mask • I'm really into masks lately but didn't want to share all of them here. I use this as a mask or scrub at the end of the day when I take my makeup off.
Tonymoly Strawberry Nose Pack • I love blackhead strips so much and this is one of my favorites. I love the three step process because it loosens the pores, removes everything, then moisturizes and seals them off.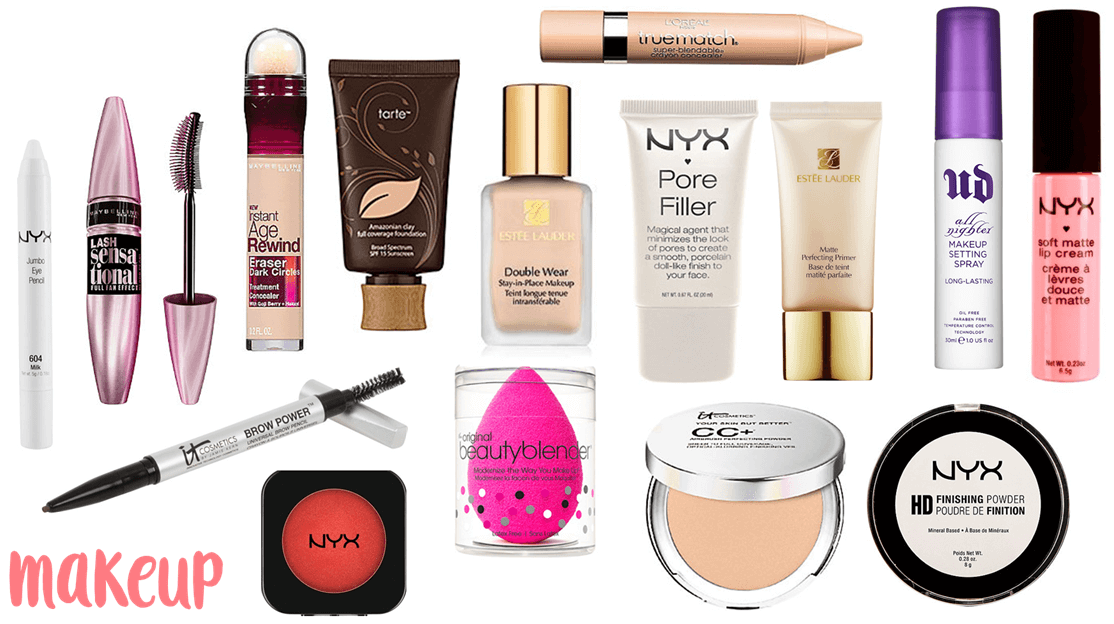 NYX Pore Filler • I don't use this as my primer alone because I love my other one too much. I use this on my nose and cheeks because it helps fill in my pores and smooth my skin out. It's the best pore reducer I've used and believe me I've tried a MILLION.
Estée Lauder Matte Perfecting Primer • I use this in conjunction with my foundation because they just work really well together. Again, I tried a lot of primers and foundations and this is the best combination for me for sure! Both of these primers make my face feel suuuuper smooth.
L'oreal True Match Concealer Crayon • I don't actually need a lot of concealer so I use this as a spot treatment on my pimples. It covers them up really well before I apply my foundation!
Beauty Blender • This is THE holy grail for applying foundation! My god. Foundation brushes and your fingers do not cut it. This is the best way to get even coverage soaked into your skin without rubbing it off or around. I always end up removing half of my makeup when I use anything else. This is amaaaazing.
Tarte Amazonian Clay 12 hour Foundation • I apply this foundation around the bottom half of my face and my forehead. Sounds weird, but I'll explain. I love this color and the way it feels on my skin. I don't get oily on those parts I just mentioned so this is perfect to stay put around the bottom and exterior of my face.
Estee Lauder Double Wear Stay-in-Place Foundation • This is the shit right here. I put this on my cheeks and nose because it's where I get the most oily. It does such a great job of keeping that general vicinity oil-free until the mid-afternoon. I also put a little of the excess on my forehead and chin, on top of the Tarte foundation, to blend it.
Urban Decay All-Nighter Setting Spray • Oddly enough, the De-Slick version of this doesn't do much for my oily skin. I love this spray in stead. I put it on right after I do my foundation and let it settle a little bit. Some people do this before, during, and after makeup application.
It Cosmetics CC Powder • I love this. It can be sheer or give some color depending on how much you use. I put this all on top of my face to set my makeup further. It's a little darker than my skin so I try to blend it down my neck a little bit to make sure it all matches. I like that it gives me some color, but I may go down a shade when I run out.
NYX HD Finishing Powder • I put this on top of the CC powder but I can't really see too many benefits. It's white so it kind of takes the color down a notch on my face, which is helpful, but not totally necessary. I need to experiment a little more with my powders but I do like this overall.
NYX High Definition Blush • This is my new favorite blush. It seriously lasts perfectly ALL DAY. There are lots of shades and a cute little bow detail where it opens. Love it.
It Cosmetics Brow Power • I actually never messed with my brows until a few years ago but this is AMAZING. I fill them in with the pencil side and then brush them in place with the other side. For someone who doesn't do anything else to their eyebrows, this is perfect. The color is "universal taupe" so it blends with basically any hair color.
NYX Jumbo Eye Pencil in Milk • I use this every single day because I don't do any eyeshadow most of the time. I put it in the corner of my eyes next to my nose and brightens them up. It's nice and low-maintenance.
Maybelline Lash Sensational • For me, mascara is all about the brush. I need a nice curled one that isn't too big so I can get my lashes to go up and out. I have really long eyelashes as is, but this is a nice way to add both volume and length. I love this mascara. This is coming from someone who used to buy $30 mascara.
NYX Soft Matte Lip Cream • Every shade of this is gorgeous. It's said to be a nice dupe for the Kylie Jenner Lip Kit. I love its matte appearance and it stays in place all day. Even when you eat and wipe your mouth the color stays behind. Can you tell I've recently become obsessed with NYX?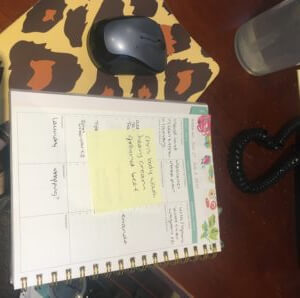 I've had a lot of planner girl fails over the past year. I always become gung-ho about something and then lose interest quickly. It's happened with just about every type of planner so far. I always enjoyed my Day Designer from Target but ended up using it at work because of the hourly format. It also was too big to fit in my purse. (It's light and thin but very tall and wide.) When I saw a much smaller hourly version (with an adorable flower design!!) at Target, I had to pick it up ASAP. It fits perfectly in my purse and I just use a basic black pen in it to save time. I loved decorating my other planners but I just don't have the motivation to be creative like that each week. This is a great compromise so far because function > design. I also am just really obsessed with the flower graphics on it so I don't worry about adding stickers or other design elements!
I'm able to include both work and personal because of the hourly format. I also love the weekends and monthly calendars to put events on as I hear about them. June and July were/are super busy months for me this year and I have stuff going on every weekend, so having a functional planner to add things to has been helpful so far.
Every time I see my college friends, we have to play Fibbage on the PS4. The game will give you a sentence about something (it ranges from random trivia to names and places) and you have to fill in the blank with something you make up. Then, all of the fibs are displayed and you have to guess which is the truth. You basically have to trick your friends into thinking your word is correct. You get points for every person you trick and if you actually guess the truth. It's really addicting and so fun. We have a great time making up our names for the game too. You play it using the web browser on your phone or tablet. It's kind of like Balderdash for the digital age 😉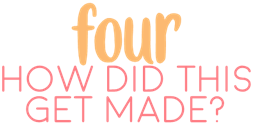 I'm picky about podcasts and definitely don't listen to them as much as other people. However, there are a few that I get obsessed with. One of them recently is How Did This Get Made? As you may know, Chris and I love bad movies. This podcast involves three comedians who watch bad movies and then discuss them together. Chris and I have made it a mission to watch a bunch of movies that they featured on the podcast and then listen to the episodes afterwards. So far I've listened to both Twilight ones (featuring Doug Benson), The Wicker Man, Fast Five (featuring Adam Scott), Spice World (featuring Retta), and Road House without watching the movies again first. Otherwise, Chris and I watched Jupiter Ascending and After Earth then listened to the podcasts afterwards. Up next is probably The Covenant because I've been wanting to see that movie again soon, as well as Steel maybe because Anders Holm from Workaholics is a guest on that episode. It's so fun to see what they end up saying about the movies and how it aligns with what we thought of them too. It seems weird to watch bad movies on purpose, but we completely love it. I hope we continue to do this on a weekly basis or something because these three comedians are super funny in their analysis.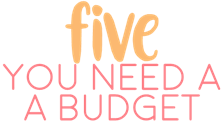 I've gotten a lot better about my spending and managing a budget. I subscribed to You Need a Budget and use it religiously. It helps you get a better idea about what you spend too much on and how much money you really should be spending a month. You can link up your bank accounts and credit cards so they filter in your purchases automatically. I've noticed that it's helped me get better about spending, which I really need. It's nice because you can play around with your budget and change the dollar amounts each month. Chris and I are planning a move sometime soonish and it's great to change the rent budget around and see how much money we can spend.
Related Posts