I have a tendency to add adult fiction to my TBR alllll the time… and then never read it. I was randomly in the mood for some recently and a couple of them happened to be nice beachy reads. I spotted the first one on Hoopla and remembered being interested in it a few months ago. Then, I was browsing my Kindle for another read and remembered the eARC I've been putting off for no reason. It's not nearly as summery or anything, but it is about a vacation ("holiday") in general… so that counts.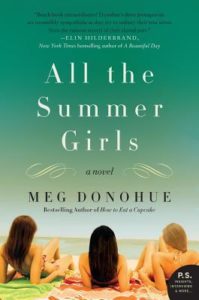 All the Summer Girls by Meg Donohue
Genres: Adult, Contemporary
Published by Harper Collins on May 21st 2013
Format: Audio/eBook (264 pages) • Source: Hoopla, Owned
Goodreads • Amazon • Barnes & Noble

In Philadelphia, good girl Kate is dumped by her fiance the day she learns she is pregnant with his child. In New York City, beautiful stay-at-home mom Vanessa is obsessively searching the Internet for news of an old flame. And in San Francisco, Dani, the aspiring writer who can't seem to put down a book--or a cocktail--long enough to open her laptop, has just been fired... again.

In an effort to regroup, Kate, Vanessa, and Dani retreat to the New Jersey beach town where they once spent their summers. Emboldened by the seductive cadences of the shore, the women being to realize how much their lives, and friendships, have been shaped by the choices they made one fateful night on the beach eight years earlier--and the secrets that only now threaten to surface.

I saw mixed reviews for this one, but it seemed like a lot of my friends enjoyed it more than the random reviewers. I was quickly intrigued by the story but thought it was kind of heavy-handed at times. There wasn't a lot going on and the secrets the characters were hiding seemed obvious to me. Kate felt like the main character even though it switched perspectives. She just got dumped and found out she was pregnant, so she uses her Bachelorette weekend to head to the Jersey Shore with her friends. Vanessa now is a stay-at-home mom who is getting feelings for an old boyfriend, despite being married. Dani is a free spirit kinda gal who kept moving west after losing 12 jobs in 7 years post-college. Needless to say, they're all quite different. It was fun to see the friends get back into a rhythm after time apart, even though you knew tensions were kind of running higher as the weekend wore on. I'm not sure how memorable this book will be in a few months, but I enjoyed it while I was reading. I love books about friends coming back together and/or returning home, so I'm glad I read this one.


I received this book for free (hey, thanks!) in exchange for an honest review. I promise that this does NOT affect my opinion of the book or the content of my review. For real.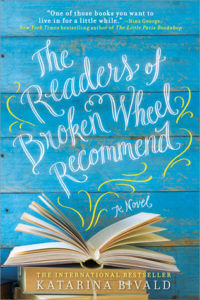 The Readers of Broken Wheel Recommend
by
Katarina Bivald
Genres:
Adult
,
Contemporary
Published by
Sourcebooks
on January 19th 2016
Format:
eARC
(394 pages) •
Source:
Publisher
Goodreads
•
Amazon
•
Barnes & Noble

Once you let a book into your life, the most unexpected things can happen...
Broken Wheel, Iowa, has never seen anyone like Sara, who traveled all the way from Sweden just to meet her pen pal, Amy. When she arrives, however, she finds that Amy's funeral has just ended. Luckily, the townspeople are happy to look after their bewildered tourist—even if they don't understand her peculiar need for books. Marooned in a farm town that's almost beyond repair, Sara starts a bookstore in honor of her friend's memory.
All she wants is to share the books she loves with the citizens of Broken Wheel and to convince them that reading is one of the great joys of life. But she makes some unconventional choices that could force a lot of secrets into the open and change things for everyone in town. Reminiscent of The Guernsey Literary and Potato Peel Pie Society, this is a warm, witty book about friendship, stories, and love.

While I generally enjoyed this one, I feel like it took forever to get into and then forever to actually read. I noted around the 40% mark that I was finally invested in the story and interested to see where it was going to go next. I loved reading a book about books (and it just so happened to fit on the current bingo card!), so that made it very worth it for me. Also, for you Parks & Rec fans – the whole Broken Wheel vs. Hope thing totally reminded me of Pawnee vs. Eagleton, and I loved that. Buuuut I have to split this into pros and cons, I think.
Pros
A book about books!
Sara's personality and bookishness
Setting: super small town vibes
Open-minded people (for the most part)
Great bookish quotes
Cons
Too many people to keep track of
Meandering plot – pointless at times
Clunky, often awkward? writing
Took forever to read and get invested in
Lots of focus on other people in the 2nd half
Somewhat lame romance
Far-fetched ending, but not terrible
Related Posts