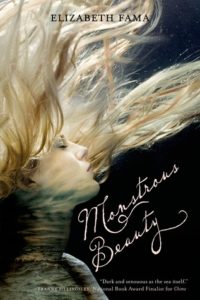 Monstrous Beauty
by
Elizabeth Fama
Genres:
Young Adult
,
Paranormal
Published by
Macmillan
on September 4th 2012
Format:
Audiobook
(295 pages) •
Source:
Hoopla
Goodreads
•
Amazon
•
Barnes & Noble

Fierce, seductive mermaid Syrenka falls in love with Ezra, a young naturalist. When she abandons her life underwater for a chance at happiness on land, she is unaware that this decision comes with horrific and deadly consequences.

Almost one hundred forty years later, seventeen-year-old Hester meets a mysterious stranger named Ezra and feels overwhelmingly, inexplicably drawn to him. For generations, love has resulted in death for the women in her family. Is it an undiagnosed genetic defect . . . or a curse? With Ezra's help, Hester investigates her family's strange, sad history. The answers she seeks are waiting in the graveyard, the crypt, and at the bottom of the ocean—but powerful forces will do anything to keep her from uncovering her connection to Syrenka and to the tragedy of so long ago.
This book was a very spur-of-the-moment choice! I needed a book to fit the "sea creatures" square on my fall bingo card, and Carrie recommended this one to me. I found it on Hoopla and started right away before Thanksgiving. I found myself drawn to it, turning the audio back on in the office while I worked (since I was alone that week). I rarely read blind recs like this because I'm more likely to add them to my TBR and maybe read them eventually, but I'm SO glad I listened to Carrie and went for it.
The story was very interesting, as it alternated back and forth across time. I've read maybe one book about mermaids and am definitely thinking I should get going on a few more now. The audiobook narrator was SUPERB with all of her accents and the ability to sound like both time periods she was narrating. She was seriously a difference-maker for this book.
I predicted a few elements throughout, but was overall very impressed with how the author wove together the story and both timelines. There were mermaids and ghosts and all sorts of things I didn't see coming! I don't want to give too much away about the plot itself, but I thought there was a good mix of action throughout. I was always eager to see what was happening in the other timeline, which kept me enthralled most of the time. It's really hard for an audiobook to consistently keep my interest and this one did a great job of that.
Overall, an incredibly interesting read that I will find myself revisiting someday, I'm sure!

Snow Like Ashes
by
Sara Raasch
Series:
Snow Like Ashes #1
Genres:
Young Adult
,
Fantasy
Published by
Harper Collins
on October 14th 2014
Also by this author:
Ice Like Fire
,
Frost Like Night
Format:
Audio/eBook
(416 pages) •
Source:
Hoopla
,
Overdrive
Goodreads
•
Amazon
•
Barnes & Noble

A heartbroken girl. A fierce warrior. A hero in the making.

Sixteen years ago the Kingdom of Winter was conquered and its citizens enslaved, leaving them without magic or a monarch. Now, the Winterians' only hope for freedom is the eight survivors who managed to escape, and who have been waiting for the opportunity to steal back Winter's magic and rebuild the kingdom ever since.

Orphaned as an infant during Winter's defeat, Meira has lived her whole life as a refugee, raised by the Winterians' general, Sir. Training to be a warrior—and desperately in love with her best friend, and future king, Mather — she would do anything to help her kingdom rise to power again.

So when scouts discover the location of the ancient locket that can restore Winter's magic, Meira decides to go after it herself. Finally, she's scaling towers, fighting enemy soldiers, just as she's always dreamed she would. But the mission doesn't go as planned, and Meira soon finds herself thrust into a world of evil magic and dangerous politics – and ultimately comes to realize that her destiny is not, never has been, her own.
Okay, so I was pretty sure I wanted to DNF this around the 40% mark because I couldn't bring myself to care about anything happening. (Audiobooks do this to me sometimes… when will I learn??) I switched over to reading it on my Kindle and I totally hit a stride for some reason. I think focus was my biggest issue.
I have to say, the world is REALLY cool (even if I'm still a little confused about some of it… let's blame the audiobook again). The ideas of seasons and other aspects (places like Jannuari) creating the world was incredibly cool. The Winterians could handle (and loved) extreme cold and snow, etc. There were lottttts of twists and reveals throughout! It kept me wondering what was going to happen next – both in this story and the rest of the series.
I thiiiink I have my ship picked out, which is the opposite one I expected to have, so we'll see how I fare with that. I usually go for the childhood-best-friend-to-lover trope (Mather, in this book), but I think I'm a bigger fan of Therian for some reason? I think their connection happend very quickly but we'll see how it gets fleshed out later.
Some parts felt repetitive (mostly in her internal dialogue) but Meira was a good main character to read about. Because the world is so interesting, I'm definitely excited to read what's coming up next. I hope that the other lands (based on the seasons) will be explored further too.
Related Posts