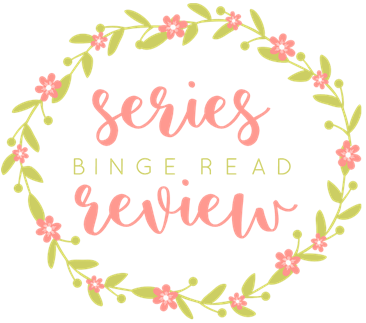 I really enjoyed the first and only Beth Kendrick novel that I previously read – Second Time Around. I'm always interested in charming bed and breakfasts, seaside towns, friends reuniting, etc. That book and this series hit on most of those elements. I was randomly looking for a new audiobook before going skiing and came across this whole series on Hoopla. I decided it'd be the perfect light audio series to binge. The books in the series are companions to each other and set in the same coastal Delaware town of "Black Dog Bay." It's known as a destination for people dealing with heartbreak; there are places called the Whinery, Better Off Bed-and-Breakfast, and Eat Your Heart Out Bakery.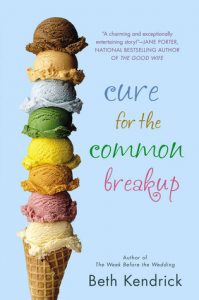 Cure for the Common Breakup
by
Beth Kendrick
Series:
Black Dog Bay #1
Genres:
Adult
,
Contemporary
Published by
Penguin
on May 6th 2014
Also by this author:
Second Time Around
,
The Lucky Dog Matchmaking Service
,
In Dog We Trust
,
The Christmas Concierge
Format:
Audiobook
(336 pages) •
Source:
Hoopla
Goodreads
•
Amazon
•
Barnes & Noble

Welcome to Black Dog Bay, a tiny seaside town in Delaware known as "the best place in America to bounce back from your breakup." Home to Better Off Bed-and-Breakfast, the Eat Your Heart Out bakery, and the Whinery bar, Black Dog Bay offers a haven for the suddenly single.

Flight attendant Summer Benson lives by two rules: Don't stay with the same man for too long and never stay in one place. She's about to break rule number one by considering accepting her boyfriend's proposal—then disaster strikes and her world is shattered in an instant.

Summer heads to Black Dog Bay, where the locals welcome her. Even Hattie Huntington, the town's oldest, richest, and meanest resident, likes her enough to give her a job. Then there's Dutch Jansen, the rugged, stoic mayor, who's the opposite of her type. She probably shouldn't be kissing him. She definitely shouldn't be falling in love.

After a lifetime of globe-trotting, Summer has finally found a home. But Hattie has old scores to settle and a hidden agenda for her newest employee. Summer finds herself faced with an impossible choice: Leave Black Dog Bay behind forever, or stay with the ones she loves and cost them everything...
Quick summary: After dealing with a personal plane-related tragedy and a little bit of heartbreak, Summer heads to Black Dog Bay. It's a town known for being perfect for people who just got out of relationships. She enters into arrangements with the hot mayor of the town as well as the crotchety old lady who essentially owns half of the town.
Heroine: Summer was immediately an intriguing character. She had this past she kept alluding to that made her unwilling to find love again, so I was concerned this would annoy me later on. I liked that she was spunky and did whatever she wanted. Once she set her mind to something, she refused to give up.
Romance: So, along those same lines, this definitely included her attraction to the off-limits town mayor, Dutch, who never dated people around Black Dog Bay. They developed a relationship with a time limit to have some fun, but of course it turned into more. I love that.
Highlights: She made instant connections with locals (even the mean ones) and developed really fun friendships. I loved watching her interact with and often shock the townspeople 😉 Summer had an infectious and interesting personality.
Lowlights: There was a tiny bit of drama toward the end, but nothing that I didn't expect. Summer clearly was going to be a stubborn character but she did what was right for everyone. I don't know that I really have any issues with this book actually.
Overall: What a solid start to this series! I'm a little nervous bout meeting the next heroines because Summer was such an amazing character to kick it off with. I'm excited to learn more about Black Dog Bay in the rest of the books though. It'll be a hard act to follow!
---
New Uses for Old Boyfriends
by
Beth Kendrick
Series:
Black Dog Bay #2
Genres:
Adult
,
Contemporary
Published by
Penguin
on February 3rd 2015
Also by this author:
Second Time Around
,
The Lucky Dog Matchmaking Service
,
In Dog We Trust
,
The Christmas Concierge
Format:
Audiobook
(336 pages) •
Source:
Hoopla
Goodreads
•
Amazon
•
Barnes & Noble

After growing up in privilege and marrying into money, Lila Alders has gotten used to the good life. But when her happily-ever-after implodes, Lila must return to Black Dog Bay, the tiny seaside town where she grew up. She's desperate for a safe haven, but everything has changed over the past ten years. Her family's fortune is gone—and her mother is in total denial. It's up to Lila to take care of everything...but she can barely take care of herself.

The former golden girl of Black Dog Bay struggles to reinvent herself by opening a vintage clothing boutique. But even as Lila finds new purpose for outdated dresses and tries to reunite with her ex, she realizes that sometimes it's too late for old dreams. She's lost everything she thought she needed but found something—someone—she desperately wants. A boy she hardly noticed has grown up into a man she can't forget...and a second chance has never felt so much like first love.
Quick summary: When her divorce is settled, former late-night TV saleswoman Lila heads home to stay with her mother and assist with everything now that her father passed away. They decide to open a vintage boutique to make money to pay off some major bills. Lila comes across multiple high school ex-boyfriends from her time living in Black Dog Bay.
Heroine: Lila was another strong character, but different from Summer. Lila made sure to hold her ground and try to focus herself on her new future, but did waver more often. She really grew on me.
Romance: I was thinking the romance would head one direction initially, but then it went in a completely different one! I really liked what happened there. Second-chance romances are some of my favorites. However, I'd say that (despite the title), the romance wasn't really the main focus on the book by any means.
Highlights: The real focus of the book was Lila and her mother getting back on their feet. It was nice to see her mom develop into a more tolerable character toward the end of the book. The book took some turns I didn't expect at all, which I loved. And, of course, I loooooved how often Summer was in this book, as well as many other locals from the first book!
Lowlights: Lila's mom was incredibly frustrating. She dug her feet in the sand and refused to make ANY concessions based on what they literally needed to do to survive. I know she's not a dumb woman, but Jesus… she was stubborn (and not in an endearing way like Summer). I wanted to reach in the book and punch her whenever she spoke. (Again, this did get better over time.)
Overall: As I said, the second book in this series was slightly doomed just because of how much I loved Summer and her story. Lila was actually a great follow-up character though! There was a smooth transition into this book too, since Summer was prevalent in helping Lila get up and running. I liked that the focus wasn't as much on the romance and there were some awesome (and sad) twists toward the end.
---
Put a Ring on It
by
Beth Kendrick
Series:
Black Dog Bay #3
Genres:
Adult
,
Contemporary
Published by
Penguin
on November 3rd 2015
Also by this author:
Second Time Around
,
The Lucky Dog Matchmaking Service
,
In Dog We Trust
,
The Christmas Concierge
Format:
Audiobook
(283 pages) •
Source:
Hoopla
Goodreads
•
Amazon
•
Barnes & Noble

Brighton Smith doesn't do outrageous. As an insurance actuary, it's her job to assess risk and avoid bad investments. But when her fiancé calls to confess he's married someone else on a whim ("I looked at her and I just knew!"), she snaps…

That night, at a local bar, Jake Sorensen—hot, rich, and way out of her league—buys Brighton a cocktail. At midnight, she kisses him. And by dawn, they're exchanging vows at a drive-through chapel.

Brighton knows Jake is a bad bet, but she doesn't care. After a lifetime of playing it safe, she's finally having fun. Until the whirlwind romance gives way to painful reality...and Brighton finds out the truth about why a guy like Jake married a girl like her. With her heart on the line and the odds stacked against them, Brighton must decide whether to cut her losses or take a leap of faith that this love affair is one in a million.
Quick summary: Brighton takes no risks in her life…after all, she is an actuary! When her fiancee suddenly breaks off the engagement and marries someone else, Brighton retaliates… with the hottest "rebound guy" in Black Dog Bay. They fly off to Vegas to tie the knot too and have to deal with the unexpected repercussions.
Heroine: Brighton is my least favorite heroine of the three I've met so far. She was definitely different than the other two, in that she was a very risk-averse person who refused to accept things. I liked that she took a leap of faith for once with Jake, but otherwise she was often hard to listen to.
Romance: I liked Jake a lot, even though he kept himself closed off. He was apparently very charming and attractive because that's what every single person said repeatedly. I wanted them to stay together, but was definitely frustrated by how incredibly repetitive their conversations about it were.
Highlights: The plot of this one overall was just really fun and different! I loved the idea that they ran off and drunkenly got married (each for their own selfish reasons). It set up an interesting dynamic for the rest of the story. It was fun to hear the townspeople's reactions that Jake got married.
Lowlights: The second half of the novel brought some frustration with Brighton and the marriage. She was hypocritical when she learned about Jake's past and kept saying certain things about their marriage when he made it clear that she was wrong. This book definitely had more drama and frustration with the MC's choices… and was really repetitive with all that.
Overall: Overall, not my favorite, but not bad! I still love this town and everyone in it. I really wish they'd give Jenna her own book (random sidenote I know). It's fun how they segue from one main character to the next by keeping the previous heroine very prevalent in the next book.
---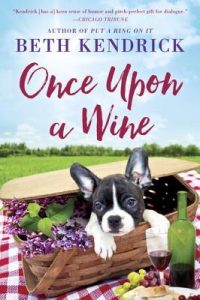 Once Upon a Wine
by
Beth Kendrick
Series:
Black Dog Bay #4
Genres:
Adult
,
Contemporary
Published by
Penguin
on July 26th 2016
Also by this author:
Second Time Around
,
The Lucky Dog Matchmaking Service
,
In Dog We Trust
,
The Christmas Concierge
Format:
Audiobook
(300 pages) •
Source:
Hoopla
Goodreads
•
Amazon
•
Barnes & Noble

Cammie Breyer needs a big glass of cabernet—her restaurant failed and her chef boyfriend left for a hotter kitchen. Just when she thinks she's hit rock bottom, her Aunt Ginger calls with a surprise. She's bought a vineyard—in Delaware. At Ginger's command, Cammie returns to Black Dog Bay, the seaside town where she spent her childhood summers with her aunt and her cousin, Kat.

The three women reunite, determined to succeed. There's only one little problem: None of them knows the first thing about wine making. And it turns out, owning a vineyard isn't all wine and roses. It's dirt, sweat, and desperation. Every day brings financial pitfalls, unruly tourists, romantic dilemmas, and second thoughts. But even as they struggle, they cultivate hidden talents and new passions. While the grapes ripen under the summer sun, Cammie discovers that love, like wine, is layered, complex, delicious, and worth waiting for…
Quick summary: Cammie is beckoned back to Black Dog Bay, where she once summered, by her aunt and cousin, Kat. Aunt Ginger bought a vineyard and she is forced to come back and help. The three women come together to run the vineyard even though they don't know the first thing about it.
Heroine: Cammie was the focus, but her cousin and aunt were major players as well. I liked the fact that Cammie tried to follow her dreams and never gave up on things, even when she wasn't a huge fan of them (aka farming). She was a strong character that really never frustrated me much.
Romance: Second chance romance, baby! My favorite. I loved where this one headed, even though it was very understated compared to the rest of the plot. (Are you sensing a theme here in this series?) Ian was a cute farmer boy who kept surprising me throughout.
Highlights: I LOVED the winery vibes and the fact that each woman brought their own skills to the table. It wasn't just the main character finding her passion; it was three strong ladies working together and doing so. A lot of the plot was enjoyably predictable, so I can't complain there. Solid cameo appearances from others in Black Dog Bay!
Lowlights: There were some repetitive areas in this one. I've noticed that a lot of the conversations between characters throughout this series get slightly repetitious, but it's not a huge deal. There isn't much conflict overall so the same issues get brought up a few times to make it seem like there's more. Also, the bigger issue was the incredibly incorrect skateboarding-related jargon. No skateboarder abbreviates it to "boarding" or calls themselves a "boarder." It would be "skating" or "skater." There are plenty of female pro skaters, you don't need a van for one person to bring "equipment" (LOL!) to an event/demo/etc., and it's unlikely, even if she was sponsored, that Kat would design her own boards. *end skateboarding rant*
Overall: This was very solid series-ender for me. Again, more cameos would have been great, but I loved how present each person was. There was one particular sweepstakes that occurred toward the end of the book that involved all of the shops and side characters. LOVED that. What a way to end a fantastic series.
---
The setting for this series is easily one of my all-time favorites. I looooved meeting all of the locals and the different shops or restaurants they provided the town. Small seaside towns are my favorite, but adding in the unique theme of being a "breakup destination" was amazing. With each book, it became increasingly clear that I was never going to be ready to leave Black Dog Bay. All of the shops and restaurants near the beach felt like home to me. I could easily read companion novels in this series forever! I truly loved each book and what they added to the series as a whole. I think the whole thing ended pretty well, but I definitely think there should have been even more cameos in book four! If that is truly the end of Black Dog Bay, I would have loved to see a little more of everyone and have certain things fully wrapped up. Overall though, I would SERIOUSLY recommend this series to people who love quaint seaside towns, strong main characters, and excellent romance. Also, the major theme of this whole series is WAY more about "finding yourself" than "finding romance," which I loved so much. It didn't feel cheesy either.
Best and Worst
Favorite heroine: Summer (Book 1)
Least favorite heroine: Brighton (Book 3)
Favorite overall book plot: Cammie's stroy (Book 4)
Least favorite book plot: Summer's story (Book 1)
Ranking Order of Favorites
Cure for the Common Breakup – 4.5 stars
Once Upon a Wine – 4.5 stars
New Uses for Old Boyfriends – 4 stars
Put a Ring on It – 4 stars
Related Posts