In an effort to cut down on posts and burnout, my Review Roundups will feature 2-4 books I've read or listened to recently. Sometimes they're newer releases and sometimes they're all backlist titles. My ARC reviews usually get the solo treatment. Enjoy the mini reviews!
---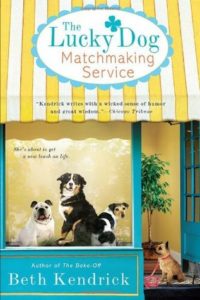 The Lucky Dog Matchmaking Service
by
Beth Kendrick
Genres:
Adult
,
Contemporary
Published by
Penguin
on May 1st 2012
Also by this author:
Second Time Around
,
Cure for the Common Breakup
,
New Uses for Old Boyfriends
,
Put a Ring on It
,
Once Upon a Wine
,
In Dog We Trust
,
The Christmas Concierge
Format:
Audio/Physical
(321 pages) •
Source:
Hoopla
,
Library
Goodreads
•
Amazon
•
Barnes & Noble
Lara Madigan has a gift. She can help you find your soulmate—your canine soulmate, that is. As a dog trainer with a soft spot for strays, she's found perfect homes for sulky Shih Tzus, broken-down Border collies, and diabolical Dalmatians. But while she'll always make room for one more rescue mutt, she's not sure she's ready to commit to another human being. Especially after her live-in boyfriend drops the bomb: He's not a dog person.

Horrified and temporarily homeless, Lara and her furry pack move in with her mother, a wealthy fashionista who forbids even a single drop of drool. As word gets around the exclusive gated community, Lara is overwhelmed with demands for her services. A model wants personal training for her overweight "flabrador"; an aging socialite preps her pedigreed puppy for dog show domination… If Lara can survive the breakup, the outrageous requests of her high-maintenance clientele, and her dogs' systematically destruction of her mother's McMansion, she might finally find the rescue dog who rescues her in return– leading her straight to the guy who could be her perfect match.
I absolutely loved the last series I read from Beth Kendrick, and was a pretty big fan of one of her standalones as well. It took me a while to figure out what book to read that had an animal name in it for the Reading Quest, but I was happy to remember THE LUCKY DOG MATCHMAKING SERVICE as a light summery contemporary. I found the audio on Hoopla for the few days I was commuting into work recently and finished up with the physical copy afterwards.
Anyways, this book was pretty good. It's perfect for a dog-lover. And by dog-lover, I mean someone dog-obsessed. That person is not really me. I like them enough, but (don't judge me) animals aren't my thing as much as other people. I was frequently frustrated with Lara's attitude about the dogs, their behavior, and her ex.
I don't know how I always come across adult contemps where the parents are basically like toddlers and the main character gives into their every whim, or falls for their traps. Her mom was so irritating and clearly didn't care about bonding with her daughter. Her dad was the type of person who would fly into her life and then fly out whenever he wanted, and she would be overeager for his attention while she had it. I wanted to smack her when she gave in to him just to keep him around. What is it with parents behaving badly in books like these?!
The family bonds, her friendship with Kerry (which was excellent), and the dog-related business(es) were at the forefront. It got to the point where I really figured there wasn't going to be any romance whatsoever, but there was a touch of it at the end. I sort of saw it coming, but it wasn't overly impressive or exciting. This book wasn't my favorite by Kendrick but it wasn't terrible either. Her books are enjoyable fluff sometimes!

Ten
by
Gretchen McNeil
Genres:
Young Adult
,
Mystery/Thriller
,
Horror
Published by
Harper Collins
on September 18th 2012
Also by this author:
Get Even
,
Get Dirty
Format:
eBook
(296 pages) •
Source:
Owned
Goodreads
•
Amazon
•
Barnes & Noble

Shhhh! Don't spread the word! Three-day weekend. Party at White Rock House on Henry Island. You do not want to miss it.

It was supposed to be the weekend of their lives—an exclusive house party on Henry Island. Best friends Meg and Minnie each have their reasons for being there (which involve T.J., the school's most eligible bachelor) and look forward to three glorious days of boys, booze and fun-filled luxury.

But what they expect is definitely not what they get, and what starts out as fun turns dark and twisted after the discovery of a DVD with a sinister message: Vengeance is mine.

Suddenly people are dying, and with a storm raging, the teens are cut off from the outside world. No electricity, no phones, no internet, and a ferry that isn't scheduled to return for two days. As the deaths become more violent and the teens turn on each other, can Meg find the killer before more people die? Or is the killer closer to her than she could ever imagine?
I've had TEN on my Kindle and my TBR for years. I remember finding out about the book when I first starting blogging. I looooved the idea that it was sort of a modern day version or even retelling of AND THEN THERE WERE NONE. I read the Agatha Christie classic in high school and really loved the twists and turns. The whole premise of that particular book is that people slowly die off on an island in creepy circumstances and the killer View Spoiler »ends up being someone who already "died." They faked their killing so they would be able to move around undetected and kill other people. « Hide Spoiler If I remember correctly (and reading this book kind of confirmed this), they all die in specific ways to match some of the things they did in their life to wrong someone. I won't say any more about it, but it's really crazy.
I don't read many horror/thriller books, so take this with a grain of salt. I could not put this book down. I sat in my bed at 11 PM and read it straight through from cover to cover. I was determined to see how much it would line up with ATTWN and find out who the killer was. I had SO many theories and honestly they all seemed pretty plausible. I think the ending made a lot of sense and definitely took me by surprise, even though maybe it shouldn't have. View Spoiler »The ending was definitely the same kind of thing as ATTWN, where the killer pretended to be murdered in order to keep killing people off. I was surprised that it was Ben though; I really didn't even think of him. I kept thinking it was one of the girls. « Hide Spoiler
My biggest issue with books like this is that there isn't a lot of character development. I mean, that's a good thing in some way because people keep getting killed off (and I would rather not get attached to people)… but for the main character and/or anyone who survives, I'm still not attached. Meg, the narrator, was apparently a writer who did anything to support her best friend Minnie. That's really all I knew about her. I always hope for a little more attachment but I didn't feel it. There's a good ship though, IMO.
Overall, I'm REALLY excited to see this turned into a Lifetime movie! It helped with my Reading Quest. I also sort of read this at the same time as Chris's sister, so we'll be able to watch the movie together when it comes out this month.
Related Posts