I received this book for free (hey, thanks!) in exchange for an honest review. I promise that this does NOT affect my opinion of the book or the content of my review. For real.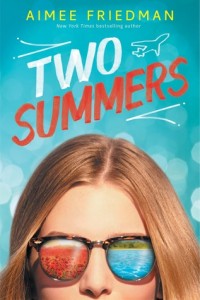 Two Summers
by
Aimee Friedman
on April 26th 2016
Also by this author:
Mistletoe
,
Snow in Love
(368 pages) •
Goodreads
•
Amazon
•
Barnes & Noble
ONE SUMMER in the French countryside, among sun-kissed fields of lavender . . .

ANOTHER SUMMER in upstate New York, along familiar roads that lead to surprises . . .

When Summer Everett makes a split-second decision, her summer divides into two parallel worlds. In one, she travels to France, where she's dreamed of going: a land of chocolate croissants, handsome boys, and art museums. In the other, she remains home, in her ordinary suburb, where she expects her ordinary life to continue — but nothing is as it seems.

In both summers, she will fall in love and discover new sides of herself. What may break her, though, is a terrible family secret, one she can't hide from anywhere. In the end, it may just be the truth she needs the most.

From New York Times bestselling author Aimee Friedman comes an irresistible, inventive novel that takes readers around the world and back again, and asks us what matters more: the journey or the destination.

I really enjoyed this one. It wasn't exactly what I was expecting in a lot of ways, but it was a super fun and summery read. I love parallel life books SO much. Just waiting to see what happens at the end is my favorite part. You always wonder – will the two lives/paths/choices leave them to a different result? Will their life end up the same in the end? Every book has this question and I'll admit, I haven't read many that led to two very different outcomes. No spoilers here though.
I definitely didn't LOVE this as much as I hoped. It sounded right up my alley and I've enjoyed Aimee Friedman's books in the past, so it was nice to be with her writing again. The premise is that Summer is planning to go to Paris to see her dad for the summer. She's having second thoughts and then her phone rings with an unknown number the moment before she steps on the plane. Her life splits into two different directions – what happens when she answers, and what happens when she doesn't. Like most parallel life books, the story alternates between the two choices and how her summer turns out.
Summer in Paris vs. Summer in New York
Instead of switching between the two parallel storylines every other chapter – like most books do – this one has longer "parts" so you only switch between the two a handful of times. In some ways, I liked being able to immerse myself in one world and not feel thrown into the other one so quickly. I also didn't like this approach because it just made them less… impactful? It almost just didn't feel like a book taking place between two worlds. Regardless, I ended up enjoying it in the end.
In the Paris timeline, she meets a cute boy, adventures around with him, and finds out a bombshell about her father. In the New York timeline, essentially the same thing happens.. just a little later and more subtle than the previous.
Two-ish Romances
She has a big crush on this guy named Hugh back home in New York. He ends up being in her photography class, but nothing brews between them right away. I was really hoping for nice romances in both timelines but didn't get much in New York. I really liked the guy in Paris, Jacques, because he was able to show her around and take her places. Unfortunately I kind of feel like not much happened throughout the book, either. When I look back on it, I can't even remember the things she did in Paris or how she spent her summer. Maybe it would have looked different if the chapters alternated faster between the two lives.
Family & Friend Feels
While all of this is going on, she's having ~issues~ with her long-time best friend, her mom, and her dad. I won't spoil anything about the family stuff because it's sort of the climax / big twist in the story. I felt like a lot of the development in her friendship/family lives was VERY telling and not showing. Ruby talks about how Summer is stuck in their old ways but we never see a lot of evidence of that. She also tells Summer that she and her mom have a Gilmore Girls-type of close relationship. I haven't seen that show, but I do know that the Gilmore mom/daughter duo are super close. I didn't SEE that with Summer and her mom. They were angry with each other at the beginning of the book and not much else was shown otherwise. I liked that she was a philosophy professor that talked about parallel lives; that's one of my favorite parts of parallel books like this. There are moments where the characters allude to parallel selves or their different choices. I love that.
Epilogue
I won't spoil the ending, but I love when everything starts coming to be at the end of these books. You see where the different timelines take the character. I'm not going to spoil anything, but if you've read this one: View Spoiler »In the end, her two lives come back to have the same epilogue. She ends up with Hugh because obviously that's a bit more realistic. I liked the ending of her romance with Jacques. She casually realized that he's sort of a flirt and that she'd be leaving him behind no matter what. It felt natural and I wasn't upset about that part of the pseudo-love triangle coming to an end. « Hide Spoiler Overall, this was a really fun book with a cool concept. I'm happy that I read it, but I just wish there was a little MORE. More development with the romance, more switching between timelines, and more family/friend stuff. I would recommend this one!

| | |
| --- | --- |
| Plot & Premise | |
| Characters | |
| Writing Style | |
| Pacing & Flow | |
| Feels or Swoons | |
| Addiction Level | |
| Overall: | 3.8 |
---
Related Posts