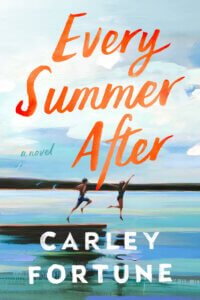 Every Summer After
by
Carley Fortune
Genres:
Adult
,
Contemporary
Published by
Penguin Random House
on May 10, 2022
Also by this author:
Meet Me at the Lake
Format:
Paperback
(320 pages) •
Source:
Purchased
Goodreads
•
Amazon
•
Barnes & Noble

Six summers to fall in love. One moment to fall apart. A weekend to get it right.

They say you can never go home again, and for Persephone Fraser, ever since she made the biggest mistake of her life a decade ago, that has felt too true. Instead of glittering summers on the lakeshore of her childhood, she spends them in a stylish apartment in the city, going out with friends, and keeping everyone a safe distance from her heart.

Until she receives the call that sends her racing back to Barry's Bay and into the orbit of Sam Florek—the man she never thought she'd have to live without.

For six summers, through hazy afternoons on the water and warm summer nights working in his family's restaurant and curling up together with books—medical textbooks for him and work-in-progress horror short stories for her—Percy and Sam had been inseparable. Eventually that friendship turned into something breathtakingly more, before it fell spectacularly apart.

When Percy returns to the lake for Sam's mother's funeral, their connection is as undeniable as it had always been. But until Percy can confront the decisions she made and the years she's spent punishing herself for them, they'll never know whether their love might be bigger than the biggest mistakes of their past.

Told over the course of six years and one weekend, Every Summer After is a big, sweeping nostalgic look at love and the people and choices that mark us forever.
It's been a very long time since I've sat down and read a book from start to finish in a day, but that's what happened here. I'd seen a ton of hype about this books months and months before release, but it wasn't at the top of my TBR. I'm not entirely sure why because the plot is right up my alley – I love stories of childhood sweethearts coming back together! Alternating timelines between past and present! Lake house vibes! All the things I love. I finally saw someone with yet another five-star review a few weeks ago and decided to pick it up on a B&N trip.
This story is about Percy and Sam. When Percy's family buys a lake house a few hours outside of Toronto, she becomes fast summertime friends with Sam and his brother Charlie. The story goes back and forth between present day (where she hasn't spoken to the boys for 12 years and Charlie calls to invite her to their mother's funeral) and the past (each summer during her preteen and teen years is featured). You learn about how Percy and Sam came together and eventually how they fell apart, while watching their reunion unfold during the unfortunate funeral weekend in Barry's Bay. I loved the lake vibes in this perfect summer read.
On the surface, the plot of this is completely predictable and very similar to a ton of stories I've read before. I think that's why I wasn't sure why this book was such a big deal. But there's something about the way she writes these characters that just hooks you. Yes, there are tons of predictable moments that come true after being hinted at throughout the chapters, but there's so much more to it. The writing style and how the story develops is just enthralling somehow.
I don't know what else to say about his except I really, really loved this. It absolutely lives up to all of the hype.
Related Posts