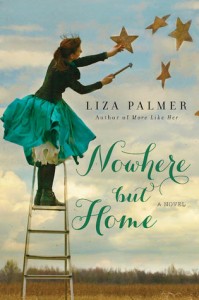 Nowhere but Home
by
Liza Palmer
Genres:
Adult
,
Women's Fiction
Published by
Harper Collins
on April 2nd 2013
Format:
eBook
(304 pages) •
Source:
Scribd
Goodreads
•
Amazon
•
Barnes & Noble

Queenie Wake, a country girl from North Star, Texas, has just been fired from her job as a chef for not allowing a customer to use ketchup. Again. Now the only place she has to go is home to North Star. She can hope, maybe things will be different. Maybe her family's reputation as those Wake women will have been forgotten. It's been years since her mother-notorious for stealing your man, your car, and your rent money-was killed. And her sister, who as a teenager was branded as a gold-digging harlot after having a baby with local golden boy Wes McKay, is now the mother of the captain of the high school football team. It can't be that bad…

Who knew that people in small town Texas had such long memories? And of course Queenie wishes that her memory were a little spottier when feelings for her high school love, Everett Coburn, resurface. He broke her heart and made her leave town-can she risk her heart again?

At least she has a new job-sure it's cooking last meals for death row inmates but at least they don't complain!

But when secrets from the past emerge, will Queenie be able to stick by her family or will she leave home again? A fun-filled, touching story of food, football, and fooling around.
I have no idea how to review this book.
I wasn't really able take notes during this one, but just wrote down a few different words that I couldn't forget:
Poetic. Sad. Beautiful. Unique. Interesting. Amazing characters.
It's a book that usually wouldn't be on my radar at all, aside from the gorgeous cover. I'm really picky about books and their subjects, and I'm even MORE picky with adult books. I honestly can't even tell you what I look for in women's fiction; usually there's just a spark of something that interests me in the synopsis. The synopsis for Nowhere But Home is certainly interesting, but not my cup of tea. Following Hannah's blog has brought a lot more adult titles to my attention, and Liza Palmer's books were promptly added to my TBR. In fact, her review is actually a lot more coherent than mine is going to be, so I recommend reading that.
After finishing Nowhere But Home, I took a reading break for a day. I wasn't ready to part with the characters or the story. I felt like the next book I read would pale in comparison, and I didn't want to ruin my next book because of this massive book hangover. This is a book I wanted to crawl inside and stay in forever. 
"It's what we're all trying to do, right? Remember a time that was better. Re-create a moment of that memory as we let the crisp Coke bubble down our throats. Riding bikes on a summer day. Sitting on the curb and watching the streetlights come on. Playing in the sprinklers with a group of neighbor kids. We're all trying to salvage a time when we dreamed beyond our reality and thought monsters were under our beds instead of peppering our family trees. We're trying to harness those fleeting moments that turned our ordinary lives into something extraordinary. In the sepia haze of those memories, we are beautiful."
In an effort to write a somewhat coherent review instead of just saying READ THIS BOOK, here are some things I absolutely loved about Nowhere But Home:
The Characters & Family
The main characters and secondary characters were so well-developed that I genuinely felt like I was there and a part of this town. I'm also from a small town, but things are apparently a LOT different in the north than in the south! Essentially we have the rumors and gossip without all of the great food, and that's a damn shame. Although if I lived in Texas, I'd be a million pounds. Barbecue forever. (Bringing up food now has me distracted.)
Queenie, the main character, returns home from travelling around the country and trying to make it as a chef in various cities. She typically gets fired because she gets mad at the customers and she has a specific vision for her food. After getting fired from a hotel in NYC, she decides to come home for her nephew's big football game and the fourth of July. Her sister, Merry Carole, and her son, Cal, stayed in North Star even though it was difficult for them. Without giving too much away, these girls have been through some SERIOUS shit. Like, more than your average person times a million.
Seeing Queenie come home and interact with her sister was so damn heartwarming. The two of them balance each other out, keep each other grounded, and help in whatever way they can. This relationship was the #1 feature of the book and I couldn't help but smile every time they talked or Queenie crawled into Merry's bed. Cal was also an amazing addition to the book; what a grounded, well-adjusted kid…considering everything they'd been through!
The Writing
I don't know what it was about the writing, but I really loved it. It was poetic and addicting and emotional and gripping. You really could feel every single emotion that Queenie felt. The writing made you relate to Queenie in ways you'd never expect, because most people out there (thank goodness) haven't gone through the same shit that Queenie and Merry Carole have.
It's the kind of writing style that just keeps you engaged no matter how little happens in the book. This wasn't a super eventful book, but it kept you going and pushing to see how it all ends.
The Uniqueness
This wasn't just your average "returning home after a long absence" story. It's much more complex than that in pretty much every way. Queenie gets a job cooking at the prison for the inmates on death row that need their last meal before their execution. Pretty crazy, right? Last meals are kind of a fascinating concept and seeing how Queenie brought herself into the meals and tried her hardest to make them perfect was SO interesting. I think this could be a polarizing part of the book for some people, especially if they're adamantly against the death penalty. In my opinion, I actually wish there was a bit MORE of that. It would have been interesting to see what other meals people chose and how Queenie went about making them. I did see the little "twist" coming at the ending, in regards to one of the meals, but I'm glad I was right and it was included! What a powerful moment. It was just a super unique topic to see in this kind of book! It could have been a cliche story you've heard a million times before, but it completely blew that out of the water.
The Love
Family love, long-lost love, new love. All of it. Usually I would be a tiny bit annoyed with the main character and the love interest being separate for most of the book and kind of just pining over each other, but somehow Palmer makes that totally work. I could feel the connection between Queenie and Everett and was rooting so damn hard for them to get together. It was amazing that they both recognized that they loved each other and wanted to be together but just couldn't figure out how it'd work. The romance between those two was definitely in the background compared to the other themes, but I was totally fine with that. Stopping this paragraph now to avoid spoilers, but let's just say that the ending floored me!
---
Overall, I could not be happier that I took the chance and read this book. I kind of want to go on a Liza Palmer binge now, but I think it'll be better to space the perfection out a little bit. I've been meaning to get back into adult books for a while now, and this was the PERFECT one to get me in the mood for them. The strong family, love, food, and football themes just made my heart so happy, while also sometimes breaking it.
More thoughts from other reviewers:   Judith | Kelly | Hannah | Ellice | Betty
You can tell from these other reviews that it's not easy to review this book and its greatness! I wanted to share some of the great reviews I've seen out there in case you need more convincing than my jumbled thoughts here.
Related Posts