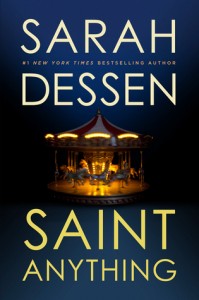 Saint Anything
on May 5th 2015
Format:
Hardcover
(432 pages) •
Goodreads
•
Amazon
•
Barnes & Noble

Peyton, Sydney's charismatic older brother, has always been the star of the family, receiving the lion's share of their parents' attention and—lately—concern. When Peyton's increasingly reckless behavior culminates in an accident, a drunk driving conviction, and a jail sentence, Sydney is cast adrift, searching for her place in the family and the world. When everyone else is so worried about Peyton, is she the only one concerned about the victim of the accident?

Enter the Chathams, a warm, chaotic family who run a pizza parlor, play bluegrass on weekends, and pitch in to care for their mother, who has multiple sclerosis. Here Sydney experiences unquestioning acceptance. And here she meets Mac, gentle, watchful, and protective, who makes Sydney feel seen, really seen, for the first time.

The uber-popular Sarah Dessen explores her signature themes of family, self-discovery, and change in her twelfth novel, sure to delight her legions of fans.

It wasn't until I started filling out my rating report that I knew that this book could be considered a favorite. I got to the end of it and was completely impressed, AS USUAL, but just didn't feel like it had a SPARK that made me say "this is hopping onto my favorites shelf." It's the kind of quiet YA book that I've been absolutely loving lately. (Read Emmy & Oliver by Robin Benway as soon as its released; you'll know exactly what I mean.)  It has some really heavy themes but there's not a lot of your typical drama that gets associated with some young adult contemporary books. It was so refreshing. Her family has issues that they need to deal with – A LOT more issues than your average family – but it was still a very subtle (maybe that's not the right word) story that impressed me regardless. I can completely see why Dessen has said this book took her a long time to write and was particularly challenging.
I've always thought that Sarah Dessen was the queen of contemporary because she could perfectly blend family, friendship, and romance all into a perfect story about imperfect characters. This book was no exception to that, although the romance part was definitely subdued compared to the rest – which I loved! It was built up organically through little glances at each other and moments of "what-if," but didn't compare to the themes of friendship and family. It had its rightful place in the book, but didn't take away from some of the more important messages.
Peyton, Sydney's older brother, has always been a troublemaker. He's finally found his way into jail because he was drunk driving and ended up putting a boy in a wheelchair. The book is centered around the fact that she feels invisible in her family. With Peyton's drama taking up so much of their lives and her parents' time, she's disregarded. If she isn't left alone, they're keeping her on a tight leash because they don't want the same things to happen to her. She's done (basically) nothing to deserve it; it's just because of her brother's history. I completely related to Sydney; my mom never seemed to trust me even though I had never done ANYTHING to deserve that. She made mistakes when she was younger and wanted to protect me from that. I didn't have any siblings to overshadow me, but I still felt connected to her struggle.
Her family was… interesting. I wanted to punch her mom in the throat throughout the entire book. Part of me understood where she was coming from and it felt really realistic, but it didn't stop me from hating her. I wanted to shake her and scream PAY ATTENTION TO YOUR OTHER CHILD! You know, the one who isn't in jail. She was a bit over the top in her obsession with Peyton. If I went to jail for something like that, my parents wouldn't be celebrating anything I did. At all. Her dad was somewhat detached from everything and didn't have his own voice, but I kind of liked him for some reason. By the end of the book, there were a lot of family things that got tidied up and her family finally realized that Ames, their houseguest who was constantly creeping on Sydney, was up to no good. I was happy with how things turned out with them and that the book didn't end with "they lived happily ever after as a perfect family." Her mom still had things to work on and Sydney understood that.
Sydney decided to change schools to help save her parents money, because of all of the legal fees for Peyton, and ends up at a local public school. She decides to grab pizza at Seaside one day after school and is caught up in the world of the Cathams, who own the restaurant. Layla, Mac, and Rosie are the three kids who live with their awesome parents and help around the shop. The integration of pizza and lollipops was always present and that made me a very happy and hungry reader. Their chaotic lives were just what Sydney needed to find herself. There was a tiny bit of friend drama intermixed with everything, but nothing too crazy or annoying. I absolutely loved Layla and her family. Now I seriously need some pizza!
Overall, this book had an amazing mix of everything I look for in a YA contemporary. I thought maybe someday there'd be a Dessen book that didn't hit home for me… but that hasn't happened yet. She'll always be a favorite contemporary writer. As a sidenote, I think the situation with Ames was handled SO realistically and I applaud Dessen for sharing that story. So many girls can relate to that and need to find their voices. If I have one tiny complaint, it's that the ending seemed a little too… reflective? for me. I felt like Sydney's voice changed a little bit and she was looking back at her life as an old woman or something. I appreciated that many things were wrapped up and overall I thought it ended very appropriately, but the voice/reflective tone of part of the ending wasn't my favorite. I highly, highly recommend reading this book. Be prepared for a slightly darker Dessen that will still make you smile, swoon, relate, and maybe shed a tear.












---
"Book Buddies Ask" is a feature I do with my Book Buddy Cristina from Girl in the Pages! While we do an in-depth buddy read every-other month, we decided it would be fun to ask fun little questions for other books we read together more casually! These questions are inspired by fun little elements from the book.
Where is your favorite place to get french fries?
This is a perfect question for me, because my stepsister and I used to keep a LIST of our favorite french fry places and give them letter grades… because we were so cool, apparently. The biggest one we loved back in the day was Applebee's. Their french fries are perfect. I love the kind that are not too thin, not too thick, and very crispy on the outside. I'm incredibly picky about french fries: I love curly fries, regular fries, and sweet potato fries; I hate steak fries and crinkle cut fries. There's a bar/restaurant near my apartment that also has the BEST fries ever. They're literally the best fries I've had within recent years. I love love love fries but am absolutely afraid of ketchup. Yes, afraid. Don't ask.
Related Posts