In an effort to cut down on posts and burnout, my Review Roundups will feature 2-4 reviews of already published books (either older/backlist or newer releases) that I've read or listened to recently. My ARC reviews usually get the solo treatment. Enjoy the mini reviews!
---
Blacklist
by
Alyson Noel
Series:
Beautiful Idols #2
Genres:
Young Adult
,
Mystery/Thriller
Published by
Harper Collins
on April 4th 2017
Also by this author:
Infamous
Format:
Hardcover
(448 pages) •
Source:
Library
Goodreads
•
Amazon
•
Barnes & Noble
In the second book of the suspenseful Unrivaled trilogy from #1 New York Times bestselling author Alyson Noel, Layla, Aster and Tommy have to unearth Hollywood it-girl Madison Brooks' secrets before one of them takes the fall for her disappearance and murder.

Layla Harrison has finally found herself in the middle of a celebrity story worth reporting. Aster Amirpour's name is in every tabloid—even if it isn't the good kind of publicity she hoped for. Tommy Phillips is inches away from getting the girl of his dreams, which may be harder than scoring a VIP ticket to an Unrivaled nightclub.

But Layla, Aster and Tommy never imagined it would be because they're entangled in the disappearance of Madison Brooks—a story that's blinded the world like a starlet blinded by the flash of a paparazzi camera.

Now, Layla is receiving mysterious messages from an anonymous source, Aster's looming murder trial is so huge even her parents' lawyer can't save her, Tommy is retracing his steps as the last person Madison saw alive, and Layla's ex Mateo finds himself lured into the fold.

You can dig up dirt about celebrities that the tabloids miss if you search long enough. But when Layla, Aster, and Tommy team up with an unsuspecting insider to unearth the truth, they'll find that some secrets are best kept in the grave.
After enjoying UNRIVALED and being incredibly interested to see what would happen next, it felt like BLACKLIST would never arrive. I checked it out from the library and stashed it under my bed (where I unfortunately keep and forget about all of my library books). I finished up what I was reading and suddenly remembered that I had BLACKLIST to dive into. Let me tell you, it was exactly what I needed at the time.
Like its predecessor, I couldn't put this one down. I don't see many differences in my feelings between the two books, to be honest. I felt the same way about the characters (didn't really care about or for them). I felt the same way about the pacing (awesome). I felt the same way about the mystery (really interesting; I have a few theories!). I don't know why but I think I liked this book more than the first. Maybe it's because the stakes feel higher? I can't put my finger on it.
Long story short, I stayed up late to finish one night and had to wake up at 4:30 AM the next day. On my way home that evening, I was so excited to think I had more to read when I got home. I completely forgot I already finished. That could be a good thing (the book was so good that I wanted more) or a bad thing (the book's ending didn't satisfy me). You could definitely say both for this one! I feel like the ending was a bit unsatisfying. I wanted a little more… resolution, maybe? That seems silly to say because it's the middle book, not the final book, but I don't know. It was a good enough cliffhanger but I have no idea what's going to happen next! The wait begins again…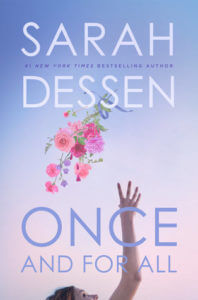 Once and for All
by
Sarah Dessen
Genres:
Young Adult
,
Contemporary
Published by
Penguin
on June 6th 2017
Also by this author:
That Summer
,
Saint Anything
,
Just Listen
,
What Happened to Goodbye
,
Keeping the Moon
,
Lock & Key
,
Along for the Ride
,
Someone Like You
,
The Rest of the Story
Format:
Hardcover
(358 pages) •
Source:
Purchased
Goodreads
•
Amazon
•
Barnes & Noble

As bubbly as champagne and delectable as wedding cake, Once and for All, Sarah Dessen's thirteenth novel, is set in the world of wedding planning, where crises are routine.

Louna, daughter of famed wedding planner Natalie Barrett, has seen every sort of wedding: on the beach, at historic mansions, in fancy hotels and clubs. Perhaps that's why she's cynical about happily-ever-after endings, especially since her own first love ended tragically. When Louna meets charming, happy-go-lucky serial dater Ambrose, she holds him at arm's length. But Ambrose isn't about to be discouraged, now that he's met the one girl he really wants.

Sarah Dessen's many, many fans will adore her latest, a richly satisfying, enormously entertaining story that has everything—humor, romance, and an ending both happy and imperfect, just like life itself.
I don't know how she does it, but this another major winner from Dessen! I knew I was going to love it because of the wedding planning premise. Louna's mom and her best friend William have a wedding planning business and they're incredibly well-known around Lakeview. I loved getting to know those two adults in her life as well as the wedding business in general. Those were definitely some of my favorite scenes!
The romance was sloooooow burn. You could tell from the beginning that Ambrose and Louna had that kind of hate-to-love, slow-burn, banter stuff going on. I knew they'd get together but didn't realize just how long it'd take them to get together. They put together a bet where she challenged Ambrose to date one girl for seven weeks, while Louna had to date many guys over the same time period. So, as you can tell, they spent the vast majority of the book dating other people. I didn't have a problem with the other dating and stuff but definitely wish they had more on-page togetherness! The ending felt slightly rushed as a result.
Another reason it took a while for Louna to warm up to any relationship in general is because of what happened with her last boyfriend. That story unfolds very slowly throughout the novel, but you can definitely tell where it's headed fairly early on. I didn't expect that particular heavy plotline, but I have to say – Dessen always does a great job of mixing in something a little more serious in her otherwise light summer reads/romances.

Blood of Wonderland
by
Colleen Oakes
Series:
Queen of Hearts Saga #2
Genres:
Young Adult
,
Fantasy
,
Retelling
Published by
Harper Collins
on January 31st 2017
Also by this author:
Queen of Hearts
,
War of the Cards
Format:
Hardcover
(336 pages) •
Source:
Library
Goodreads
•
Amazon
•
Barnes & Noble

Dinah has been exiled from Wonderland. The vicious father she always feared has framed her for the brutal murder of her brother and turned the kingdom against her.

Now hiding in the lush and mysterious Twisted Wood with only her war steed at her side, Dinah is faced with a choice: leave Wonderland forever or stay and fight her father for the throne.

When a chance encounter with one of her father's long-lost enemies brings Dinah more allies than she ever could have imagined, war starts to feel inevitable. But before Dinah can lead her people into combat, she must confront certain truths about her heart and her destiny—no matter how dark those truths may be.

Revolution is rising in Wonderland. Dinah's battle has begun.
I read a recap of the first book before I started this one and was very quickly reminded why my review said "nothing happened in this book." Seriously, there were just a couple of paragraphs with a few sentences to summarize the ENTIRE first book. Regardless, it refreshed my memory enough so I could dive into this one. My expectations were fairly low, given how I felt about book one, but I was eager to see what would happen.
It's hard to blame this one on "middle book syndrome" when the first book is equally uneventful, but I have to at least mention it. While I'm still generally interested in the overall plot, there are so few actual events that take place. The author could have taken out 100-200 pages from each book and squished them together. There are some shocking moments and twists, but nothing THAT wild to really engage me.
I like how the main character is getting a bit villainous and more complex (especially compared to her being whiny/annoying in the first book). I'm curious to see how the series wraps up, but it doesn't stand out for me in any way.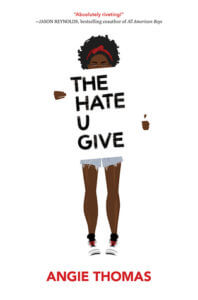 The Hate U Give
by
Angie Thomas
Genres:
Young Adult
,
Contemporary
Published by
Harper Collins
on February 28th 2017
Format:
Hardcover
(444 pages) •
Source:
Library
Goodreads
•
Amazon
•
Barnes & Noble

Sixteen-year-old Starr Carter moves between two worlds: the poor neighborhood where she lives and the fancy suburban prep school she attends. The uneasy balance between these worlds is shattered when Starr witnesses the fatal shooting of her childhood best friend Khalil at the hands of a police officer. Khalil was unarmed.

Soon afterward, his death is a national headline. Some are calling him a thug, maybe even a drug dealer and a gangbanger. Protesters are taking to the streets in Khalil's name. Some cops and the local drug lord try to intimidate Starr and her family. What everyone wants to know is: what really went down that night? And the only person alive who can answer that is Starr.

But what Starr does or does not say could upend her community. It could also endanger her life.
I've written five different opening sentences for this review and none of them do it justice. I'll try to keep things brief and to the point, because there are countless other reviews out there that will do an even better job. This is easily the most powerful book I've read in my life. I can't see any others that come even close.
I mean it when I say this should be required reading in high schools (and for a fucking lot of adults out there too). I can't imagine any person with a heart reading this book and not being impacted my its message. I didn't need a story like this to know that the Black Lives Matter movement is important and necessary, but it impacted me like a punch to the gut. I can never fully understand what people go through in these situations because I sit here in a position of privilege. I learned a LOT from this story and this family – things I could never and would never understand firsthand. There's something in here for everyone who questions any element of these stories. It doesn't matter if the person sold drugs or didn't get good grades in school. It doesn't matter if the cop's life is ruined because he still has his life. I could go on and on.
Starr and her family were so wonderful to read about. There are very few fictional families that I've ever felt THIS attached to; I could have read about them forever. I loved the different nuances in their situation. Nothing about what happened to Khalil and her family is cut and dry. Her uncle is a cop. She has a white boyfriend and goes to a primarily rich, white school. She has to deal with casually racist friends while figuring out just how to balance her "two lives." There were just so many elements to this story that mix together to make Starr's story real and complex.
Black lives matter.
Related Posts