I am thrilled to be hosting a spot on the ALL EYES ON HER by L.E. Flynn Blog Tour hosted by Rockstar Book Tours. Check out my post and make sure to enter the giveaway!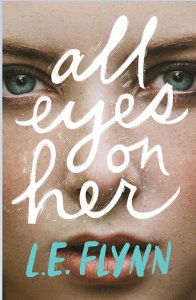 All Eyes on Her
by
L.E. Flynn
Genres:
Young Adult
,
Mystery/Thriller
Published by
Macmillan
on August 18th, 2020
Format:
eARC
(320 pages) •
Source:
Publisher
Goodreads
•
Amazon
•
Barnes & Noble
You heard the story on the news. A girl and a boy went into the woods. The girl carried a picnic basket. The boy wore bright yellow running shoes. The girl found her way out, but the boy never did….

Everyone thinks they know what happened. Some say Tabby pushed him off that cliff— she didn't even like hiking. She was jealous. She had more than her share of demons. Others think he fell accidentally—she loved Mark. She would never hurt him…even if he hurt her.

But what's the real story? All Eyes On Her is told from everyone but Tabby herself as the people in her life string together the events that led Tabby to that cliff. Her best friend. Her sister. Her enemy. Her ex-boyfriend. Because everybody thinks they know a girl better than she knows herself.

What do you think is the truth?
Find the book: Goodreads, Amazon, Kindle, Audible, B&N, iBooks, Kobo, TBD, Bookshop.org
---
Review
I loved Flynn's first book, FIRSTS (lol), and was really excited to see her transition to mystery books as well! I've been into thrillers a lot recently and keep adding them to my TBR. Her first book in this genre was really good so I was more than ready to dive in to ALL EYES ON HER.
I was hoping to blaze through this story, as I had limited reading time over the last week or so, and her writing made that super easy to do! I always think thrillers are fast-paced for breaking reading slumps, but this had short chapters that immediately engaged me. I was so happy to binge this in basically one sitting!
The story centers around Tabby and Mark. At first it seemed like they had a tumultuous relationship but mostly teenager drama and nonsense. When he falls off a cliff during their late night walk in the woods, people are left wondering if that's what really happened. It moved through multiple people's points of view, like Tabby's sister, her friend, and many others who had different perspectives on their relationship and what happened. There were texts, transcripts, and news articles too, which made it feel real. Flynn wrote it so the characters were speaking directly to you as the reader, like you were a cop asking them questions about Tabby.
The ending definitely surprised me but I'm not 100% sold on it. I can't explain more without spoiling it, but I still think it's very worth the (quick) read!
I'm so excited to read more by Flynn after this! All three of her books have been excellent reads, whether contemporary or mysteries, so I'm happy to read whichever genre she goes to next. According to her bio, she has an adult fiction novel coming in 2021 too!
---
About the Author
Laurie Elizabeth Flynn is a former model who lives in London, Ontario with her husband and children. She is the author of three young adult novels: Firsts, a YALSA Best Fiction for Young Adults pick, along with Last Girl Lied To and All Eyes On Her, under the name L.E. Flynn. She is also the author of Wattpad featured series The Boys Tell All.
Her adult fiction debut, The Girls Are All So Nice Here, will be published in 2021. It has been optioned for a TV series by AMC. 
When she's not writing, you can likely find her hiking in the woods, perusing thrift stores for vintage dresses, or bingeing on reality TV.
Website | Twitter | Instagram | Facebook | Goodreads
---
Giveaway
3 winners will receive a finished copy of ALL EYES ON HER, US Only.
Tour Schedule
Week One:
Week Two:
Related Posts