I received this book for free (hey, thanks!) in exchange for an honest review. I promise that this does NOT affect my opinion of the book or the content of my review. For real.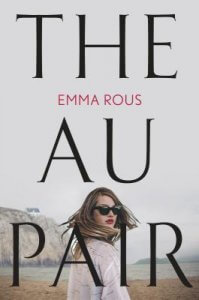 The Au Pair
by
Emma Rous
Genres:
Adult
,
Mystery/Thriller
Published by
Penguin
on January 8, 2019
Format:
eARC
(360 pages) •
Source:
Publisher
Goodreads
•
Amazon
•
Barnes & Noble
Seraphine Mayes and her twin brother Danny were born in the middle of summer at their family's estate on the Norfolk coast. Within hours of their birth, their mother threw herself from the cliffs, the au pair fled, and the village thrilled with whispers of dark cloaks, changelings, and the aloof couple who drew a young nanny into their inner circle.

Now an adult, Seraphine mourns the recent death of her father. While going through his belongings, she uncovers a family photograph that raises dangerous questions. It was taken on the day the twins were born, and in the photo, their mother, surrounded by her husband and her young son, is beautifully dressed, smiling serenely, and holding just one baby.

Who is the child and what really happened that day?

One person knows the truth, if only Seraphine can find her.
I've been requesting and reading an absurd about of books from Berkley / Berkley Romance lately. I can't stop myself. EVERYTHING they put out has an adorable or intriguing premise, a cute cover, and/or a lot of buzz. I was initially interested in THE AU PAIR but held off on requesting it (somehow)… then I saw Cristina's review. I don't have a lot of success with mystery/thrillers in the sense that I don't always rate them highly. I love reading them, but my expectations are always higher than reality. I'm going to include a snapshot of her review because it perfectly describes how I feel about this genre and my struggles/wishes:
In today's over saturated world of mediocre thrillers, it can be hard to find one that simultaneously manages to surprise me and that's well written. So many thriller novels I actually find work better for me in a movie format, so I'm always on a hunt for a solidly written mystery/thriller that manages to create an unsettling, atmospheric world on the page. That's exactly what I experienced with The Au Pair to my delight, and found myself completely immersed in a mystery that not only enveloped me in its setting, but actually had an ending that I didn't foresee in advance. – The Au Pair review at Girl in the Pages
I actually enjoyed a somewhat mysterious (more contemporary-ish, but you get the point) book earlier this year that was also set in England AND involved some kind of castle/huge house… so this was a plus for me. Clearly I have a type when it comes to this genre.
The story alternates between Laura, the au pair, in 1992 and Seraphine, the daughter, in 2017. Seraphine feels that something fishy was happening in her family and sets out to see what really happened on the day she was born. The format definitely kept me guessing as it went back and forth in time between chapters.
There were some parts of the story that felt underdeveloped to me – certain relationships or threads that dropped off prematurely and weren't talked about quite as much as I would have expected. View Spoiler »Laura has sex with the father, Dominic, and they all seem to move on as normal. I'm not saying she needed to cling to him and become obsessed with him after, but it was almost like this element of the story was dropped so half of the reveal later would be more impactful… like the author figured that the reader would forget and be more surprised. There also wasn't much about WHY this happened between them – was he just intrigued by her? Did he suspect that his wife was cheating with their friend Alex and he wanted to get back at her? « Hide Spoiler The family was well-developed, for the most part, and I was always interested in seeing her brothers' opinions on things as she uncovered them. Some of the things in the spoiler tag talk more about this, but I sought more explanation of motivation from some of the characters and their actions.
I don't know why I do this to myself but I ALWAYS expect the most insane reveal of all time, or like a million twists on the way to the reveal. I was somewhat underwhelmed by this one because of my too-high-mystery-expectations. I think I also started to pick up some pieces a little too early to be super duper surprised and shocked. I really enjoyed the reading experience though, so I'd still recommend this one if the premise sounds interesting to you.
---
I received this book for free (hey, thanks!) in exchange for an honest review. I promise that this does NOT affect my opinion of the book or the content of my review. For real.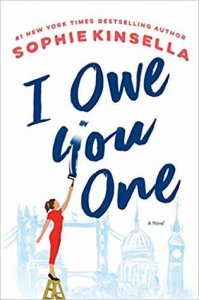 I Owe You One
by
Sophie Kinsella
Genres:
Adult
,
Contemporary
Published by
Penguin Random House
on February 5, 2019
Also by this author:
My Not So Perfect Life
,
Surprise Me
,
Love Your Life
Format:
eARC
(448 pages) •
Source:
Publisher
Goodreads
•
Amazon
•
Barnes & Noble

From #1 New York Times bestselling author Sophie Kinsella, an irresistible story of love and empowerment about a young woman with a complicated family, a handsome man who might be "the one," and an IOU that changes everything

Fixie Farr has always lived by her father's motto: "Family first." But since her dad passed away, leaving his charming housewares store in the hands of his wife and children, Fixie spends all her time picking up the slack from her siblings instead of striking out on her own. The way Fixie sees it, if she doesn't take care of her father's legacy, who will? It's simply not in her nature to say no to people.

So when a handsome stranger in a coffee shop asks her to watch his laptop for a moment, Fixie not only agrees—she ends up saving it from certain disaster. Turns out the computer's owner is an investment manager. To thank Fixie for her quick thinking, Sebastian scribbles an IOU on a coffee sleeve and attaches his business card. But Fixie laughs it off—she'd never actually claim an IOU from a stranger. Would she?

Then Fixie's childhood crush, Ryan, comes back into her life and his lack of a profession pushes all of Fixie's buttons. She wants nothing for herself—but she'd love Seb to give Ryan a job. And Seb agrees, until the tables are turned once more and a new series of IOUs between Seb and Fixie—from small favors to life-changing moments—ensues. Soon Fixie, Ms. Fixit for everyone else, is torn between her family and the life she really wants. Does she have the courage to take a stand? Will she finally grab the life, and love, she really wants?
I've always been a Kinsella fan; she's quietly become one of my auto-buy authors, especially when I'm in the mood for a romantic comedy that should probably turn into a movie. I'm also one of those people who has enjoyed some of her recent works, despite many Kinsella fans not really liking them quite as much. I can see what they're saying, now that I've read this one…
I almost quit reading this book a few times simply because of her family members. Her brother and sister were incredibly annoying, in different ways, and it seemed like nobody was on the same page. Her mom didn't do much to help in the beginning either; it was so frustrating to read! I saw in other reviews that the romance situation was back-and-forth and also not fun to read about, so I really thought hard about putting this one down. I got past the 50% mark and was feeling a little better, as her sibling drama kind of slid into the background for the most part… but overall, I was incredibly frustrated with literally every single character that I encountered. Every. Single. One. I wanted Fixie to scream at everybody from the get-go but I knew that wasn't going to happen until the end. I also knew it would feel so good once she finally did it! But honestly, she was definitely part of the problem. Her relationship with Ryan in the early part of the book was so annoying to read. I understood part of the feelings she talked about, putting somebody on a pedestal and thinking they're perfect for you when they actually aren't, but that didn't make me cringe any less.
Sometimes the phrase "it's how you leave em" is so true. I left this book with an overall happy and positive feeling, like with all Kinsella books, but good lord – the journey to get there was mostly miserable. The story got better during the 60-70% mark and then was frustrating again until the very end, which picked up. I can't justify rating this one any lower because I didn't actually hate the book? The rom-com elements and ending can't make up for everything but at least it left me feeling okay.
Related Posts