In an effort to cut down on posts and burnout, my Review Roundups will feature 2-4 books I've read or listened to recently. Sometimes they're newer releases and sometimes they're all backlist titles. My ARC reviews usually get the solo treatment. Enjoy the mini reviews!
---
I received this book for free (hey, thanks!) in exchange for an honest review. I promise that this does NOT affect my opinion of the book or the content of my review. For real.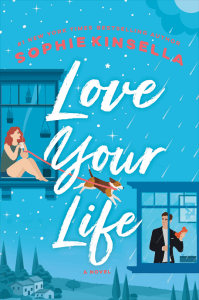 Love Your Life
by
Sophie Kinsella
Genres:
Adult
,
Contemporary
Published by
Penguin Random House
on October 27, 2020
Also by this author:
My Not So Perfect Life
,
Surprise Me
,
I Owe You One
Format:
eARC
(432 pages) •
Source:
Publisher
Goodreads
•
Amazon
•
Barnes & Noble

From the #1 New York Times bestselling author of I Owe You One, an utterly delightful novel about a woman who ditches her dating app for a writer's retreat in Italy--only to find that real love comes with its own filters

"As close to perfect as romantic comedies get."--Jenny Colgan, New York Times bestselling author of The Bookshop on the Corner

Call Ava romantic, but she thinks love should be found in the real world, not on apps that filter men by height, job, or astrological sign. She believes in feelings, not algorithms. So after a recent breakup and dating app debacle, she decides to put love on hold and escapes to a remote writers' retreat in coastal Italy. She's determined to finish writing the novel she's been fantasizing about, even though it means leaving her close-knit group of friends and her precious dog, Harold, behind.

At the retreat, she's not allowed to use her real name or reveal any personal information. When the neighboring martial arts retreat is canceled and a few of its attendees join their small writing community, Ava, now going by "Aria," meets "Dutch," a man who seems too good to be true. The two embark on a baggage-free, whirlwind love affair, cliff-jumping into gem-colored Mediterranean waters and exploring the splendor of the Italian coast. Things seem to be perfect for Aria and Dutch.

But then their real identities--Ava and Matt--must return to London. As their fantasy starts to fade, they discover just how different their personal worlds are. From food choices to annoying habits to sauna etiquette . . . are they compatible in anything? And then there's the prickly situation with Matt's ex-girlfriend, who isn't too eager to let him go. As one mishap follows another, it seems while they love each other, they just can't love each other's lives. Can they reconcile their differences to find one life together?
I've had both good and bad luck with Kinsella books in recent years – she can be super hit or miss. Sometimes the characters are just quirky enough, sometimes they're over-the-top and annoying with it. This book was an interesting reading experience because it REALLY toed the line. I was tempted to DNF because good lord was Ava annoying… but I'm glad I kept going!
My biggest issue with the story is that Ava and Matt were basically in love right away on their retreat, without knowing anything about their "real lives" outside. Kinsella didn't do a good job of building up my investment in the relationship while they were in Italy so that I would CARE about them when they were home. If I didn't see all the good things up front that made them want to keep trying, why should I care if they're together?
Their relationship was truly frustrating at times and her blindness to it all was even worse. Ava was frustrating and Matt was just okay for me. It seriously took a while but I was thoroughly enjoying myself around the 70% mark lol whoops. They had so much stuff to work through – I truly didn't think this book would have a happy ending for a while!
The side characters were interesting – I enjoyed getting to know both friend groups and seeing their quirks, as well as how they'd all get along and hang out.
If you're like me and read all of her books regardless of your experience with the previous book she wrote, give this one a try. I think you'll enjoy it if you push through. All in all, it was kind of a weird one, but enjoyable by the end.

I received this book for free (hey, thanks!) in exchange for an honest review. I promise that this does NOT affect my opinion of the book or the content of my review. For real.
Forever with You
by
Barb Curtis
Series:
Sapphire Springs #1
Genres:
Adult
,
Contemporary
Published by
Hachette
on November 10, 2020
Format:
eARC
(316 pages) •
Source:
Publisher
Goodreads
•
Amazon
•
Barnes & Noble

From debut author, Barb Curtis, a heartwarming small-town romance about high school sweethearts who return home and discover that first love sometimes gets a second chance. . .

Jay Wynter wants to be successful on his own merit. That's why he left Sapphire Springs and his family's winery to build a career from scratch. But now that he's successor to Wynter Estate, Jay must return to his small hometown to face everything, and everyone, he left behind-especially his high school sweetheart, who happens to be his stunning new business partner . . .

Leyna Milan knows family legacies come with strings attached, but she's determined to prove that she can run her family's restaurant. Of course, Leyna never expected that honoring her grandfather's wishes meant opening a second location on her ex's property-or having to ignore Jay's sexy grin and guard the heart he shattered years before. But as they work closely together, she begins to discover that maybe first loves deserve a second chance . . .
I'm a sucker for books set around a winery, even though the scent of it makes me queasy IRL! I was reminded of the Blue Heron companion series that I really enjoyed – such a cozy upstate NY setting. Like that series, this book was set in a cute town there too: Sapphire Springs. I usually like the little town to be fully fleshed out when I start the series but I have a feeling it'll get better and more lively with each installment.
This story followed Leyna and Jay, high school sweethearts who broke up before college and are forced back together through business. Jay's family owns the local vineyard, run by his grandfather at the moment, and Leyna has taken over her grandfather's beloved restaurant downtown. When Jay's grandfather retires and essentially leaves Jay with the business, the ex-lovers have to work past any weirdness and get their joint venture (a restaurant on the vineyard property) up and running. Naturally, sparks fly again as they realize what went wrong and how they can move forward. There were some legal issues and mysteries to solve that added another layer to the story.
This was super enjoyable – I don't have any major complaints, aside from the usual drama at the end to force the couple apart. It wasn't a classic "omg just communicate you guys" and had more to it, but it all worked out. I'm a huge fan of a second chance romance and this one really did it for me!
I love starting companion series and wondering who the next characters will be! I have a few ideas – there were a ton of townspeople and friends introduced that could be featured in coming books. I'm super curious about what the deal is with Leyna's brother. Cannot wait to read more in this promising new companion series!

I received this book for free (hey, thanks!) in exchange for an honest review. I promise that this does NOT affect my opinion of the book or the content of my review. For real.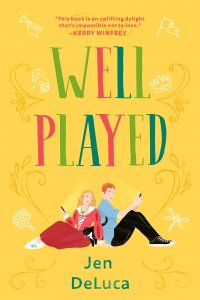 Well Played
by
Jen DeLuca
Series:
Well Met #2
Genres:
Adult
,
Contemporary
Published by
Penguin Random House
on September 22, 2020
Also by this author:
Well Met
Format:
eARC
(336 pages) •
Source:
Publisher
Goodreads
•
Amazon
•
Barnes & Noble

Stacey is jolted when her friends Simon and Emily get engaged. She knew she was putting her life on hold when she stayed in Willow Creek to care for her sick mother, but it's been years now, and even though Stacey loves spending her summers pouring drinks and flirting with patrons at the local Renaissance Faire, she wants more out of life. Stacey vows to have her life figured out by the time her friends get hitched at Faire next summer. Maybe she'll even find The One.

When Stacey imagined "The One," it never occurred to her that her summertime Faire fling, Dex MacLean, might fit the bill. While Dex is easy on the eyes onstage with his band The Dueling Kilts, Stacey has never felt an emotional connection with him. So when she receives a tender email from the typically monosyllabic hunk, she's not sure what to make of it.

Faire returns to Willow Creek, and Stacey comes face-to-face with the man with whom she's exchanged hundreds of online messages over the past nine months. To Stacey's shock, it isn't Dex—she's been falling in love with a man she barely knows.

Another laugh-out-loud romantic comedy featuring kilted musicians, Renaissance Faire tavern wenches, and an unlikely love story.
I enjoyed WELL MET enough but found myself enjoying it a lot less than others – I was really annoyed by Emily's second-guessing of everything and assuming the worst at all times. I'll admit that Stacey did that a little in this book too, but to a lesser extent.
Anyways, this was a hit for me comparatively! This story centers around Stacey, fellow tavern wench from book one, and her budding digital romance. She writes a note to Dex, her hookup buddy from one of the ren faire bands, and suggests she may want more. She's shocked to receive a thoughtful reply and eventually the two are texting or emailing each day. She later finds out she's actually been emailing with Daniel, Dex's cousin, and has to reconcile the lies before moving forward with the butterflies she's feeling.
I liked that this story went from the end of one ren faire summer, throughout the year emailing and texting, and into the next ren faire season. It helped put over just how long the two were corresponding and how deep the relationship was. When she found out it was actually Daniel, she was willing to forgive the catfishing because of their connection and see how it worked offline. I saw some reviewers say that she forgave him a bit too quickly, which I can totally see too.
As usual, it was so fun to see the ren faire and wish for better times! I did end up going to the local one last summer after I read this book and it was really enjoyable to connect the books to what I saw. I could see why people want to volunteer.
The ending was really awesome and appropriate given what you learn about Stacey throughout the book. The next book promises to be about two of my favorite side characters and I am THRILLED to read their story!
Related Posts