In an effort to cut down on posts and burnout, my Review Roundups will feature 2-4 books I've read or listened to recently. Sometimes they're newer releases and sometimes they're all backlist titles. My ARC reviews usually get the solo treatment. Enjoy the mini reviews!
ARC August Edition
I received this book for free (hey, thanks!) in exchange for an honest review. I promise that this does NOT affect my opinion of the book or the content of my review. For real.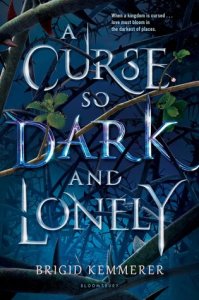 A Curse So Dark and Lonely
by
Brigid Kemmerer
Series:
Cursebreakers #1
Genres:
Young Adult
,
Fantasy
,
Fairytale Retelling
Published by
Bloomsbury
on January 29, 2019
Also by this author:
Letters to the Lost
,
A Heart So Fierce and Broken
,
A Vow So Bold and Deadly
Format:
ARC
(496 pages) •
Source:
Publisher
Goodreads
•
Amazon
•
Barnes & Noble

Fall in love, break the curse.

It once seemed so easy to Prince Rhen, the heir to Emberfall. Cursed by a powerful enchantress to repeat the autumn of his eighteenth year over and over, he knew he could be saved if a girl fell for him. But that was before he learned that at the end of each autumn, he would turn into a vicious beast hell-bent on destruction. That was before he destroyed his castle, his family, and every last shred of hope.

Nothing has ever been easy for Harper Lacy. With her father long gone, her mother dying, and her brother barely holding their family together while constantly underestimating her because of her cerebral palsy, she learned to be tough enough to survive. But when she tries to save someone else on the streets of Washington, DC, she's instead somehow sucked into Rhen's cursed world.

Break the curse, save the kingdom.

A prince? A monster? A curse? Harper doesn't know where she is or what to believe. But as she spends time with Rhen in this enchanted land, she begins to understand what's at stake. And as Rhen realizes Harper is not just another girl to charm, his hope comes flooding back. But powerful forces are standing against Emberfall . . . and it will take more than a broken curse to save Harper, Rhen, and his people from utter ruin.
As always with fantasy books, I kind of waited forever to read my review copy of this book. I was hoping to mix in the audiobook but I couldn't track it down in my usual places, so I just broke up my reading and charged through. I also made sure it was both my August book club selection AND a pick for my Disney-a-thon TBR, so I would be guaranteed to have read it.
I'm not 100% sure if this book is classified as a true portal fantasy, but I loved that it featured both "our world" and another fantasy world – Emberfall. It was fun to learn about that world and those who inhabit it (Rhen, Grey, etc.). The curse and Beauty and the Beast elements were really well done and more unique than the traditional Stockholm Syndrome-esque story or other retellings. I appreciated that a lot.
Harper was kind of a badass main character and it was cool to read about a fantasy heroine with cerebral palsy. Like the author's note said, she wasn't defined by it throughout the story but there were clear mentions about how it affected her daily life.
I do wish I read this all in a row instead of taking a break, because I feel like it impacted my memory of what happened in the first half of the book. Looking back, it doesn't feel like a lot happened in that section, but it was mostly Harper being introduced to their world. The ending was a good cliffhanger that I probably should have seen coming, and now I'm curious to read the second book!

I received this book for free (hey, thanks!) in exchange for an honest review. I promise that this does NOT affect my opinion of the book or the content of my review. For real.
Well Met
by
Jen DeLuca
Genres:
Adult
,
Contemporary
Published by
Penguin
on September 3, 2019
Also by this author:
Well Played
Format:
eARC
(336 pages) •
Source:
Publisher
Goodreads
•
Amazon
•
Barnes & Noble
All's faire in love and war for two sworn enemies who indulge in a harmless flirtation in a laugh-out-loud rom-com from debut author, Jen DeLuca.

Emily knew there would be strings attached when she relocated to the small town of Willow Creek, Maryland, for the summer to help her sister recover from an accident, but who could anticipate getting roped into volunteering for the local Renaissance Faire alongside her teenaged niece? Or that the irritating and inscrutable schoolteacher in charge of the volunteers would be so annoying that she finds it impossible to stop thinking about him?

The faire is Simon's family legacy and from the start he makes clear he doesn't have time for Emily's lighthearted approach to life, her oddball Shakespeare conspiracy theories, or her endless suggestions for new acts to shake things up. Yet on the faire grounds he becomes a different person, flirting freely with Emily when she's in her revealing wench's costume. But is this attraction real, or just part of the characters they're portraying?

This summer was only ever supposed to be a pit stop on the way to somewhere else for Emily, but soon she can't seem to shake the fantasy of establishing something more with Simon, or a permanent home of her own in Willow Creek.
Alright, I really did like this book overall, but the overwhelmingly love-filled reviews are making me feel like a bit of a black sheep. I don't mind being one TBH and most of the reviews so far are very short because it's still a little early.
The renaissance faire setting was amazing and inspired me to look up when one will be in my state next. It was such a well-developed setting; I could completely picture every part of it. I think the romance itself was good too. Simon and Emily had some kind of hate-to-love going on, where they both couldn't handle each other at first, and there were some classic moments of "is this really him or is this his ren faire character?" too.
BUT GOD I couldn't handle Emily a lot of the time. She second guessed everything and jumped to conclusions without any good reason. It was so frustrating to read. I get that she'd been screwed over in the past but that was so repetitive and didn't feel quite as correlated to what was happening as it could have been? I think we were supposed to feel for her because of her past relationship issues and they were somewhat developed, but it just didn't connect with me. I don't know how to explain it properly. She also jumped to conclusions in all other areas of life, even when people didn't give her reasons to do so. Her sister told her to stay as long as possible or as long as she needed, and she still felt like she needed to move out ASAP. I don't want to dive into spoiler territory but there was another moment with the bookstore owner/queen of the faire, Chris, where she automatically assumed something without looking at literally all the clues around her to show she was wrong. So CLEARLY Emily did this with everyone, not just with Simon / within the romance.
Overall, most people have liked this one a lot more than I did and I would still recommend it overall. The more time passes, the more I don't remember how much Emily annoyed me, and the book looks even better in hindsight. The setting was amazing and, beyond the ren faire, I loved the small town the book took place in too.

I received this book for free (hey, thanks!) in exchange for an honest review. I promise that this does NOT affect my opinion of the book or the content of my review. For real.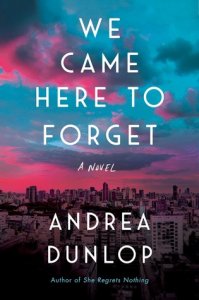 We Came Here to Forget
by
Andrea Dunlop
Genres:
Adult
,
Contemporary
Published by
Simon and Schuster
on July 2, 2019
Format:
eARC
(320 pages) •
Source:
Publisher
Goodreads
•
Amazon
•
Barnes & Noble
From the author of She Regrets Nothing comes a vivid novel about a young Olympic skier who loses everything and escapes to Buenos Aires, where she reinvents herself, meets a colorful group of ex-pats, and is swept off her feet by a mysterious young man with dark secrets of his own.

Katie Cleary has always known exactly what she wants: to be the best skier in the world. As a teenager, she leaves her home to live and train full time with her two best friends, all-American brothers Luke and Blair, whose wealthy father has hired the best coaches money can buy. Together, they are the USA's best shot at bringing home Olympic gold—as well as a love triangle waiting to happen.

But as the upward trajectory of Katie's elite skiing career nears its zenith, a terrifying truth about her sister becomes impossible to ignore—one that will lay ruin not only to Katie's career but to her family and her relationship with Luke and Blair.

With her life shattered and nothing left to lose, Katie flees the snowy mountainsides of home for Buenos Aires. There, she reinvents herself as Liz Sullivan, and meets a colorful group of ex-pats and the alluring, charismatic Gianluca Fortunado, a tango teacher with secrets of his own. This beautiful city, with its dark history and wild promise, seems like the perfect refuge, but can she really outrun her demons?

Told in alternating chapters, Katie grows up, falls in love, and races down the highest peaks on the planet—while Liz is reborn, falls into lust, and sinks into the underground tango scene at the bottom of the world. From the moneyed ski chalets of the American West to the dimly lit milongas of Argentina, We Came Here to Forget explores what it means to dream, to desire, to achieve—and what's left behind after it all disappears.
This book occurs in alternating chapters, between the past and the present. The past is about Katie, the professional skier trying for the Olympics with her two best friends (and brothers) Blair and Luke. The present is about Katie-going-by-Liz, now living in Buenos Aires and trying to outrun her demons. Because of these chapters, the character names, and the overall formatting of the egalley, it took a little while to get into the swing of the novel! I started to really get into it though.
I feel like the classic cliche of running away, finding a Latin lover, and getting yourself to ~open up~ is a boring book, because it's too common and overused. That definitely happens in the chapters where she's in Argentina, but I still found myself mostly curious about her life there. I was always fascinated by the past chapters dealing with her sister too, mostly because I was dying to know what happened to lead to some kind of fallout. I was able to predict some of it pretty early on as well.
Overall, this book ended up being too simplistic and relied on boring tropes instead of offering anything new. I didn't like the ending at all, which took this out of three-star territory for me.
Related Posts