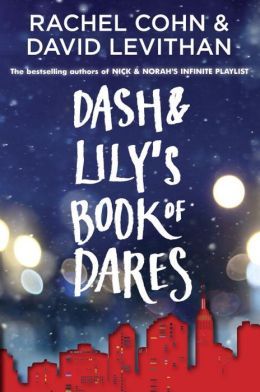 Dash & Lily's Book of Dares by David Levithan, Rachel Cohn
Series: Dash and Lily #1
Genres: Holiday, Young Adult
Published by Random House on October 26th 2010
Also by this author: My True Love Gave To Me, Sam & Ilsa's Last Hurrah, The Twelve Days of Dash and Lily
Format: Paperback (260 pages) • Source: Purchased
Goodreads • Amazon


"I've left some clues for you.
If you want them, turn the page.
If you don't, put the book back on the shelf, please."

16-year-old Lily has left a red notebook full of challenges on her favorite bookstore shelf, waiting for just the right guy to come along and accept its dares. Dash, in a bad mood during the holidays, happens to be the first guy to pick up the notebook and rise to its challenges.

What follows is a whirlwind romance as Dash and Lily trade dares, dreams, and desires in the notebook they pass back and forth at locations all across New York City. But can their in-person selves possibly connect as well as their notebook versions, or will their scavenger hunt end in a comic mismatch of disastrous proportions?

Co-written by Rachel Cohn (GINGERBREAD) and David Levithan, co-author of WILL GRAYSON, WILL GRAYSON with John Green (THE FAULT IN OUR STARS), DASH & LILY'S BOOK OF DARES is a love story that will have readers scouring bookstore shelves, looking and longing for a love (and a red notebook) of their own.
Man guys. This book. I have a lot of feelings. I instantly loved it because of the setting – New York City! And more specifically, the Strand!!! This book is a book lover's dream. It really helped that I finally made a journey to the Strand last month, so I was able to picture it really well. The book follows Dash and Lily as they communicate through a red notebook all around NYC. They inevitably have some interesting in-person meetups towards the end that were kind of funny too. The premise of the book was so, so great. We get to see the two of them travel around the city and come up with clever little scavenger hunts for each other. This book is perfect for people who haven't been to NYC and want to go, or people who have been plenty of times and love it. I think this book is reminiscent of John Green's work, in that it tries to ingest a lot of meaning and insightfulness into its pages. It felt like it was trying too hard. This could have been a cute, simple read, but it was a little too heavy in places it didn't need to be. Some parts actually confused me, which should not happen during a contemporary YA romance.

Dash: I think Dash is a really interesting, complex character. I'm honestly still kind of undecided on if I even like him. He was very bitter towards the holiday season, which is fine, but he took his anger out in a lot of different ways. I didn't like that he was nicknamed Snarl throughout the book…that fact alone doesn't make him a very likable guy! He's overly negative and in a bad mood too much. He seemed to be a little better towards the end, but I'm not totally sold on him as a person. He wasn't a realistic person.
Lily: I couldn't really figure her out too much either I think. She was opposite of Dash in a lot of ways, which was pretty cliche but enjoyable, but it also made her kind of annoying. She was very innocent and hopeful. I liked that about her a lot of the time because she was a good counterbalance to Dash's chapters. Unfortunately this also made her way too immature. I literally felt like she was a 12 year old throughout the entire book.
Honestly, it took me way too long to read this. I generally enjoyed the writing style of both authors (not sure if they split it up between the two characters' chapters?) so I really have no idea what the issue is. The book started off really strong for me and slowly declined. It didn't completely fail or anything, as you can see by my high rating, but it just wasn't as good. In that case, the flow was a little off. All of the fluffy cute stuff I was looking forward to was included in the beginning and slowly faded.

People who are fans of holiday books, New York City, the Strand, insightful books, and flawed characters! This book has a lot of all of those things. I don't think it's as light and fluffy as I wanted though – it's definitely a holiday read with some substance.
This review is almost taking me as long to write as it took me to read the book. It's just really hard to get my points across. I'm going to just sum up by pasting in my Goodreads review here. I try to keep that review as my initial reactions to the book, since I write it immediately when I finish and rather book.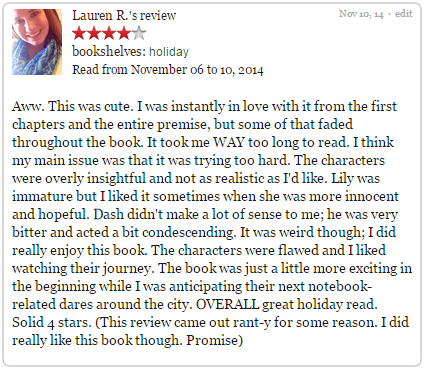 (+) SETTING. New York City and all of the tourist attractions = a great additional character in the story.
(+) The premise was so cute and so perfect. The dares and scavenger hunt aspects were my favorite.
(+) Supporting characters were funny and awesome.
(+) Showed the different attitudes people have towards the holiday season.

(-) The main characters bugged me in different ways. Lily was too immature and Dash was too negative/bitter.
(-) The book was trying too hard. It would have worked better as something lighter.
Started out strong and happy, but didn't exceed my expectations by the end.
Still a great read though.
Related Posts