I received this book for free (hey, thanks!) in exchange for an honest review. I promise that this does NOT affect my opinion of the book or the content of my review. For real.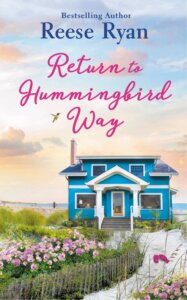 Return to Hummingbird Way
by
Reese Ryan
Series:
Holly Grove Island #2
Genres:
Adult
,
Contemporary
Published by
Forever
on April 25, 2023
Also by this author:
Second Chance on Cypress Lane
Format:
eARC
(369 pages) •
Source:
Publisher
Goodreads
•
Amazon
•
Barnes & Noble

In this heartwarming small‑town romance, can three months, two planning projects, and a meddling grandmother finally make two high school hate crushes see just how right they are for each other?

Ambitious real estate agent Sinclair Buchanan is ecstatic to be her best friend's maid-of-honor—until she discovers the best man is Garrett Davenport. Sin and Rett's mutual hate crush ignited when they were teens and hasn't let up since . . . except for that one extremely hot (and extremely regrettable) night they shared five years ago.

Nothing gets Rett fired up like going toe-to-toe with Sinclair. She's as infuriatingly stubborn, and as absolutely gorgeous, as when he fell for her back in high school. Working together to plan their best friends' last-minute wedding is one thing, but when his matchmaking grandmother gets involved Rett knows he's in deep. Attraction has always simmered between them, but this time, they're both in danger of losing their hearts.
This series has been so lovely – I seriously love Reese Ryan's writing style and how she set up the picturesque town of Holly Grove Island. This book is the second in this companion series and another winner! The first book featured Dexter and Dakota as they embarked on their second chance romance; this one follows Dakota's best friend Sinclair and Dexter's best friend Garrett.
Mild spoiler for book one, but Dexter and Dakota are heavily featured in this book as they're planning their wedding. Naturally Sin and Rett are the MOH and Best Man so they're tasked with pulling off their wedding planning in short order while also working on a joint bachelor/bachelorette party. (Sidenote: if you're someone who loves when the first couple in a companion series makes an appearance in the next book, you'll love this one – Dex and Dakota were major characters throughout the story, so you can see their friendships and relationship develop throughout still.) On top of that, they're both working on redoing Rett's grandmother's house to prepare for sale. Sinclair and Rett are both realtors with construction and/or interior design skills so they collaborate on the fixer upper.
The only problem? These two don't really get along. They butted heads in high school, managed to have a quick one night stand years ago, and have generally avoided each other ever since. Rett is back in town to help his family and decides to stick around to work on these projects, but he's itching to get back on the road somewhere new. Sinclair is a born-and-bred-and-never-leaving resident of Holly Grove Island. The two are super different and similar at the same time.
There were a ton of things happening in this book between the hate-to-love / enemies-to-lovers vibes as well as a mini second chance romance, in a way. Every character and plot line was really interesting, including the family dynamics for both Rett and Sinclair. Lots to unpack and deal with between parents, siblings, grandparents, etc. It did feel fleshed out and not like the author was taking on too much, IMO. Sinclair always had issues with her mom while Rett was still dealing with the loss of his father and how his family changed (new sister, stepdad, etc.).
If I have one complaint, it's that the first 10% or so of the book was very repetitive inside Rett and Sinclair's heads. They kept thinking about how attractive the other person looked, how their one night stand went, etc. – the entire time they were around each other at the engagement party this was ALL they thought about. The story quickly improved from there and I really enjoyed their chemistry by the halfway point.
One of my favorite things about this book is how incredibly low drama it was. They had normal conversations and disagreements occasionally throughout the book but no true ~dramatic breakup~ moment. Even the mini third-act issue/breakup felt a little manufactured and lasted for truly less than a chapter. I love that they were always open and honest with each other, so they never even really had a chance to fight or breakup.
Overall, I hope more books are coming in this series! I've loved the Holly Grove Island setting and cast of characters. My prediction is that Dakota's sister and her best friend will be the subjects of the next one 😉
Related Posts