I received this book for free (hey, thanks!) in exchange for an honest review. I promise that this does NOT affect my opinion of the book or the content of my review. For real.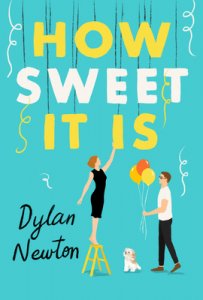 How Sweet It Is
by
Dylan Newton
Genres:
Adult
,
Contemporary
Published by
Hachette
on July 13th 2021
Format:
eARC
(352 pages) •
Source:
Publisher
Goodreads
•
Amazon
•
Barnes & Noble

What happens when the queen of romance falls for the king of horror--you get "a hilarious rom-com comp," perfect for fans of Beach Read. (Kirkus, starred review)

Event planner Kate Sweet is famous for creating the perfect happily-ever-after moment for her clients' dream weddings. So how is it that her best friend has roped her into planning a bestselling horror writer's book launch extravaganza? But the second Kate meets—or rather, accidentally maims—the drop-dead-hot Drake Matthews, her well-ordered life quickly transforms into an absolute nightmare.

Drake Matthews is tired of the spotlight and tired of his reputation as the Knight of Nightmares. He's really a nice guy! But he's not prepared for Kate, a fearless agent of chaos in steel-tipped stilettos, or for that sweet sting of attraction he feels for her. She's inspiring him to take his writing in a whole new direction—one that no one expects. Because now Kate and Drake are changing up the rules, and this plot twist might just surprise everyone . . . including themselves.

"Fans of The Hating Game by Sally Thorne, Red, White and Royal Blue by Casey McQuiston, Get a Life, Chloe Brown by Talia Hibbert, and Written in the Stars by Alexandria Bellefleur will adore How Sweet It Is!" --The Nerd Daily
It's no secret that my reading has been weird, terrible, inconsistent – you name it – this year. When I saw Forever post about the pub date arriving for HOW SWEET IT IS, I was immediately motivated to get reading. How could it already be mid-August?!
Honestly, I was taken with this book right away. I immediately loved the characters and read a lot of it in one sitting. Then… it sat around while I tried to finish up other reading obligations. But the minute I dove back in, I was ready to finish it up!
The story had a unique premise based heavily around the jobs of the two main characters. Kate is an event planner who specializes in romance and weddings. Drake is a horror writer, who happens to be the client of Kate's best friend, and her services are needed for his book launch. Could this finally be the event that wins the coveted EVPLEX award? She signs on, hoping it'll work in her favor, and spends time in Drake's cute town planning the event.
The two had a lot of chemistry right from the start but don't really act on much of anything until 50-60% through the book. I appreciated that they had to keep it PG and appropriate while working together; it made it all the more sweet and exciting when they finally moved forward. I loved Drake's family and how prevalent they were in the novel. His mom was so sweet. It was like everyone knew they should be together before they wanted to admit it, and kept pushing for it whenever possible.
The black moment wasn't terrible and they did a good job of keeping everything realistic/not super frustrating. I was rooting hard for them and was very happy with how the book ended. All in all, this was a sweet romance featuring some of my favorite tropes (okay fine, just the job I always wanted as a kid – event planner). If you want some easy reading with great characters, fun jobs for the MCs, interesting families, and some meta book/writing references, give this one a read!
Related Posts