I participated in Summerathon recently, where we focused on reading summer-oriented and beachy reads. Here's a super quick roundup of these summertime books I read during the readathon!
---
I received this book for free (hey, thanks!) in exchange for an honest review. I promise that this does NOT affect my opinion of the book or the content of my review. For real.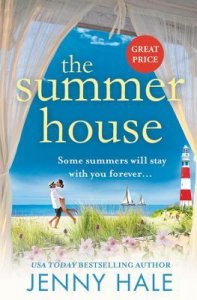 The Summer House
by
Jenny Hale
Genres:
Adult
,
Contemporary
Published by
Hachette
on May 7, 2019
Also by this author:
A Christmas to Remember
,
Coming Home for Christmas
,
Christmas Wishes and Mistletoe Kisses
,
All I Want for Christmas
,
We'll Always Have Christmas
,
It Started With Christmas
,
Christmas at Silver Falls
,
Christmas at Fireside Cabins
,
The Christmas Letters
Format:
ARC
(279 pages) •
Source:
Publisher
Goodreads
•
Amazon
•
Barnes & Noble

From this USA Today bestselling author comes a delightful summer read about friendship, family, and the healing power of love.
Callie Weaver and her best friend, Olivia Dixon, have finally done it: put their life savings into the beach house they admired through childhood summers, on the dazzling white sand of North Carolina's Outer Banks. They're going to buff the salt from its windows, paint its sun-bleached sidings, and open it as a bed-and-breakfast. Callie's too busy to think about her love life, but when she catches the attention of local heartthrob Luke Sullivan, his blue eyes and easy smile make it hard to say no. He's heir to his father's real estate empire, and the papers say he's just another playboy. But as they laugh in the ocean waves, Callie realizes there's more to this man than money and good looks. Just when true happiness seems within reach, Callie and Olivia find a diary full of secrets . . . secrets that stretch across the island and have the power to turn lives upside down. As Callie reads, she unravels a mystery that makes her heart drop through the floor. Will Callie and Luke be pulled apart by the storm the diary unleashes, or can true love save them?
I always told myself that I seriously needed to get going on reading some of Jenny Hale's summer-oriented books. She does such an amazing job of describing winter/Christmas scenes that I just should have known how well she could paint a summery scene as well. I could perfectly picture the town of Waves and the beach houses there, including The Beachcomber (soon-to-be Bed and Breakfast).
The main character, Callie, and her best friend Olivia (along with her son Wyatt), always dreamed about buying the property when they were kids and finally are able to do it now, so they move to the small town and begin remodeling. Callie meets the local rich "playboy," Luke, and is swept off her feet. The story had a similar setup to many Jenny Hale holiday books, where the love interest is rich and fancy. These books are so easy to read and just fulfills that little "what if some rich guy falls in love with me" fantasy that everyone has thought about at some point. This story had a couple more serious elements, as alluded to in the synopsis, but it was generally a light summer read. I wish I had the chance to actually read this on the beach, because it's the perfect read for laying out in the sun. I absolutely need to get moving on Hale's summer backlist because it makes me so happy to know that I can now have TWO of her books to look forward to each year, highlighting my favorite seasons of reading.
---
I received this book for free (hey, thanks!) in exchange for an honest review. I promise that this does NOT affect my opinion of the book or the content of my review. For real.
The Unhoneymooners
by
Christina Lauren
Series:
Unhoneymooners #1
Genres:
Adult
,
Contemporary
Published by
Simon and Schuster
on May 14, 2019
Also by this author:
Twice in a Blue Moon
,
The Honey-Don't List
,
In a Holidaze
,
The Soulmate Equation
,
Something Wilder
,
The True Love Experiment
,
The Honeymoon Crashers
Format:
eARC
(395 pages) •
Source:
Publisher
Goodreads
•
Amazon
•
Barnes & Noble

Olive is always unlucky: in her career, in love, in…well, everything. Her identical twin sister Ami, on the other hand, is probably the luckiest person in the world. Her meet-cute with her fiancé is something out of a romantic comedy (gag) and she's managed to finance her entire wedding by winning a series of Internet contests (double gag). Worst of all, she's forcing Olive to spend the day with her sworn enemy, Ethan, who just happens to be the best man.

Olive braces herself to get through 24 hours of wedding hell before she can return to her comfortable, unlucky life. But when the entire wedding party gets food poisoning from eating bad shellfish, the only people who aren't affected are Olive and Ethan. And now there's an all-expenses-paid honeymoon in Hawaii up for grabs.

Putting their mutual hatred aside for the sake of a free vacation, Olive and Ethan head for paradise, determined to avoid each other at all costs. But when Olive runs into her future boss, the little white lie she tells him is suddenly at risk to become a whole lot bigger. She and Ethan now have to pretend to be loving newlyweds, and her luck seems worse than ever. But the weird thing is that she doesn't mind playing pretend. In fact, she feels kind of... lucky.
I started THE UNHONEYMOONERS over a month after it was released because I just kept getting nervous?? I requested this book initially because I've been wanting to try Christina Lauren but wasn't sure where to begin. Why not request this as motivation to read them? I ended up deciding to blaze through the egalley one day during Summerathon because I just wanted something quick. A lot of people felt a little meh on this one (like there were 50 pages too many) while others said they read it in one sitting and it was LOL-funny.
I found both of the latter things to be 100% true. I could not put this book down and did not stop laughing for the VAST majority of it. Ethan and Olive were hilarious main characters and this is easily some of the best banter in a hate-to-love romance that I've ever read. I read the book in "one sitting" which was only broken up by me having to get ready for the work day in between.
I liked that they communicated with each other and apologized for things; I've said recently how much I appreciate authors making the "black moment" one that isn't just about stubbornness and miscommunication. If I could complain about something though, it'd be the fact that the romance/sex scenes were fade-to-black? I know this is my first book by them, but I thought their books were quite steamy? I think I saw some reviews where people complained that their books are moving into the less-steamy area so maybe that's why. The ending got a little frustrating when no one believed Olive, but I can see Ethan's perspective at least (not really Ami's because hello? twins).
Overall, this book was a slam dunk for me. I can't lie that I'm possibly even more nervous to read their other books now because this one sounds different than them, but I will definitely be bumping them up on my TBR regardless.
---
The Rest of the Story
by
Sarah Dessen
Genres:
Young Adult
,
Contemporary
Published by
Harper Collins
on June 4, 2019
Also by this author:
That Summer
,
Saint Anything
,
Just Listen
,
What Happened to Goodbye
,
Keeping the Moon
,
Lock & Key
,
Along for the Ride
,
Someone Like You
,
Once and for All
Format:
Hardcover
(440 pages) •
Source:
Purchased
Goodreads
•
Amazon
•
Barnes & Noble

Emma Saylor doesn't remember a lot about her mother, who died when she was ten. But she does remember the stories her mom told her about the big lake that went on forever, with cold, clear water and mossy trees at the edges.

Now it's just Emma and her dad, and life is good, if a little predictable…until Emma is unexpectedly sent to spend the summer with her mother's family—her grandmother and cousins she hasn't seen since she was a little girl.

When Emma arrives at North Lake, she realizes there are actually two very different communities there. Her mother grew up in working class North Lake, while her dad spent summers in the wealthier Lake North resort. The more time Emma spends there, the more it starts to feel like she is divided into two people as well. To her father, she is Emma. But to her new family, she is Saylor, the name her mother always called her.

Then there's Roo, the boy who was her very best friend when she was little. Roo holds the key to her family's history, and slowly, he helps her put the pieces together about her past. It's hard not to get caught up in the magic of North Lake—and Saylor finds herself falling under Roo's spell as well.

For Saylor, it's like a whole new world is opening up to her. But when it's time to go back home, which side of her will win out?
My sister and I went to the Sarah Dessen signing in Plainville, MA soon after this was released. It was kind of a fun graduation gift for her, as she had the ceremony that Wednesday, and we enjoyed a great night out together! I knew I wouldn't delay too long in reading this one so I prioritized starting it during Summerathon! Because I got addicted to THE UNHONEYMOONERS on Wednesday and didn't have a lot of reading time on Thursday, the final day, I was prepared to not finish this one during the actual event.
This was such a classic Dessen book! If you usually love her stories, I would be surprised if you didn't at least enjoy this one. It had all of the elements I look forward to: a beach setting, a cute romance, a main character trying to find herself, family feels, and summertime. It even had the classic overprotective parent moments that I always get annoyed by. (I mean, you live with the girl, why does she need to leave the family she essentially just met because you, for some reason, need to have her back two more weeks? Let her live!!!!) I also was a bit disconnected from Emma Saylor, despite the fact that I mostly enjoyed her as a character. I didn't feel like she had enough background information or personality almost? I don't know what she liked or disliked, her hobbies.
Dessen still writes teens so well and they feel super real. I love how she manages to write inside jokes in all of her books – ones that feel like you have them with the characters too. They're funny without being too-funny-pretentious-unrealistic like a John Green character.
Overall, this was a mostly quiet story about a girl reconnecting with her family and growing up in the process. The setting was wonderful and the little easter egg references to other Dessen things made me so happy. Even if you didn't love some of her other recent releases, this one kind of brings you back to her old stuff. ❤
Related Posts