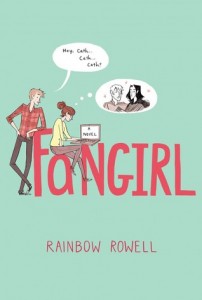 Fangirl
by
Rainbow Rowell
on January 30th 2014
Also by this author:
Eleanor & Park
,
My True Love Gave To Me
,
Landline
(461 pages) •
Goodreads
•
Amazon
•
Barnes & Noble

Cath and Wren are identical twins, and until recently they did absolutely everything together. Now they're off to university and Wren's decided she doesn't want to be one half of a pair any more - she wants to dance, meet boys, go to parties and let loose. It's not so easy for Cath. She's horribly shy and has always buried herself in the fan fiction she writes, where she always knows exactly what to say and can write a romance far more intense than anything she's experienced in real life.Now Cath has to decide whether she's ready to open her heart to new people and new experiences, and she's realizing that there's more to learn about love than she ever thought possible ...
A tale of fanfiction, family, and first love


Trust me, no one is sadder than I am that this book didn't work for me. I mean, really, it had a lot of makings for a Lauren book. I used to read fanfiction A LOT about Harry Potter (I was particularly fond of a Draco/Hermione one that I'd give anything to locate again…) and I tend to love books with a college setting instead of high school. Unfortunately nearly none of this book worked for me, yet I couldn't give it less than 3 stars no matter how much I tried. Let's dig in a bit, shall we?
Oh, Cath. MANY many people have said how much they related to Cath and how they saw so much of themselves in her. Relating to a main character is definitely not necessary for me to like a book. Hell, even LIKING a main character isn't totally necessary for me. However, I did not like Cath at all. I couldn't relate to her on really anything. I did not like reading about her at all. It makes me feel kind of… shitty… to be honest? You can tell that she definitely deals with some anxiety about loooots of things, but I couldn't bring myself to be sympathetic. I honestly didn't even realize right away that she had anxiety; I just thought she was annoying. It seems like she had friends (mostly through her sister) in high school and was better able to balance fanfic writing and social engagements. Sometimes people clam up in the college setting, so maybe that had something to do with it. Regardless, Cath definitely felt immature to me. It's one thing to not feel ready for sex, but the way she treated kissing in general was like she was in middle school. I couldn't fathom that she was college-aged. She never stuck up for herself when she should've (especially re: Nick). This could be an anxiety-related thing, but I don't know. It just felt like even when she got genuinely mad about something, she didn't do anything about it. Passive aggression can only take you so far. Again, I'm sorry if this sounds like I'm judging people with anxiety for being annoying or antisocial or passive or whatever, but I'm not. I currently deal with some anxiety myself and have a close person in my life who is struggling. There are many things beyond Cath's introverted nature that bugged me. It's really a personality thing. Its a naivety thing. People can be antisocial or socially anxious without being immature; I think that's another thing that bugged me the most. I don't know how to explain it.
I actually didn't mind the fanfiction element though. I heard from some readers that they skipped over those pieces that were at the end of each chapter, but I thought they were fine. I kind of even liked them? Although, I was incredibly frustrated with Cath about her fiction writing class too. I know that it's hard to write about something different than the thing you've been writing about for years and years, but COME.ON.GIRL. Your teacher gave you a great opportunity and you can't just dig your heels into the ground and say no. If you really didn't think you could do it, you'd just write something shitty and hand it in. I don't get what the issue was with that, honestly. AND how can you think that turning in fanfiction would be okay? She was surprised that it was plagiarism?! REALLY.
I hate to say it, but I was pretty damn bored throughout. A few actual things happened, but otherwise it was Cath complaining and holing up in her room. I got to the ending and said "that's it?" because really… what was the point in that? I expected for her to come out of her shell a lot because of Levi or being social or even the fanfic "ending" when the final book came out… but nope. Not much character development on that end. Not much of really anything.
The issues with her sister and her mother were interesting and took up a lot of time, but didn't really engage me either. Everything that happened with Wren and drinking (I won't spoil much more) seemed a bit intense. View Spoiler »My parents wouldn't have been happy if I was hospitalized for drinking AT ALL, but they would never have asked me to come home every weekend for the rest of the school year. You have to have some trust in your kid. « Hide Spoiler Overall, just didn't make sense or work for me. I think I related way more to Wren than Cath, which could be why this book was so hard for me.
I love Rainbow Rowell's writing style. Her stories can capture you even when you're bored (plot-wise) because she just writes so damn well. Truly, that's what saves this book a little bit… aside from Levi. I LOVED LEVI. I can't get over how sweet and understanding he was about Cath and her quirks. I couldn't deal with her for the length of the book and this dude is probably going to be with her for life. He's definitely a new book boyfriend. I really liked the final 30% of the book for the most part, though, and the rest of it was very VERY meh.
The ending seriously pissed me off. I actually went back and listened to the end of the audiobook again to make sure I didn't miss something… and then went back again in the physical copy to make double sure. View Spoiler »I just don't feel like it gave any significant closure. I'm okay with books leaving things open-ended but I didn't get why this one ended that way. « Hide Spoiler I was bored throughout the entire book and then THAT anticlimactic ending happened.
It seems like I'm the lone wolf on this one, so if you haven't read the book, maybe you'll like it more. I mean it has like a 4.19 average rating on Goodreads. Clearly I'm the black sheep!

| | |
| --- | --- |
| Plot & Premise | |
| Characters | |
| Writing Style | |
| Pacing & Flow | |
| Feels or Swoons | |
| Addiction Level | |
| Overall: | 2.9 |
Related Posts