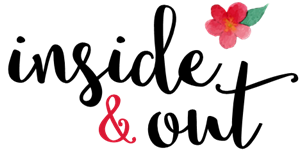 Admiring book covers and bookmarks, shared by you!
Welcome to INSIDE AND OUT. This feature includes two of my absolute favorite book-related things: bookmarks (inside) and book covers (out)! I've invited guest posters to share their favorite book covers and bookmarks here on the second and fourth Mondays of each month. Sign-ups are always open (see bottom of post)! Check out past posts here.
---

Twitter: @amengelhart| Tumblr
Tell me a little about yourself: I'm a 27-year old book nerd (and nerd in general) from the Twin Cities area in Minnesota. I'm obsessed with the Marvel universe (Winter Soldier, yessss), video games (Dragon Age!) and of course, books of all types. I read a mixture of YA and adult genre fiction. ​I also have two high-energy dogs and spend the rest of my time outdoors.
Talk about your blog (what you blog about/kinds of books, features, etc.): My favorite genre is fantasy, and I do review a lot of fantasy books on Lovely Literature. However, contemporaries are quickly gaining traction on my shelves! I also do enjoy writing discussions and ask my readers for their bookish advice in my Readerly Advice posts. I also have a co-blogger named Ashley who reads pretty much opposite of me, although it is my greatest victory that I pushed Kushiel's Dart on her and she loved it!
Favorite genre: Definitely fantasy, but this summer I have been loving contemporaries! ​
Three books you recommend most often and why: 
Kushiel's Dart by Jacqueline Carey because it is a great example of high fantasy with a woman who is an empowered and complex character [and for Joscelin :D].
Fangirl because Rainbow Rowell writes realistic fiction so beautifully and I read this in one sitting until

4 a.m.

Daughter of the Forest by Juliet Marillier is captivating and so fantastically written. Also, it will get you hooked and lead you to read Son of the Shadows, which killed me in all the best ways.
Anything else to share? Personal plug for something coming up? My co-blogger moved to New York a few months ago and ever since we've been sending each other a book and a beer in the mail every month. We'll soon be posting an ongoing series about what we're sharing with each other and why. We also have a really fun series in the works called Literary Cage Match where we pit characters who never got a chance to spar against each other and our readers get to vote who would win! Think Peeta vs Gale or Elizabeth Bennet vs Caroline Bingley. ​
What book do we have here?  Since You've Been Gone by Morgan Matson​
Have you read it yet? If so, how was it?  I really loved this story. I just adored how Emily and Frank got to know each other through their runs and playlists, and everything about this was cute, basically.
What makes this cover a favorite? The fonts are to die for on this cover and what really convinced me to buy a copy. I'm usually not a fan of models on covers, but the two girls here legit look like best friends and it made me want to read the story. You can tell that it is not stock photography. :)​
What kind/style of covers do you usually pine over (script fonts, bright colors, realistic, etc.)? FONTS! And, I find that I have a lot of characters portrayed on my covers — fantasy tends to do that. Though I really like it when there is interesting artwork without a character so I can picture them on my own.
---
What bookmark did you chose?  My bookmark is a letterpress of a Jane Austen quote. ​
What makes this one special to you? I bought two of these, and sent one to my co-blogger because we both love Jane Austen. Also, it is a pretty rad quote. ​
Where's it from?  tagteamtompkins on Etsy​
What kind of bookmarks do you prefer (paper, magnetic, quotes, etc.)?  I do like paper bookmarks with quotes, but another favorite is a thin wooden bookmark from the Seattle library I bought on a girls' vacation. I've just ordered a few new bookmarks from Etsy including a Winter Soldier one, some galaxy artwork and a quote from Jane Eyre. I like my bookmarks as varied as my books! I'm thinking about starting to make my own and possibly an Etsy shop too!​
---
Thanks so much for joining Inside & Out, Anne! Fonts are my favorite elements of a book cover too, and I LOVE the one you picked.
---
Join in the fun!
Important: Sign-ups are always open and currently scheduled through September.
Related Posts