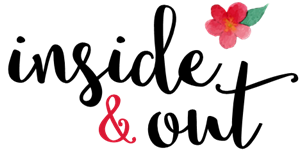 Admiring book covers and bookmarks, shared by you!
Welcome to INSIDE AND OUT. This feature includes two of my absolute favorite book-related things: bookmarks (inside) and book covers (out)! I've invited guest posters to share their favorite book covers and bookmarks here on the second and fourth Mondays of each month. Sign-ups are always open (see bottom of post)! Check out past posts here.
---

Twitter: @bookaddictguide | Instagram: @bookaddictsguide | Facebook | Pinterest
Tell me a little about yourself: Hi! I'm Brittany and I've been blogging for ALMOST three years now at The Book Addict's Guide (3 years in April!). I read a little bit of everything — from YA to adult, contemporary to fantasy to sci-fi — and you'll find it all on my blog (and more). I just got married in November and it really was an awesome day! I love the color blue, books (of course), Harry Potter, The Princess Bride, camping, homebrewing & craft beer, and pretending I will catch up on all of the TV shows I started and never finished.
Talk about your blog (what you blog about/kinds of books, features, etc.): I actually started blogging when I was reading mostly adult cozy mysteries and YA dystopian. I started reading YA when I could ONLY find dystopian books in the YA section (The Hunger Games got me HOOKED) and then I discovered how amazing YA was and it stuck! I still read some adult here and there but more fantasy lately than anything. I'll read a little bit of MG, but mostly it's YA contemp, fantasy, and sci-fi! I have a couple original features like Book and a Beverage, where I featured a new blogger each week with the choice of — yep you guessed it — book and a beverage; My Latest Bookish Addiction, where I detail what I've been obsessing over lately in the book world; and of course I have my share of discussions, blog tours, special features, etc. I also have a few features with some awesome bloggers and close friends. Alyssa (Books Take You Places), Amy (Tripping Over Books), and I started On the Same Page which is actually many things — we're probably most known at the moment for hosting the Secret Sister project and we also host ARC Tours, but we started OtSP as a way for us to read a book together and all post about it! We still do our monthly read alongs and we host "A Fortnight of Fright" every year for Halloween! (Since 2012!) I'm also a part of Pub Date which is a book and beer feature hosted by four bloggers including myself and a co-founder of Have You Seen This. ALSO, I host the Book Blogger Organization Challenge which is currently running from Jan – Jun if you want to get yourself organized! New friends always welcome!
Favorite genre:  It's a toss up between contemporary and fantasy at the moment! They're both so different from each other. Impossible to choose.
Three books you recommend most often and why:  I ask this on Book and a Beverage and now I see why everyone says it's so hard… HMMM. Well firstly, I love recommending books and I try REALLY hard to suggest books based on the person's taste but generally, I'll always recommend The Lunar Chronicles by Marissa Meyer (that's a series, but yes. Start with CINDER!). Gayle Forman is a contemporary favorite of mine so I'd suggest starting with IF I STAY and work forward from there! And I'm cheating to include two more instead of one more… I HAVE to recommend The Grisha Trilogy by Leigh Bardugo – it was one of the first fantasy series I fell in love with! – and The Raven Cycle by Maggie Stiefvater because it is just SO unlike anything I've ever read and so beautiful.
---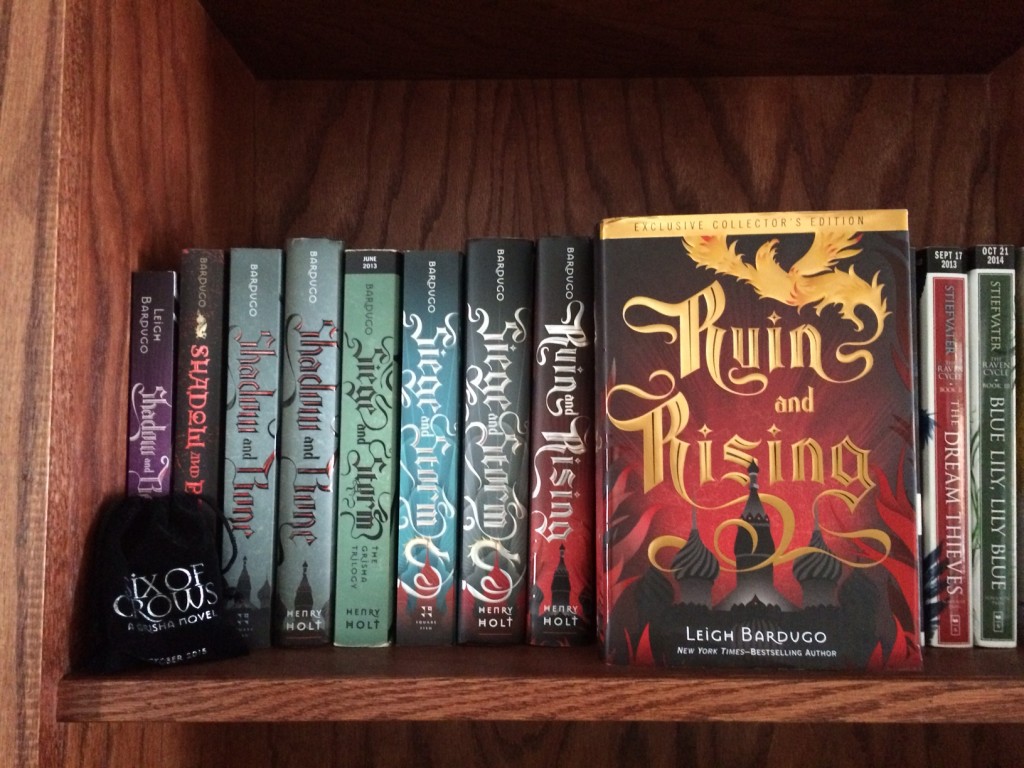 What book do we have here? Ruin and Rising by Leigh Bardugo (and wave hello to my Grisha collection!)
Have you read it yet? If so, how was it? I HAVE. It was amazing, of course. This whole series was. And even though I re-read books 1 & 2 before 3 (that would be this one) came out, I think I need to re-read them ALL again because I was sooooo excited for R&R that I feel like I read it TOO quickly. I'll probably re-read the first two again and then re-read R&R via audio!
What makes this cover a favorite? It pretty much has everything that I love in a cover. Awesome font, gorgeous picture, specific character/item/scene from the book, great colors.
What kind/style of covers do you usually pine over (script fonts, bright colors, realistic, etc.)?Whoooops, see above. But I really, really, really love awesome typography and excellent fonts. I think it's pretty neat to fall in love with a cover with few to no images on it! I also love rainbow/ombre trends (just so pretty). On the flip side, I get really sad when there's a gorgeous cover but it doesn't fit the book. Put all the pretty colors on it you want, but if in the end, it doesn't represent the book well, I don't think that cover design did it justice because people will be misled!
---
What bookmark did you chose? I grabbed a couple! I really, honestly don't use bookmarks but I do collect ones from my favorite authors! I have my Lunar Chronicles bookmark, a Raven Boys bookmark, and a Firefight bookmark! Actually one of my favorite bookmarks isn't a bookmark at all. It's a schedule of giveaways for the Penguin booth from BEA 2013.
What makes this one special to you? I chose these bookmarks because they're some of my favorite books from some of my favorite authors! I really keep a lot of swag so any of the ones that I keep are pretty special! As for the BEA one, it's silly but I just really like the size of it (wider than a normal bookmark) and it was my first BEA/book conference so it has a sort of personal connection! I actually don't know where it is right now though… Oops!
Where's it from? I'm pretty sure the Lunar Chronicles bookmark came from the Fierce Reads tour back in October! I don't remember where the Raven Boys one came from! It was actually a pack of bookmarks and I think we got them at the Maggie Stiefvater signing. And the Firefight one came from the Brandon Sanderson signing the other week!
What kind of bookmarks do you prefer (paper, magnetic, quotes, etc.)? I usually just use random scraps of paper. If I'm reading a hardcover, sometimes I use the flap. Otherwise I usually use anything that's around — receipts, most often. Sometimes whatever pieces of paper are around… The other week I tucked my marriage license into my copy of American Gods (since it was the book in my purse at the time) to keep it safe because I was going to bring it to the bank to change my name… but then it just stayed in my book and ended up being my bookmark… Whoops! (Don't freak out — it was one of four official copies (copy, not the original) and turns out I totally didn't need that many so I still have three pristine ones sitting at home.)
Thanks for sharing your cover and bookmarks, Brittany! I love the Grisha Trilogy and have yet to read Lunar Chronicles (THIS YEAR FOR SURE).
---
Join in the fun!
Important: Sign-ups are always open, but are scheduled very far out at this point. If you sign up, you'll receive a confirmation and tentative month, but won't receive the full questionnaire (unless you plan on just sending yours in ASAP – just let me know when you reply). I don't want to risk planning for someone's post that's eight months away and then have them bail at the last minute. I will send the questionnaire two months before you're scheduled to post and you can confirm if you're still interested and set for that date.
Related Posts