Top 10 Books from my Childhood I'd Like to Revisit
Top Ten Tuesdays are hosted by The Broke and the Bookish, where we make lists of our top ten books based on that week's prompt… and then we stalk other people's answers to add a million books to our TBR. The topics are provided ahead of time and can be found here. Links go to Goodreads or my review.
---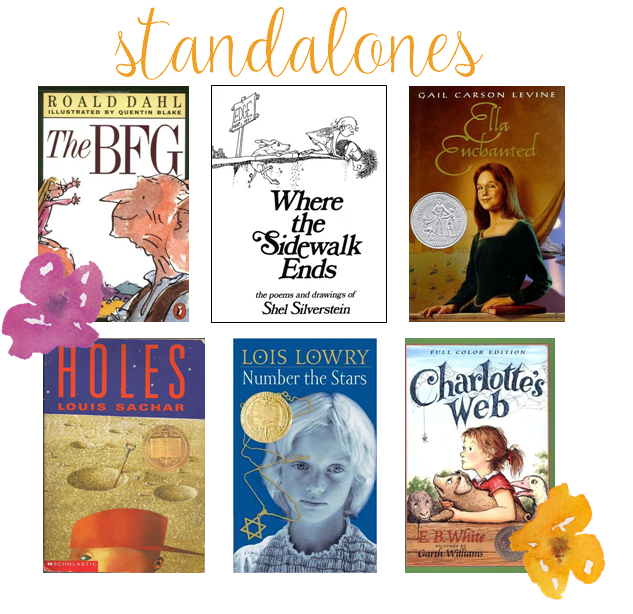 The BFG by Roald Dahl | This was one of my absolute favorites when I was younger so it deserves to be on the top of the list. I remember being so mesmerized by the story, the cute little pictures, and the writing style. It was my first experience with something fantasy-esque, since it's about giants.
Where the Sidewalk Ends by Shel Silverstein | I used to flip through this book of poems ALL the time when I was in elementary and middle school. The illustrations were awesome and the poems were so funny and clever.
Ella Enchanted by Gail Carson Levine | Just looking at the cover of this book makes me nostalgic! I remember LOVING this story. Reading the reviews and summary on Goodreads just now is making me definitely want to reread.
Holes by Louis Sachar | Not sure this one needs an explanation! A total classic.
Number the Stars by Lois Lowry | I read this one back in elementary school and it's stuck with me ever since. I know I have the book somewhere and would definitely revisit it. Very powerful.
Charlotte's Web by E.B. White | I can't remember if I read this for pleasure or if I read it in school, but either way – I remember loving it. Who didn't?! This would be a fun, quick read to go over one more time.
The Face on the Milk Carton by Caroline B. Cooney | I was just talking to Emily on Twitter the other day about Finding Carter, the MTV show about a girl who finds out that her mother isn't her real mother; she was kidnapped when she was younger. It follows her as she gets used to her "new" family and deals with drama with her kidnapper/Mom. The Face on the Milk Carton is a really similar story and it's probably why I like Finding Carter so much! I'd love to revisit this whole series.
A Series of Unfortunate Events by Lemony Snicket | This would definitely be a bold reread, since the series has 13 books in it, but I have a feeling anyone could speed through them. I've been itching to read this one again because I totally forgot most of the happenings in the series. Plus, it's going to be adapted into a TV show for Netflix!
The Sisterhood of the Traveling Pants by Ann Brashares | I have the follow-up book to this series sitting on my shelf and I haven't read it yet. I've been thinking of rereading (or maybe listening to the audio) of the full series before reading the final what-happens-10-years-later book.
The Spiderwick Chronicles by Holly Black and Tony DiTerlizzi  | Looking back, I now realize that THIS was my first adventure with Holly Black! I'm pretty sure I only read the first one or two books in the series, but I think I'll appreciate her writing style even more now if I read the whole thing.
Do you plan on revisiting any of these?
Related Posts