Book Buddies is a discussion-style review that takes place with one of my two buddies. (Learn more and see past reviews here) We both read the book and then have a private discussion about it. We post our discussion as a review on the last Wednesday of each month. You'll be able to see our similar/different opinions on the overall book, characters, writing style, etc. – just like a regular review. The first half our discussion will take place right here, and the second half will be on Kaitlin's blog! (Link at the bottom)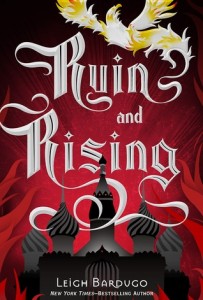 Ruin and Rising by Leigh Bardugo
Series: Grisha Trilogy #3
Genres: Fantasy, Young Adult
Published by Macmillan on June 17th 2014
Also by this author: Shadow and Bone, Siege and Storm, Six of Crows, Summer Days & Summer Nights, The Language of Thorns: Midnight Tales and Dangerous Magic, Wonder Woman: Warbringer, Crooked Kingdom , King of Scars, Ninth House
Format: Hardcover (432 pages) • Source: Library
Goodreads • Amazon • Barnes & Noble


The capital has fallen.

The Darkling rules Ravka from his shadow throne.

Now the nation's fate rests with a broken Sun Summoner, a disgraced tracker, and the shattered remnants of a once-great magical army.

Deep in an ancient network of tunnels and caverns, a weakened Alina must submit to the dubious protection of the Apparat and the zealots who worship her as a Saint. Yet her plans lie elsewhere, with the hunt for the elusive firebird and the hope that an outlaw prince still survives.

Alina will have to forge new alliances and put aside old rivalries as she and Mal race to find the last of Morozova's amplifiers. But as she begins to unravel the Darkling's secrets, she reveals a past that will forever alter her understanding of the bond they share and the power she wields. The firebird is the one thing that stands between Ravka and destruction—and claiming it could cost Alina the very future she's fighting for.  Ruin and Rising is the thrilling final installment in Leigh Bardugo's Grisha Trilogy.
---
View Kaitlin's part of the discussion here.
Some decently big spoilers ahead regarding the ending and some plot points, especially if you haven't read the whole series! Proceed with caution.
Before starting this book, did you read any reviews on it? Do you generally read reviews before or after reading a book, and does it impact your reading if you read them before?
Kaitlin: Usually I don't read a review before reading a book. That's what happens after I finish the book. If the person posts a review for a book plan to read then I'll save it on Bloglovin for later. Other than that, no. Reviews are usually read after the book is finished. Same went for Ruin and Rising, I didn't read reviews before I read it but since, now, I have already read it, I went ahead and let myself read reviews. My reason for that is usually to avoid spoilers. I understand that people don't include spoilers in reviews but sometimes even the slightest thing can cause a domino effect of spoilers and guesses on what will happen. If someone states how they felt about the ending and their emotions toward it, halfway through the book I will probably guess the ending based on the knowledge I just picked up.
Lauren: I usually try to avoid reading reviews until afterwards, too! My problem is that if someone puts an idea in my head about the book before I read it, it can totally change my reading experience. Things that may not have bugged me before will start to annoy me because someone pointed it out. I know what you mean on spoilers too. I hate when that happens! I ended up seeing someone's review before reading the book and it said that predictable things happened in it, so I kind of figured out who Alina ended up with in the end. It's alright though, because it was pretty obvious! I read a lot of reviews afterwards and think most people had similar thoughts to me.
I often struggle with the balance between world-building and action in fantasy books; if there's too much of one or the other I tend to get bored. Do you think Bardugo does a good job of balancing these aspects? How do you feel about her writing style overall?
Kaitlin: Huh… I have not thought of that. I'm not a frequent fantasy reader so that's probably why… Well, to answer one question I love Bardugo's writing. (Especially epilogues OMG) There is something about the way she writes about her characters that sends shivers down my spine. Even if she isn't writing about creepy stuff that is going on (That's when I get most of my shivers) the way she writes about a simple fight seen or conversation is just great! I love her writing that's for sure. Was there a balance between world building and action? I'm going to say yes. In my opinion there should be a little less world building than action. There should be just as much world building and action only in the beginning of series/trilogies. The first book is where most of the world building should be; where different places are located and what they look like should be going down in book 1. Of course, we still need action. This book had enough world building and a satisfying amount of action. There was definitely a great balance between these two concepts going on in this book.
Lauren: Yes! I agree about her writing. It's so impressive. I think she does a great job of mixing in world-building with action. The information that the characters find out throughout the book ends up helping them when the bad things happen (like the fights and attacks). I just feel like everything blends together SO well and it does a great job of capturing my attention. I think you're right on the formatting of trilogies too; book one sets the stage the most. It's more informational with a bit of action to get you through. I felt like the second book suffered a little because it was kind of slow. The final book in this series (and in trilogies in general) should be a big, crazy conclusion that's full of action. I love that we were still getting answers in this one too though – like learning about the third amplifier and some of the characters a bit more. Bardugo weaves those elements into the story like a pro. I absolutely love it.
How do you feel about how Alina ended up as a character? (As in, are you happy/sad/angry that she lost her powers?)
Kaitlin: I loved how Alina ended up by the end of the book. I had been going through so many options on how this book could end (all ending in Alina marrying Nikolai) and the ending shocked me! I am going to miss her Sun Summoning powers but I have to admit it, Alina doesn't need it. She isn't fighting the Darkling anymore and is no longer a Grisha. Why does she need her powers? If anything, keeping the powers wouldn't have helped her at all. It would have been a lot harder to pull of her and Mal's death. Her powers are not who she is, they do not define her. Therefore Alina would be perfectly fine without them. If you want me to be really honest, I think her Sun Summoning was only really used to fight off the Darkling.
Lauren: Agreed. It was really the only way that her and Mal could have ended up together. The second book was full of their drama – will they find a way to be together when they're so different? Pretty crazy how much THAT changed by the end of the book… But yes, I wish she was able to keep her powers but she didn't really need them. Spreading them to other people and leading a simple life is definitely what she was meant for, when it was all said and done. The powers were there for her when she needed them and left when she didn't anymore. She was able to live a normal life full of love and happiness with Mal, so I guess I can settle for that 😉
Do you feel that Nikolai, our favorite character, got the ending he deserved? Are you happy with the ship that ended up sailing instead? 
Kaitlin: Any ending for Nikolai other than marrying Alina would have been good for him. (As long as he is not hurt.) About 95% of the book was spent me thinking "Well, Alina and Nikolai are going to get married," and it truly broke my heart everytime Alina and Nikolai brought up the topic of marriage. One, because they both knew that this was a sacrifice they had to make in order for Ravka to stand. Two, because Alina had someone she actually wanted to married ready to fight for her anytime. Nikolai could get married to someone else too (Me, preferably) since he is so handsome, smart, funny, and did I mention a prince? When Alina mentioned Nikolai was going to maybe marry a Shu Han princess, that's when I knew he wasn't going to marry someone he truly loved. No, Ravka was on the verge of becoming extinct. If he wanted to keep Ravka he was going to have to marry someone relevant to power, and that really broke my heart knowing he was never going to find someone he loved, because he deserved it so much. So, as long as Nikolai is happy I don't care what ending he gets. Okay, I'm done with the gushy rant. The Malina ship though. Like I said, I thought Alina and Nikolai were FOR SURE going to get married and Mal would live his normal life but the moment we found out he was the amplifier, I knew that Mal was going to die. This killed me because I have been shipping Malina since day one. At this point all I was thinking, "LEIGH WHY MUST YOU SINK ALL MY SHIPS?!" Of course, they turned out okay. The ending Malina got though was cute. They lived to grow old running a orphanage?! Hell yes. I also like how people complain about them and how they run the orphanage. In the end, they just want to make the orphanage experience…magical. Well, better than theirs. Whoo, this is long. So, yes. I am very happy with Malina living happily ever after, and Nikolai deserved any happily ever after.
Lauren: I think I agree overall! I was rooting for Mal overall (even though he bugged me in the second book) because the best friend from childhood hardly EVER gets to win in the end. Like, hello, Gale and Katniss were my ship. Sorry Peeta. I was convinced that they would probably end up together somehow and I knew she wasn't going to actually kill him. I was REALLY nervous throughout the whole book that she was going to kill off Nikolai. If Alina had kept her powers and ended up with Mal in the end somehow, I bet she would have killed Nikolai. I feel like fantasy writers can be brutal about who ends up living and dying! But because she decided to go the route where Alina and Mal end up together and she doesn't have powers, they need someone to rule Ravka. I think it was definitely the best ending for Nikolai, since he got to live and rule the country he loved so much. I really hope he does end up finding someone he loves though because, like you said, he's so funny and attractive and perfect… I just LOOOVE him as a character. When he first made his appearance in this book, I literally squealed out loud. I love him.
What are your final thoughts on the Darkling? Do you think he got the ending he deserved? Did you expect something else?
Kaitlin: Ahhh the Darkling. Our beloved Darkling. I knew something very permanent was going to happen to the Darkling and death was very high on my list. Yeah, the Darkling isn't the worst villain. He just likes getting what he wants in a very bittersweet way. He didn't need to die..but wait. This guy has been alive for so long now and is basically immortal. He created the Fold that has killed thousands of people. Does he deserve to die? This is what get's me so confused about death in books. Yes, it is a natural thing but when the death is done by someone else, I get so conflicted. The Darkling was going to die anyway, does he deserve to die? My answer has to be yes. The Darkling has done really bad things in the past and has been so destructive. The best option would have been to kill him or put him in a cell.
Lauren: Yeah, I knew he had to die. I was pretty sad about it because I was really hoping his ending would be happy, like there would be some way of "curing" his darkness and allowing him to live as a normal person or just a better person. You're right though – he was immortal and alive for sooo long doing bad things. He probably didn't deserve to live. Plus, there was such a weird connection between Alina and the Darkling that I wonder what it would have been like if he lived. Maybe there wouldn't be a connection anymore because of her lack of powers. I was mostly just hoping that there was some way to redeem the Darkling, but I knew someone had to die. Since it wasn't Nikolai, thank god, it was the Darkling.
Which book of the three is your favorite and why? 
Kaitlin: Hah, it has to be this one. This one had the most twist and turns and surprises and brought out the most emotions. All the books were written beautifully but the best one action-wise has to be this book. I think my favorite epilogue has to be this one too.
Lauren: I agree. This one was definitely my favorite. I couldn't think of really any flaws with it. The writing was gorgeous as usual and I kept getting surprised every few chapters. There was action, suspense, and happy ending. Overall I feel like I couldn't have asked for a better ending to the series! The epilogue was really cute; I love that she did the "before" and "after" parts in each book. It was nice to glimpse the normal life that they deserved.
"They had an ordinary life, full of ordinary things – if love can ever be called that."
Related Posts