In an effort to cut down on posts and burnout, my Review Roundups will feature 2-4 books I've read or listened to recently. Sometimes they're newer releases and sometimes they're all backlist titles. My ARC reviews usually get the solo treatment. Enjoy the mini reviews!
---
They Both Die at the End
by
Adam Silvera
Genres:
Young Adult
,
Contemporary
Published by
Harper Collins
on September 5th 2017
Also by this author:
History Is All You Left Me
,
What If It's Us
Format:
Hardcover
(368 pages) •
Source:
Library
Goodreads
•
Amazon
•
Barnes & Noble

On September 5, a little after midnight, Death-Cast calls Mateo Torrez and Rufus Emeterio to give them some bad news: They're going to die today. Mateo and Rufus are total strangers, but, for different reasons, they're both looking to make a new friend on their End Day. The good news: There's an app for that. It's called the Last Friend, and through it, Rufus and Mateo are about to meet up for one last great adventure and to live a lifetime in a single day.
I definitely DID expect for this book to wreck me, based on what the last Silvera book did to me, and that doesn't even consider the countless reviews of THEY BOTH DIE AT THE END where people talked about it wrecking them. I was totally prepared for it and not nearly prepared enough at the same time. The story is set in the near-future world, where a company called Death-Cast calls you on the day you're going to die. You don't know how or when specifically, but just that you have less than 24 hours left. Rufus and Mateo both receive the call and meet up through the Last Friend app.
I'm so happy that I ended the year with this book. Can you ask for a better rating to finish a reading year?! Adam Silvera writes such compelling stories with characters I grow to love so quickly. Seeing people just go through one 24 hour period and feeling connected to them in that short of a timeframe is really powerful to me.
I love stories where people are connected in ways you don't understand at first. The first part of the book alternates between Mateo and Rufus as they learn their fates. The following parts include other individuals who obviously all relate to Mateo and Rufus in some way – some are Death-Cast or restaurant employees, some are friends, and some are other "Deckers" who are going to die that day as well. I loved trying to figure out how everyone would get pulled together by the end and result did not disappoint. I thought I had some things figured out and managed to be surprised in quite a few ways.
This was a phenomenal story by an author who has quickly become an auto-buy. I'm glad I still have MORE HAPPY THAN NOT to read when I'm really in the mood for one of his books!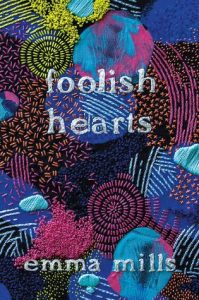 Foolish Hearts
by
Emma Mills
Genres:
Young Adult
,
Contemporary
Published by
Macmillan
on December 5th 2017
Also by this author:
First & Then
,
This Adventure Ends
,
Famous in a Small Town
,
Something Close to Magic
Format:
Hardcover
(320 pages) •
Source:
Purchased
Goodreads
•
Amazon
•
Barnes & Noble

A contemporary novel about a girl whose high school production of A Midsummer Night's Dream leads her to new friends—and maybe even new love.

The day of the last party of the summer, Claudia overhears a conversation she wasn't supposed to. Now on the wrong side of one of the meanest girls in school, Claudia doesn't know what to expect when the two are paired up to write a paper—let alone when they're both forced to try out for the school production of A Midsummer Night's Dream.

But mandatory participation has its upsides—namely, an unexpected friendship, a boy band obsession, and a guy with the best dimpled smile Claudia's ever seen. As Claudia's world starts to expand, she finds that maybe there are some things worth sticking her neck out for.
If I could describe Emma Mills' books in three words, I'd say: Luxury. Reliability. Affordable. (I'm cracking myself up but read the book; this joke killed me every time.) Okay but really, I would categorize them with their perfect covers, the SLOWEST BURN romances ever, and incredibly relatable and/or endearing characters all-around. It's hard to pick a favorite of her three books but this one is definitely up there.
The story is centered around Claudia, who becomes forced to work on the school's production of A Midsummer Night's Dream. This is definitely one of those books where not much happen plot-wise, but there is so much character growth and exploration of friendships/relationships that it makes you feel so full. Claudia and some of the people in her life play an online game together, which was really fun to learn about. I loved how every character had distinct interests and there were lots of fun fandom elements without feeling like that was the point of the novel. It was naturally included within their character traits, if that makes sense.
As usual, the romance was the SLOWEST burn variety because clearly Mills tortures us. This has happened in all three of her books and I'm genuinely curious if she will do this forever to make me go crazy (mostly in a good way). I loved Gideon so much; he was fun and charming without trying too hard, and it really matched up nicely with Claudia's personality. On the family side, I think that might be my ONE mini complaint? Her parents were there, but not as THERE as they could have been. From what I saw of them, they were really funny and cool, and it would have been nice for them to have a slightly larger role in the story.
I loved Claudia, her new friendships, her old friendship, her family dynamics, the play, the jokes… my list goes on and on. Nothing new to see here, just another perfect Emma Mills book ¯\_(ツ)_/¯ and the best possible book I could read to kick off the year.

Top Ten
by
Katie Cotugno
Genres:
Young Adult
,
Contemporary
Published by
Harper Collins
on October 3rd 2017
Also by this author:
99 Days
,
Fireworks
,
Meet Cute: Some People Are Destined to Meet
,
9 Days and 9 Nights
,
Liar's Beach
Format:
Hardcover
(320 pages) •
Source:
Library
Goodreads
•
Amazon
•
Barnes & Noble

Ryan McCullough and Gabby Hart are the unlikeliest of friends. Introverted, anxious Gabby would rather do literally anything than go to a party. Ryan is a star hockey player who can get any girl he wants—and does, frequently. But against all odds, they became not only friends, but each other's favorite person. Now, as they face high school graduation, they can't help but take a moment to reminisce and, in their signature tradition, make a top ten list—counting down the top ten moments of their friendship:

10. Where to begin? Maybe the night we met.9. Then there was our awkward phase.8. When you were in love with me but never told me…7. Those five months we stopped talking were the hardest of my life.6. Through terrible fights…5. And emotional makeups.4. You were there for me when I got my heart broken.3. …but at times, you were also the one breaking it.2. Above all, you helped me make sense of the world.1. Now, as we head off to college—how am I possibly going to live without you?
I'm going to go ahead and warn you right now to avoid all reviews of this book if you haven't read it yet. I was mildly spoiled about the end before I started reading and it completely affected my feelings about the book. Even the smallest hint of a spoiler can lead to disappointment here, or change your expectations. If you haven't read this book yet and are thinking about it, try to go in without reading anything but the synopsis.
That being said… it's hard for me to NOT enjoy a book by Katie Cotugno. Yes, I'm saying this having only read two of her three published YA books (and honestly not loving the second, but still liking it). I had fairly high expectations for this because I love the whole friends-to-possibly-more premise, especially when they're caught in that will they/won't they conundrum.
But man – Katie Cotugno's books are painful. I mean that in a positive way, kind of…not like painful to read because they're so bad. I mean that they hurt my heart repeatedly and I wonder what I'm doing with myself. TOP TEN sounds like a cute friends-to-more story but there's a lot of other things brewing. The non-linear format of "stories" from their friendship was overall really intriguing. It caught me off-guard sometimes because it definitely is super out of order. I wasn't able to get to know a lot of the characters, including the main two, because of the format. Regardless, add another solid book by Cotugno to my list.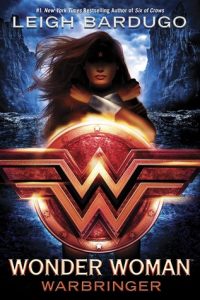 Wonder Woman: Warbringer
by
Leigh Bardugo
Series:
DC Icons #1
Genres:
Young Adult
,
Fantasy
,
Retelling
Published by
Random House
on August 28th 2017
Also by this author:
Shadow and Bone
,
Siege and Storm
,
Ruin and Rising
,
Six of Crows
,
Summer Days & Summer Nights
,
The Language of Thorns: Midnight Tales and Dangerous Magic
,
Crooked Kingdom
,
King of Scars
,
Ninth House
Format:
eBook
(376 pages) •
Source:
Library
Goodreads
•
Amazon
•
Barnes & Noble

Daughter of immortals.

Princess Diana longs to prove herself to her legendary warrior sisters. But when the opportunity finally comes, she throws away her chance at glory and breaks Amazon law—risking exile—to save a mortal. Diana will soon learn that she has rescued no ordinary girl, and that with this single brave act, she may have doomed the world.

Daughter of death.

Alia Keralis just wanted to escape her overprotective brother with a semester at sea. She doesn't know she is being hunted by people who think her very existence could spark a world war. When a bomb detonates aboard her ship, Alia is rescued by a mysterious girl of extraordinary strength and forced to confront a horrible truth: Alia is a Warbringer—a direct descendant of the infamous Helen of Troy, fated to bring about an age of bloodshed and misery.

Together.

Two girls will face an army of enemies—mortal and divine—determined to either destroy or possess the Warbringer. Tested beyond the bounds of their abilities, Diana and Alia must find a way to unleash hidden strengths and forge an unlikely alliance. Because if they have any hope of saving both their worlds, they will have to stand side by side against the tide of war.
Despite loving Leigh Bardugo AND Wonder Woman, I kept putting off reading this book. I'm not sure why really, but I guess I was nervous that it wouldn't be good for me? I don't read superhero books and wasn't sure what to make of a new story involving a younger Diana. It had a lot of promise obviously, especially given the author, but still. I wasn't overly eager to hop in right away. It took me about 90 pages to settle into the book and remove the recent movie from my mind. I couldn't wrap my head around a teen Diana in essentially a different timeline/universe than the movie. Once I got past it though, I cranked through this awesome book.
I feel bad because I don't have a lot to say though? I love Bardugo's writing and she really mastered this story. Diana's questions about what the modern world was like (especially NYC) was incredibly funny, as usual. She did a great job of keeping her voice the same. I didn't often feel like she was a teenager though, which is maybe one drawback? She was fierce and badass, but you already know that about Wonder Woman!
Alia was a decent semi-main character. She somewhat fell flat for me. The story revolves around her being a Warbringer, someone who literally brings war and fights between people / the rest of the world. Diana has to bring her to a spring to essentially cleanse her and make all the fighting stop. Meanwhile, there are plenty of people who have other ideas of how to handle it (i.e. murder her). There were a lot of twists and turns toward the end that I loved and didn't see coming.
I would definitely recommend this one if you're a WW fan. I'm intrigued to read the other "companions" in this DC universe series.
Related Posts