I received this book for free (hey, thanks!) in exchange for an honest review. I promise that this does NOT affect my opinion of the book or the content of my review. For real.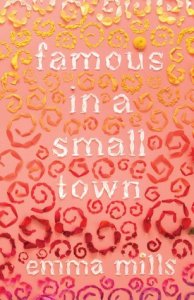 Famous in a Small Town
by
Emma Mills
Genres:
Contemporary
,
Young Adult
Published by
Macmillan
on January 15, 2019
Also by this author:
First & Then
,
This Adventure Ends
,
Foolish Hearts
,
Something Close to Magic
Format:
ARC
(320 pages) •
Source:
Borrowed
Goodreads
•
Amazon
•
Barnes & Noble

For Sophie, small town life has never felt small. With her four best friends—loving, infuriating, and all she could ever ask for—she can weather any storm. But when Sophie's beloved Acadia High School marching band is selected to march in the upcoming Rose Parade, it's her job to get them all the way to LA. Her plan? To persuade country singer Megan Pleasant, their Midwestern town's only claim to fame, to come back to Acadia to headline a fundraising festival.

The only problem is that Megan has very publicly sworn never to return.

What ensues is a journey filled with long-kept secrets, hidden heartbreaks, and revelations that could change everything—along with a possible fifth best friend: a new guy with a magnetic smile and secrets of his own.
Initial Excitement & Summary
Oh man, where should I begin? I started 2018 with FOOLISH HEARTS because I like the idea of reading a favorite author (one who has NEVER let you down) as the first book of the year. Get the reading year off to a great start, right? It definitely worked last year and let me tell ya – it worked again this year. I borrowed FAMOUS IN A SMALL TOWN from Wendy to make sure 2019 got off on the right foot again. If I could start every year with one of her books, I would and I will.
This one doesn't give much away in the synopsis but it's about a girl named Sophie and the new cute boy next door, August. She envelops him in her amazing friend group as they try to track down their small town's most famous person (Megan Pleasant, a country singer) in order to raise money for the marching band. She learns more about August's mysterious past and about herself, her friends, and her neighbors in the process.
Storytelling & Characters
The book really felt like another quiet, slow and steady Emma Mills book. They're my favorites because they spend so much time developing the characters so you really don't worry much about if there's a plot. Don't get me wrong, there's always a plot, but some are quieter than others? This book definitely felt like it would be a snapshot of time within this amazing friend group and nothing more. However, there were a couple of plot twist in the last quarter of the book that changed things up quite a bit. I'll talk about that more in the Negatives section below.
I am OBSESSED with this friend group. Sophie was such a great character, just genuinely nice and caring toward her friends. I loved getting to know her. We also met Brit (the spunky one who makes some mistakes), Flora (the super nice one), Terrance (a hilarious one-time-songwriter), and Dash (Terrance's quiet brother with an antique Cutlass to take them everywhere in). There's also August, of course, who is the mysterious new neighbor that quickly falls in with their friend group. As usual, the characters were all so funny, unique, and delightfully developed. There were inside jokes you, as the reader, felt like you were actually a part of. I found myself laughing out loud and smiling so much while reading.
Negatives
As I mentioned, there were a few plot twists in the last part of the book that were not great? One of them was fine and interesting but the second just felt totally unnecessary. Without getting into spoilers for now, I'll just say that one thing didn't really impact the book in a major way and seemed like a pointless twist for shock value, but didn't actually DO anything for anyone. Like, if it didn't exist, the book would be identical. So why do it? Now for spoilers: View Spoiler »The whole book incorporates chapters of Sophie texting her sister, who is apparently off at college. Toward the end of the book, we learn that her sister actually died in a car accident. We genuinely don't see how this affected Sophie that much and the whole book appears unaffected by this news. If her sister WAS around, it would read the same way (minus like one chapter). I just think it was included as a little shock that wasn't needed and it made me sad. « Hide Spoiler In theory, my rating should be a lot lower because of something like that. In my head, I KNOW it. I just can't do it? I loved everything else so much that I just find myself looking right past it. This will definitely make FAMOUS IN A SMALL TOWN more polarizing for her loyal fans.
TL;DR?
It's hard for me to say that everyone who loves Emma Mills will love this one. I think that's VERY true for the first 50-75% of the book? The friend group is perfection and it's very well-written, funny, and smart. Once the plot twisty things happen toward the end, the book will either (a) nosedive for you or (b) chug along and be okay for you. I chose to let the second option happen because I just loved so much of the story otherwise. Looking back with hindsight, I should probably rate it lower, but I can't.
Thoughts in a Gif
Rating Breakdown
| | |
| --- | --- |
| Plot & Premise | |
| Characters | |
| Writing Style | |
| Pacing & Flow | |
| Feels or Swoons | |
| Addiction Level | |
| Overall: | 4.4 |
Related Posts