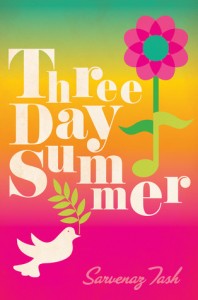 Three Day Summer
by
Sarvenaz Tash
on May 19th 2015
(304 pages) •
Goodreads
•
Amazon
•
Barnes & Noble

Michael is unsure about most things. Go to college? Enlist in the military? Break up with his girlfriend? All big question marks. He is living for the moment and all he wants is a few days at the biggest concert of the summer.

Cora lives in the town hosting the music festival. She's volunteering in the medical tent. She's like that, always the good girl. But there is something in the air at this concert and suddenly Cora finds herself wanting to push her own boundaries.

When Michael and Cora meet, sparks fly, hearts race, and all the things songs are written about come true. And all the while, three days of the most epic summer await them...

I LOVE WOODSTOCK. I love music from the 60's and 70's more than any other time period so I knew I was going to at least love that element of this book. I even wrote a research paper on Woodstock back in high school, because obviously it's the best time period in history. Can we get more books set in this time? Thanks.
I thought the atmosphere felt really well-done and representative of the time. I've seen countless Woodstock movies and read articles, so I feel like it was definitely historically accurate. I actually believed that these two characters could have been real concertgoers at Woodstock.
The MUSIC was perfect. If I had a time machine…….  Every time they referenced Janis Joplin or Roger Daltry or the "new guy" Santana, I squealed a little bit. And of course the biggest event of all: Jimi Hendrix. Goosebumps, dude.
Cora, a nurse volunteering at the event, and Michael, a hippie concert attendee, hit it off right away. They were interesting characters that came from different backgrounds but were struggling with similar things – primarily their future. Could Cora become a doctor? And what the hell was Michael going to be when he grew up? The two of them were perfect characters to meet and explore the concert together, and again – very representative of the time. I feel like it would have been nice to get to know Michael a bit more. I think Cora was more fleshed out, including her family issues.
I liked that it was realistic about drugs and alcohol. I know that a lot of YA has the stereotypical good girl who doesn't really party or drink, but this was not the case here. Of course, most of that has to do with the time period (an excuse my mom always uses when talking about her teenage misbehavior!). Cora wasn't a perfect heroine and Michael definitely wasn't perfect either!
I kind of felt detached from the story and characters though at times. I can't tell if it was boredom or just the fact that I had to pause a few times to read other things in the middle. I loved just about everything else about this story! It really portrays the age-old struggle of growing up. No matter what time period you're in – whether its during wartime in the 70s or today's modern society – there will be the same underlying fears and difficulties. Growing up is hard, dude.

| | |
| --- | --- |
| Plot & Premise | |
| Characters | |
| Writing Style | |
| Pacing & Flow | |
| Feels or Swoons | |
| Addiction Level | |
| Overall: | 4.1 |
Related Posts