Ten Tropes & Plot Devices as Songs
Top Ten Tuesdays are hosted by The Broke and the Bookish, where we make lists of our top ten books (or something else!) based on that week's prompt. The topics are provided ahead of time and can be found here. Book links bring you to Goodreads or my review.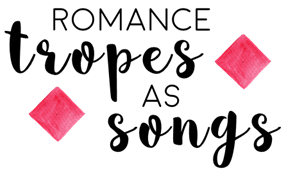 I am LOVING these open-ended topics! This week is about music and books. Some suggested topics included books you'd give theme songs to and love songs you wish were books. I am generally terrible about making book playlists, so here's my own spin on the topic. I wrote about my least favorite and favorite book tropes a while back and that helped me with reference for this, so thanks past Lauren! I also had some ideas because of songs I was listening to. Just so you know, I tried to write this post two other times with different idea before this one came to me. I thought about the different romance-related tropes and plot points and related them to songs that I happen to love. Enjoy the Spotify widgets and some lyrics too, in case you aren't familiar with the songs.
---

And the 7th thing I hate the most that you do
You make me love you
….
And compared to all the great things
That would take too long to write
I probably should mention
The 7 that I like…
Before you came into my life
I missed you so bad
And you should know that
I missed you so, so bad
….
Hey, I just met you,
And this is crazy,
But here's my number,
So call me, maybe
Jealousy you got me somehow
You gave me no warning
Took me by surprise
Jealousy you led me on
You couldn't lose you couldn't fail
You had suspicion on my trail
How how how all my jealousy
I wasn't man enough to let you hurt my pride
Now I'm only left with my own jealousy
I shouldn't love you but I want to
I just can't turn away
I shouldn't see you but I can't move
I can't look away
And I don't know how to be fine when I'm not
'Cause I don't know how to make a feeling stop
Just so you know
This feeling's taking control of me
And I can't help it

They don't know how long it takes
Waiting for a love like this
Every time we say goodbye
I wish we had one more kiss
I'll wait for you, I promise you, I will
Lucky I'm in love with my best friend
Lucky to have been where I have been
Lucky to be coming home again
Lucky we're in love in every way
But I'm open, you're closed
Where I follow, you'll go
I worry I won't see your face
Light up again
Even the best fall down sometimes
Even the wrong words seem to rhyme
Out of the doubt that fills my mind
I somehow find
You and I collide
You went back to what you knew
So far removed from all that we went through
And I tread a troubled track
My odds are stacked
I'll go back to black
We only said goodbye with words
I died a hundred times
You go back to her
And I go back to…
I go back to us
When I first saw you, I saw love
And the first time you touched me, I felt love
And after all this time,
You're still the one I love
Looks like we made it
Look how far we've come my baby
We mighta took the long way
We knew we'd get there someday
They said, "I bet they'll never make it"
But just look at us holding on
We're still together still going strong

I don't understand the way you think
Saying that she's yours not mine
Sending roses and your silly dreams
Really just a waste of time
Because she's mine
The doggone girl is mine
Don't waste your time
Because the doggone girl is mine
I love you more than he
I look up, you're standing next to me
What a feeling
What a feeling in my soul
Love burns brighter than sunshine
Brighter than sunshine
Let the rain fall, I don't care
I'm yours and suddenly you're mine
Suddenly you're mine
And it's brighter than sunshine
Related Posts