I received this book for free (hey, thanks!) in exchange for an honest review. I promise that this does NOT affect my opinion of the book or the content of my review. For real.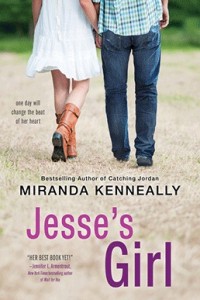 Jesse's Girl
by
Miranda Kenneally
Series:
Hundred Oaks #6
Genres:
Contemporary
,
Young Adult
Published by
Sourcebooks
on July 7th 2015
Also by this author:
Breathe, Annie, Breathe
,
Catching Jordan
,
Stealing Parker
,
Things I Can't Forget
,
Racing Savannah
,
Defending Taylor
,
Coming Up for Air
,
Four Days of You and Me
Format:
eARC
(304 pages) •
Source:
Publisher
Goodreads
•
Amazon
•
Barnes & Noble

Practice Makes Perfect.

Everyone at Hundred Oaks High knows that career mentoring day is a joke. So when Maya Henry said she wanted to be a rock star, she never imagined she'd get to shadow *the* Jesse Scott, Nashville's teen idol.

But spending the day with Jesse is far from a dream come true. He's as gorgeous as his music, but seeing all that he's accomplished is just a reminder of everything Maya's lost: her trust, her boyfriend, their band, and any chance to play the music she craves. Not to mention that Jesse's pushy and opinionated. He made it on his own, and he thinks Maya's playing back up to other people's dreams. Does she have what it takes to follow her heart—and go solo?
I love Miranda Kenneally's books. I just binge read the middle few books in the series (since I previously read Catching Jordan and Breathe, Annie, Breathe out of order) before getting to this one. Although a couple of them (Stealing Parker and Things I Can't Forget) are more religion-based than I personally enjoy, I still always love and appreciate the characters she writes. The romances are real and fun, the characters have distinct personalities, and the supporting characters also have complexities that get some attention. So, I'm happy to report that THIS BOOK made me so happy and hit the mark for me in nearly every possible way.
I never really consider myself to be a big music buff; I don't spend time seeking out new music or exploring artists. I stick to what I know and love, which is classic rock or 90's music nearly 100% of the time. I'm not a big 80's music fan (sorry, everyone!), but Maya still made me extremely happy with all of her musical referenes and her entire personality. I have to say, reading the countless comments about Queen made me incredibly gleeful. I LOVE QUEEN. FREDDIE MERCURY FOREVER. If she was going to be an 80's girl and I'd be hearing about 80's music, I'm so glad it was Queen. I do like a bit of country music too, so I was really excited about this book.
Maya is Sam Henry's little sister (so there was a LOT of Sam and Jordan, one of my OTPs) and she's able to shadow the hot country singer Jesse Scott for career day. She plays guitar and sings, but was recently booted out of her own band. She's feeling a bit lost and Jesse helps her find her way with music again. I'll get to the romance a little later. Otherwise, as far as characters go, I absolutely loved her family. They were hilarious, supportive, and REAL. I loved her parents and her best friend Dave. They were so fun! Sam and Jordan's relationship is one of my favorites because they can argue, then kiss and make up as soon as they started. Listening to them fight about football made me so happy. As usual, Kenneally kills it with her cast of characters. Everyone is going through their own things and yet they're all given the right amount of attention.
My favorite thing about the book is that the first 50% of it all happens during one day. The shadow day was completely detailed out, so you can really see the progression of how these two started falling for each other. They were both hesistant to start anything, for different reasons, but they knew they had something after just one day together. The second half of the book was just as excellent. Honestly, it was so HAPPY and fun to read. I loved the fact that the drama level of this book was extremely low. There wasn't a lot of miscommunication or lying to feed into the "climax" of the book, like you usually see in contemporaries. The two of them were pretty damn honest with each other and it was so refreshing to read a book like that.
I would highly recommend this book to anyone who likes country music, 80's music… or, well, any music! Super low drama compared to some contemporary novels and just really fun. I can't think of any flaws, to be honest. I think the only thing keeping me away from a glowing five star rating is because I'm comparing it to my all-time favorite five star Hundred Oaks reads.

---
Excerpt
As much as I love music, I am generally not a fan of country. I don't like banjos. I don't like sappy lyrics about trucks and hauling hay. Dolly Parton is my mortal enemy—my mom plays "Jolene" over and over and over and over, and it makes me want to chop my ears off like van Gogh. Yeah, yeah, I'm from Tennessee, where it's a crime if you don't love country, but I like deep, rumbling beats and singing loud and fast and hard. I do not like closing my eyes and crooning to a cow in the pasture. Yet here I am at a Jesse Scott concert, getting ready to meet him and to see if he'll let me shadow him next Friday.
My school requires every senior to "shadow" a professional for a day. It's their way of helping us figure out what kind of career we want. Like, if you want to be president when you grow up, you might get to shadow the mayor. Want to be a chef? Have fun kneading dough at the Donut Palace. When I said "I want to be a musician," I figured they'd send me to work in the electronics section at Walmart.
I certainly never expected to shadow the king of country music.
It turns out that Jesse Scott is my principal's nephew. Jesse won TV's Wannabe Rocker when he was ten and has gone on to become very successful. In sixth grade, every girl in class—myself included—took the Teen Beat quiz: "Would Jesse Scott Like Your Kissing Style?" (Obviously the answer was yes.) In middle school, I had a Jesse Scott poster on my ceiling. It's hard to believe he's only eighteen, because he's already won three Grammys. When he was younger, his songs were about family, fishing, and playing baseball, but lately they're about love and making love and all things sexy.
I wouldn't say I'm a fan anymore, but I would never give up an opportunity to learn from a professional with such a gorgeous, pure voice. I want to learn what it's like to perform day in and day out. Despite what everyone and their mom says—that I'll struggle as a musician—all I want is to play guitar in front of a crowd and hear people cheer for me.
I can't believe I'm backstage at the Grand Ole Opry! I bounce on my toes. Jesus, is that an archtop Super 4, the model Elvis played? I've never seen one in real life. It probably cost more than my house. I'm ogling the guitar when Jesse Scott comes out of the bathroom, drying his hair with a towel. He pads across the room to the couch, wearing nothing but a pair of rugged jeans with more holes than Swiss cheese. The lighting is dim, and he doesn't seem to notice I'm here, which is good, because I've moved from ogling the guitar to ogling him.
Who wouldn't? He was one of People magazine's "50 Most Beautiful People," and it is a truth universally acknowledged that you should stare at people who've made that list. The guy's gorgeous. Like in the boy-next-door way. His wet, wavy, brown hair curls around his ears and nearly hits his shoulders, and while he doesn't have a six-pack or anything, his body is fit. I wish he'd look my way so I can see his famous brown eyes. They always remind me of those caramel chews Poppy gives me when I visit. Jesse has some sort of Gaelic symbol tattooed on his left shoulder blade. I want to reach out and trace the design.
God, get ahold of yourself, Maya. Don't be a horndog. Besides, he's so not my type. I don't do pretty boys.
More places to buy the book: Books-A-Million, Indiebound, Indigo, iTunes
Growing up in Tennessee, MIRANDA KENNEALLY dreamed of becoming an Atlanta Brave, a country singer (cliché!), or a UN interpreter. Instead she writes and works for the State Department in Washington, D.C., where George W. Bush once used her shoulder as an armrest. Miranda loves Twitter, Star Trek and her husband. Visit www.mirandakenneally.com, and follow Miranda@MirandaKennealy & www.facebook.com/miranda.kenneally.
Related Posts