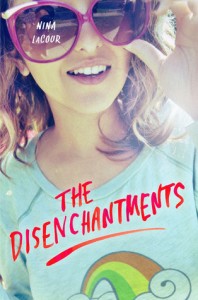 The Disenchantments
by
Nina LaCour
Genres:
Contemporary
,
Young Adult
Published by
Penguin
on February 16th 2012
Also by this author:
Summer Days & Summer Nights
,
Meet Cute: Some People Are Destined to Meet
Format:
Hardcover
(307 pages) •
Source:
Library
Goodreads
•
Amazon
•
Barnes & Noble

Colby and Bev have a long-standing pact: graduate, hit the road with Bev's band, and then spend the year wandering around Europe. But moments after the tour kicks off, Bev makes a shocking announcement: she's abandoning their plans - and Colby - to start college in the fall.

But the show must go on and The Disenchantments weave through the Pacific Northwest, playing in small towns and dingy venues, while roadie- Colby struggles to deal with Bev's already-growing distance and the most important question of all: what's next?

Morris Award–finalist Nina LaCour draws together the beauty and influences of music and art to brilliantly capture a group of friends on the brink of the rest of their lives.

Sometimes books are just nothing like you hoped or expected them to be. I saw this one at the library, fell in love with the cover, and decided to give it a shot. I didn't realize at first that Colby, from the synopsis, was a male, so that was a surprise right from the beginning. A pleasant one! The gist of the story is that Colby is travelling the West Coast with his best friend Bev and their friends Meg and Alexa. They're in a group called The Disenchantments and are going on a mini-tour for the summer. The plan is that after the summer, Bev and Colby are going to travel Europe for a year instead of going to college. Colby's in for a surprise when Bev informs him she isn't going to Europe; she's going to RISD in the fall. He has to try to manage his hurt feelings (and love for Bev) while continuing with the tour… and she refuses to tell him why she's not going. Along the trip, they meet some interesting characters and do lots of random things. This summary is pretty much all that happened.
I really like books with flawed, realistic characters. If I don't like them that much, that's okay with me. I don't have to like the character to like the book. In this case, though… I didn't like anyone. I couldn't relate to anyone. The characters and the plot were not realistic to me; it's like they were a group of manic pixie dream girls (and boy) on a journey out of their dreams. I found it hard to believe that ALL of their parents were okay with them, fresh out of high school, travelling to random places, staying in shitty hotel rooms, and playing in sketchy venues. The book opens up with Bev sleeping over Colby's house, where they weren't allowed to share a bed… so you expect me to believe that his dad would be okay with them potentially sharing hotel rooms and beds all up the coast? The premise just didn't work for me. If one or two of the parents at least showed SOME discomfort with the idea, I would have felt like the whole thing was realistic. Not all California parents are hippies who let their kids do anything, right?
The characters were so weird. They were all artsy people (whether though actual art or music) who were constantly looking for deeper meanings. Okay, fine. Some of the things they said or the attitudes they had just didn't make sense to me. There could have been at least one person in the group who was timid or had common sense or was a NORMAL teenager. They had a lot of random, weird ideas that I was hoping one person would at least say, "hey, maybe we shouldn't do this? It looks sketchy here." But nope.
Beyond the manic pixie dream people aspect, the characters themselves were kind of annoying. For the life of me, I could not see the appeal of Bev. At all. She was rude, distant, and selfish. She waited until the last minute to finally tell Colby about Europe and I just felt so betrayed throughout the book. When she finally reveals why, it didn't make sense to me. I rolled my eyes and said "really, that's it?" Colby was also SO freaking in love with her; he spent most of the book admiring her from afar and reminiscing on their childhood together. Meg and Alexa were pretty cool, comparatively, but they blended together so much that I had no idea how to tell them apart.
So after all this ranting, what are the positives? The book held my attention. I like road trip books. The references to different artists and musicians was kind of fun. I appreciated LaCour's writing style and will probably check out her other books at some point. Overall, it was pretty easy to read and all of the little adventures were kind of cool. It was just hard for me to suspend my belief that this whole thing was unrealistic and bizarre. I usually can look past unrealstic things in books because, hey, it's fiction… but it's hard to write a contemporary book without some sense of realism. I loved the overall messages of the book: everyone you meet shapes you in some way, it may take a little while to find your own way, and that there's plenty of life after high school. This book was about the journey.









Related Posts