I received this book for free (hey, thanks!) in exchange for an honest review. I promise that this does NOT affect my opinion of the book or the content of my review. For real.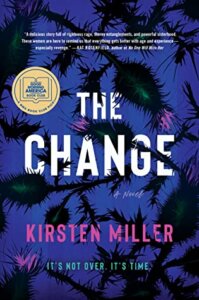 The Change
by
Kirsten Miller
Genres:
Adult
,
Fantasy
,
Mystery/Thriller
Published by
Harper Collins
on May 3, 2022
Format:
Audio/eARC
(480 pages) •
Source:
Publisher, Scribd
Goodreads
•
Amazon
•
Barnes & Noble

In the Long Island oceanfront community of Mattauk, three different women discover that midlife changes bring a whole new type of empowerment…

After Nessa James's husband dies and her twin daughters leave for college, she's left all alone in a trim white house not far from the ocean. In the quiet of her late forties, the former nurse begins to hear voices. It doesn't take long for Nessa to realize that the voices calling out to her belong to the dead—a gift she's inherited from her grandmother, which comes with special responsibilities.

On the cusp of 50, suave advertising director Harriett Osborne has just witnessed the implosion of her lucrative career and her marriage. She hasn't left her house in months, and from the outside, it appears as if she and her garden have both gone to seed. But Harriett's life is far from over—in fact, she's undergone a stunning and very welcome metamorphosis.

Ambitious former executive Jo Levison has spent thirty long years at war with her body. The free-floating rage and hot flashes that arrive with the beginning of menopause feel like the very last straw—until she realizes she has the ability to channel them, and finally comes into her power.

Guided by voices only Nessa can hear, the trio of women discover a teenage girl whose body was abandoned beside a remote beach. The police have written the victim off as a drug-addicted sex worker, but the women refuse to buy into the official narrative. Their investigation into the girl's murder leads to more bodies, and to the town's most exclusive and isolated enclave, a world of stupendous wealth where the rules don't apply. With their newfound powers, Jo, Nessa, and Harriett will take matters into their own hands…
It isn't very often that I request a book on Netgalley that I don't really know anything about. I sometimes will see a contemporary romance with a cute cover being published by a favorite imprint and just request it, but that's the extent of it. Requesting a mystery-fantasy-combo is definitely not something I usually do on a whim. Needless to say, I went into this with almost no expectations but hoped it would be a fun ride.
THE CHANGE involves a few middle-aged women as they start to age and gain witchy powers. Jo has superhuman strength and some kind of fire energy that can melt things. Harriett has power over plants and nature. Nessa can see ghosts of the dead when they haven't been laid to rest and/or have unfinished business. The story starts with these three women coming together, finding a dead body that a ghost led Nessa to, and helping figure out what happened to her. They each use their powers and strengths to solve the mystery, find other girls who have been murdered, and avenge them.
The book is set in Mattuak, a fictional town on Long Island that I have to imagine is a play on Montauk in the Hamptons. The story also feels a littttle bit like a riff on the Long Island Serial Killer murder, where girls were kidnapped, assaulted, and murdered on Long Island and left on the beach. The cases are still open today and a lot of that has to do with police incompetence… much like this book! I loved these parallels because I've spent some time on the Hamptons and know a lot about the LISK case.
I loved our three characters – they had completely different personalities from each other but each was a badass in their own way. All three were pretty much equally important in solving the mystery of what happened to these dead girls – starting with the one in the blue dress and ending with a couple more in other nearby places to point to a serial killer situation.
Without getting into spoilers or too many details about where the story goes (is it actually a serial killer or something more?), this is really a big ol' middle finger to men. If you're in the mood for a feminist revenge story, this is the book for you. Add in a little bit of magic and mystery and you've got a really well-rounded story. I like that it primarily alternated between Jo, Nessa, and Harriett's points of view, but there were also really important and relevant side characters (key women and girls in the story) who were given some page time.
This is a long book and honestly I've avoided reading anything over 300-350 pages lately because my reading life is so crappy at this point. It never FELT long – it was super addicting, especially in the second half. There was a lot of slow burn introductions in the first half that never felt like a slog, even though I was waiting for the story to pick up a little bit. It also is definitely a mystery, for the most part – it's not like a full-blown investigation with twists and turns that you never see coming, but there are plenty of "let's solve the case and get the bad guys" vibes between the three main characters. The ~bad guy~ was pretty obvious from the beginning and I was never shocked by any development that happened, but I don't mean that in a bad way at all. It was about the journey and punishing those who deserved it. It never felt like it needed to be a full-blown whodunnit for the reader, if that makes sense.
I mixed in the audiobook (narrated by January LaVoy, one of my absolute FAVORITE narrators) and honestly wish I listened to more of it for that reason. I got so addicted the other night and read half of the book in one sitting instead of being able to finish with the audiobook on my morning commute. Needless to say, highly recommend that format if you're thinking about it.
Overall, this was such a good story and I'm so glad I took the time to read it. I wasn't sure what to expect or if it would take me an entire month to read but I found it to be very addicting and intriguing the whole way. It's a bit creepy and atmospheric at times where I wished I wasn't reading before bed, but nothing crazy. I loved the mystery, the F-U-men vibes, the three badass ladies at the center, and the overall message.
Related Posts