I received this book for free (hey, thanks!) in exchange for an honest review. I promise that this does NOT affect my opinion of the book or the content of my review. For real.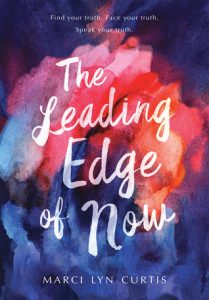 The Leading Edge of Now
by
Marci Lyn Curtis
Genres:
Contemporary
,
Young Adult
Published by
Kids Can Press
on September 4th 2018
Also by this author:
The One Thing
Format:
ARC
(336 pages) •
Source:
Author
Goodreads
•
Amazon
•
Barnes & Noble

Just when Grace is beginning to get used to being an orphan, her estranged uncle suddenly comes forward to claim her. That might have been okay if he'd spoken to her even once since her father died. Or if moving in with Uncle Rusty didn't mean returning to New Harbor.

Grace once spent the best summers of her life in New Harbor. Now the place just reminds her of all she's lost: her best friend, her boyfriend and any memory of the night that changed her forever.

People say the truth will set you free, but Grace isn't sure about that. Once she starts looking for it, the truth about that night is hard to find --- and what happens when her healing hurts the people she cares about the most?

Marci Lyn Curtis, the critically acclaimed author of The One Thing, has crafted an honest and emotional story that will resonate with the wide range of readers impacted by sexual assault.

Sexual assault does not define this story, however, just as it does not define Grace. Wry humor and true love emerge as Grace, like many in the #MeToo era, seeks to find her truth, face her truth, and speak her truth.
Review
When Marci put a call out for bloggers to put together an ARC tour for her new release, I obviously hopped on board. (Thanks to all the participants for making this happen!!) I was sooo eager to read more words from her after loving THE ONE THING so much, too many years ago. Her humor mixed in with heartbreak was so well-balanced that I couldn't wait to see what else she could come up with. I needed more main characters like Maggie, who didn't let the hand she'd been dealt bring her down too much, and still managed to be sassy and funny at every turn.
The story is about Grace, who returns to her almost-home of New Harbor, Florida, after spending two years in foster care. Her uncle finally signed the papers to be her legal guardian, and she's brought back to a place where painful memories are just one room away. She was sexually assaulted, and her dad passed away from a heart attack soon after. She's still reeling and attempting to cope with what happened, but moving to New Harbor full time is not making that easy. She's faced with her ex-friend Janna and ex-boyfriend Owen as well. There are other interesting elements to the story, like Grace's recent bout with stealing peoples' wallets. She's not perfect and never tries to be; she just tries to cope with what happened in the best way she can.
I'm happy to report that this was exactly what I wanted, needed, and sort of expected from Marci's sophomore novel. The stuff I said about Maggie could easily be said for Grace in this one. I was amazed by her strength and ability to be hilarious despite everything that has occurred over the last few years (and all of that being opened up again, fresh). The story begins with Grace being so sure about what happened, and unfolds as she slowly comes to terms with the reality of the situation. Her quest to find the truth was really moving and engaging. I didn't see the ending coming; my heart was pounding so hard when things were coming to a head. I knew I couldn't go to sleep without finishing this book. I sat and read it two nights in a row before bed, struggling to stop reading and saying "just one more chapter" way too many times.
I'm honestly not one for heavier contemporaries because I head straight for the fluff, but this one had such an excellent balance of humor and sadness and feels of all kinds. Seriously, Grace (and the reader) run through the full gamut of emotions throughout the story. Can't recommend Marci's words enough.
---
Q&A with Marci Lyn Curtis
Hi Lauren! Thanks so much for this fabulous interview!
I know from talking with you and reading the author's note that this is a very personal novel for you. When did you start writing it, and why did you decide that now is the time?
Let's see…I started writing it in 2016, nearly a year after the basic premise came to me. It wasn't a conscious choice; I felt compelled to write it, which is the way it always is with my stories. (i.e. they will pick at me, invade my sleep, whisper in my ear while I'm in the shower, etc. etc. etc., until I break down and write them)
Your two novels, The Leading Edge of Now and The One Thing, both manage to balance humor and heartbreak so perfectly. I found a lot of similarities between Maggie and Grace. How do you come up with your characters' personalities? How do you strike the right balance between the happy and sad moments?
First off, thanks so much for your kind words about my stories! And as far as my main characters—my husband tells me that he could pick my books out of a lineup of 1,000 stories, because when he reads them it's like "having my smartass voice" in his head. Ha! So actually, Maggie and Grace are just me, my perspective. Sometimes that perspective is serious and/or dramatic; sometimes it's humorous. I don't try to strike a balance between happy and sad—the stories just flow that way.
Was your writing process different between the two novels, or do you always follow the same process when starting a new book?
My process is the same with all of my stories, actually! I always start with the basic premise and characters, and then I go into a long incubation phase, making a ridiculous amount of notes about the characters—what they want, who they are, what they feel, where the story is taking them, etc. This takes months, sometimes even years. My stories are always very character-driven, and I feel like I really need to know my characters before I can write their story and/or see where they're going. Once I have all of that, everything seems to slide into place, and then I can write the draft in a few months.
How did you come up with the setting of New Harbor? Is it based on any real towns in Florida, or a combination of them?
That's a great question! New Harbor is actually a fake town on a real island—Anna Maria, Florida, just south of Tampa. It's based on a combination of towns that gave me the right feel for the story. Interestingly, when I wrote the first draft, I was living in Maryland, but my husband, who is in the Coast Guard, was transferred to Florida right after I sent the draft off to my agent. By the time I finished revisions and the story sold, we'd already moved to Florida and were living practically right on top of the setting for The Leading Edge of Now. Best coincidence ever.
Is there anything you'd like readers to know before they dive into this book, or any specific takeaways you hope they find when they finish?
It's my biggest wish that this story gives hope to the one in six—one in six girls who have been assaulted, but the takeaway is universal, because everyone has been wronged or hurt or deceived. Everyone has a past to overcome. And when it comes right down to it, this story is really about love, laughter, friendship, forgiveness, family, trust, and—mostly—bravery.
Rapid fire round!
Favorite season? The fall.
Favorite place to read? In a little patch of sun on my patio.
Favorite vacation spot? Italy.
Favorite movie? My Cousin Vinny.
Favorite TV show? This is Us.
Tacos or pizza? Ummm…both?
Coffee or tea? Coffee.
Staying in or going out? Staying in.
Cooking or baking? Cooking.
Plans or spontaneity? Plans. (I'm so boring.)
Comedy or drama? Comedy.
---
Marci Lyn Curtis is a critically acclaimed author of young adult dramedies The One Thing and The Leading Edge of Now. She lives near Tampa, Florida with her husband. You can find out more about Marci on her website, on Twitter, on Instagram, or on Facebook.
Related Posts